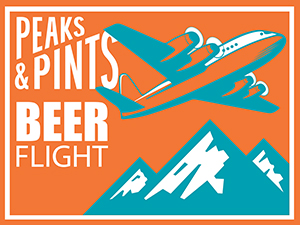 The pandemic canceled the Washington Beer Awards in 2020. The next year, the Washington Brewers Guild and the Washington Beer Commission moved the Washington Beer Awards from the Washington Brewers Festival held at Marymoor Park in Redmond during Father's Day Weekend to early November at the Washington Craft Beer Summit in Puyallup. This year, the ninth edition of the Washington Beer Awards were held, once again, during the Washington Craft Beer Summit at the Washington State Fairgrounds in Puyallup. Early this year, a panel of judges evaluated 1,400 beers submitted by 179 breweries from across the state. All the beers submitted must have been both brewed and made commercially available in the state of Washington.  The entries were evaluated in a blind format using the Brewers Association Style Guidelines by panels of trained beer judges who awarded Gold, Silver, and Bronze placements for each category grouping. You can check out the 2022 winners here. Today, Peaks & Pints suggests you grab a few winning beers we happen to have in our cooler in a to-go flight we're calling Peaks and Pints Pilot Program: 2022 Washington Beer Awards Flight.
Peaks and Pints Pilot Program: 2022 Washington Beer Awards Flight
Fair Isle Eugene
7.1% ABV
GOLD, BRETT BEERS: Fair Isle Brewing's Eugene is a farmhouse IPA utilizing the leftover highly aromatic hop slurry from their Bobbi hoppy saison, and then dry-hopped with rotating varieties each batch. This version features Amarillo and Motueka for punchy notes of navel orange and lime leaf, followed by a brisk finish with refreshing tartness.
Icicle Colchuck Raspberry Wheat
5% ABV, 17 IBU
GOLD, FRUIT WHEAT BEERS: Founded in 2010 by Pamela and Oliver Brulotte, Icicle Brewing continues to be a 100 percent family and employee-owned production brewery and brewpub in Leavenworth, Washington. The brewery draws water from nearby Icicle Creek, a run-off from surrounded by numerous mountain ranges including the Stuart Range and Wenatchee Mountains. Colchuck Raspberry Wheat is Icicle's Colchuck wheat beer with an abundance of Pacific Northwest raspberries, adding a slight sweetness and tartness to the transition.
Wet Coast Cream Ale
5% ABV, 28 IBU
SILVER, AMERICAN-STYLE CREAM ALES: Of course, Wet Coast Brewing brewed a cream ale. West Pierce Fire and Rescue firefighters turned brewers Bryan Copeland and Aaron Johnson have a love affair with the Prohibition era. Their Gig Harbor brewery is named after the 1932 presidential election where King, Pierce, and Spokane counties voted "wet," meaning those citizens voted for Democrat Franklin D. Roosevelt and his desire to bring back the drinkies, instead of Republican Pres. Herbert Hoover's desire to keep "the noble experiment," Prohibition. Wet Coast uses flaked corn for crispness, but what makes their Cream Ale unique and special is the addition of honey malt. It has a honey-like sweetness while still being crisp and clean, which is a wonderful combination. Galena hops bring a bright citrus component to this crushable cream ale.
Pike Monk's Uncle
9% ABV
SILVER, BELGIAN STRONG & ABBEY ALES: Pike Brewing Company's founders and owners, Charles and Rose Ann Finkel, introduced American beer drinkers to Belgian beers in the 1980s through their craft beer importing company, Merchant du Vin. Pike Monk's Uncle is their only year-round Belgian style beer and continues the tradition of introducing American palates to the joys of Belgian style beers. This Belgian style tripel pours traditional golden straw color of the style together with a solid lacy head that remains throughout. There is an overall fruity background flavor to this brew, with just a hint of honey and a touch of spice.
Reuben's Robust Porter
5.9% ABV, 30 IBU
BRONZE, ROBUST PORTERS: Home brewer-turned-pro Adam Robbings developed his Robust Porter recipe using British malts particular to Windsor, about 25 miles west of London, where he grew up. Eight different grains are used to create this Reuben's Brews multiple award-winning beer, pouring a deep brown with a creamy tan head like it has some weight. Roast malts are the star in both aroma and flavor that's nutty and slightly sweet with an espresso bitterness balanced by a touch of creamy vanilla, chocolate, and caramel sweetness, without being cloying or off putting. Reuben's Robust Porter also took Bronze last year.
Icicle Alpenhaze
6.3% ABV, 30 IBU
BRONZE, JUICY OR HAZY PALE ALES: Icicle Brewing's signature hazy is a bright, tropical, and juicy IPA brewed with Mosaic, Citra, El Dorado, and Simcoe hops, giving it notes of mango, pineapple, tangerine, and apricot that excite the nose and palate. The malt profile provides a body that ends each sip with a light and pillowy mouthfeel. Last year, it grabbed Silver in the same category.
Hellbent Dang! Citra IPA
6.6% ABV, 60 IBU
SILVER, AMERICAN-STYLE STRONG PALE ALES: Peaks & Pints fell in love with Dang! Citra IPA while drinking a sample bottle during a 2016 Thanksgiving football watching session. Packed with hop aroma, this IPA smacks us in the face with hoppiness. It hits the nose with orange, citrus zest, and light grains. Flavors of grain, pale malt, tangerine, slight white grapefruit, honey, and minerals dance on the tongue. Dang!
Fremont Lush IPA
7% ABV, 80 IBU
SILVER, AMERICAN-STYLE INDIA PALE ALES: Early on in craft brewing, brewers tried to outdo each other in creating the most resinous, dank, and intensely bitter beers imaginable. These days, however, brewers embrace the full potential of the humble hop, using new varietals and nuanced techniques to create hop-forward beers that don't wreck your palate. Enter Fremont Lush IPA. Brew with Citra, Mosaic and Citra lupulin powder, Lush offers flavors of pine, grapefruit, mango with a finish of herbal notes. It's creamy, light bodied, lively and, well, lush.
Wet Coast Scofflaw CDA
7.1% ABV, 65 IBU
BRONZE, AMERICAN-STYLE BLACK ALES: No American craft beer style has ever generated more contentious debate than black IPA, when it comes to nomenclature. From the moment that people started calling this style anything, there's never been consensus on what exactly they should be called. Basically, it's a hoppy IPA with mild to moderate roastiness that is sometimes derived via debittered black malts such as Carafa and dark wheat malt, lending a crisper edge and the type of dry, coffee-like flavor you find in the German black lager style, schwarzbier. Wet Coast Brewing's Scofflaw CDA is absolutely an IPA — more so than many black IPAs. Columbus, Falconers Flight, Amarillo, and Simcoe hops provide a hit of citrus, resin, and smooth bitterness. While dark wheat malt gives the beer its black color and just a hint of roast character, the beer leaves the palate slightly dry, accentuating its hop character. Scofflaw grabbed Silver last year.
Ravenna Lion Tamer
9% ABV
SILVER, OTHER WOOD & BARREL AGED STRONG BEERS: Ravenna Brewing almost never repeat recipes, opting to keep things fresh and interesting rather than risking taking away the luster from their favorites. Lion Tamer is an exception to that philosophy. Apparently, the Ravenna brewers dig it too much — and so does the public as it's Ravenna's most awarded beer. This porter's iteration was put into Heaven Hill Distillery barrels in late 2019 soaking up the bourbon vibes, softening with touches of oak, and maturing into a beautiful mix of coffee, chocolate, and vanilla.
Fremont Coconut Cacao Barrel Aged Dark Star (2022)
13.5% ABV
SILVER, WOOD & BARREL AGED IMPERIAL STOUTS: Fremont Brewing's Coconut Cacao Barrel Aged Dark Star is a blend of 24-, 18-, 12-, and 8-month Bourbon Barrel-Aged Dark Star in 7- to 12-year-old Kentucky bourbon barrels. Then Fremont adds all the coconut and Theo Chocolate cacao nibs. Think dark, mocha chocolate truffle filled with a rich and creamy coconut filling with a splash of bourbon on top. Like its base, it finishes a touch sweet, but never cloying.
Wander Earlybird
9.6% ABV, 38 IBU
BRONZE, WOOD & BARREL AGED IMPERIAL STOUTS: Wander Brewing's Earlybird awakens each fall after a long, deep slumber in freshly emptied bourbon barrels. The Bellingham brewery brews this barrel-aged breakfast stout with housemade dulce de leche, oats, coffee, and lactose. The dulce de leche is standout. The bourbon is strong, but smooth, with subtle coffee and chocolate notes. Earlybird grabbed Gold at the 2019 Washington Beer Awards in the Wood & Barrel Aged Imperial Stout category.
Trap Door A Mega Pint?
8.5% ABV
BRONZE, JUICY OR HAZY IMPERIAL OR DOUBLE INDIA PALE ALES: What is A Mega Pint? It's Trap Door Brewing's double dry hopped double IPA collaboration with Wildwood Taphouse. It's more like a mega pint of orange juice.
LINK: Peaks & Pints cooler inventory
---
Category:
Beer Line Blog
,
Contest
,
Craft Beer
,
Critical Drinking
,
Events and Festivals
,
Houses of Craft
,
In The Cooler
,
News and Updates
,
Peaks and Pints Pilot Program
,
Shop
,
Specials