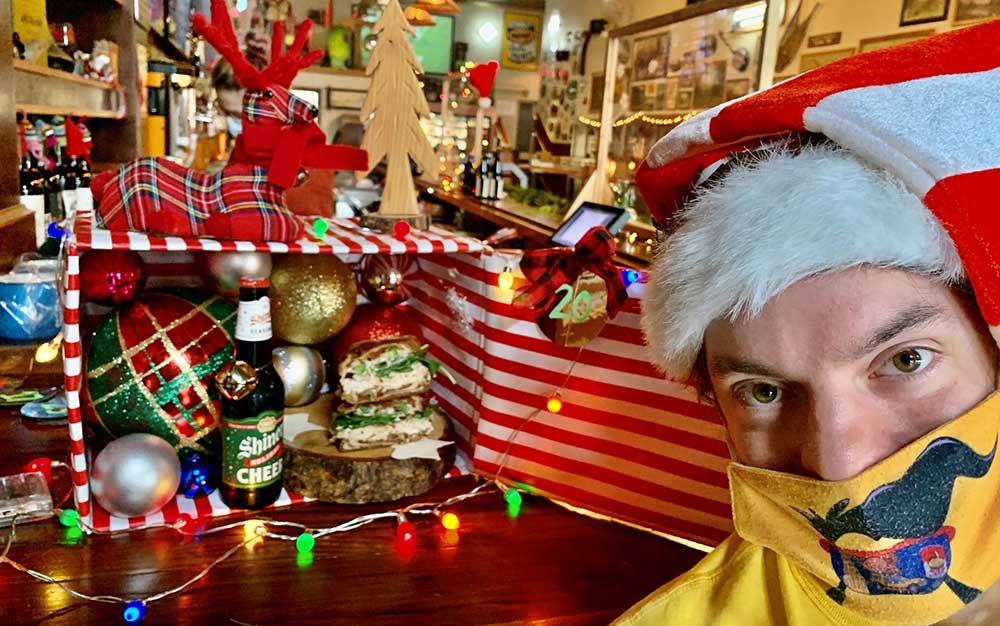 Peaks and Pints presents Adventwiches Beeralendar Day 20: Jalapeño Bell Rock
While referees are pulling flags during today's Seahawks game, Peaks and Pints is pulling advent calendar doors, specifically the Day 19 door on our Adventwiches Beeralendar — a daily holiday sandwich special and a winter beer behind a candy cane striped door. Bartender Mitchell opened the door to discover the Jalapeño Bell Rock sandwich special paired with Shiner Holiday Cheer.
Kitchen Kylee's Jalapeño Bell Rock jingles with turkey, jalapeños, gorgonzola, red peppers, spinach and fried onions on rye bread. It's paired with Spoetzl Brewery's Shiner Holiday Cheer, a Bavarian-style dunkelweizen brewed with Texas peaches and roasted pecans. The malty flavors are enhanced through the use of malted barley and wheat. And Kräusening (the process of adding a proportion of active wort to cellar tanks containing fully-fermented beer) ensures a smoothness that makes the subtle peach and pecan flavors all more satisfying.
Order the sandwich special ahead at 253.328.5621, and we'll have it ready for you when you grab the Holiday Cheer, or any of our 800-plus other craft beers, cider and wine.
Holiday and Winter Beers in the Peaks & Pints Cooler
Anchor Christmas Ale
Aslan King Moonracer Winter Ale
Ayinger Celebrator
Baerlic Yippee kI-PA
Brasserie d'Achouffe N'Ice Chouffe
Brasserie Dieu du Ciel! Solstice d'Hiver
Buoy Strong Gale Winter Ale
Cordendonk Christmas Ale
Dupont Avec Les Bons Voeux
E9 Fuzzy Claus Christmas Blend
Fremont 2020 B-Bomb
Hair of the Dog Doggie Claws Barleywine
Herb's Hopped-Cranberry Cider
Kulshan Kitten Mittens
Maritime Pacific Jolly Roger Christmas Ale
Old Schoolhouse Snow Cause For Alarm
Port Brewing Santa's Little Helper
Rogue Yellow Snow
Saint Bernardus Christmas Ale
Shmaltz Hanukkah Beer
Silver City Old Scrooge Christmas Ale
Stone Enjoy By 01.01.21 IIPA
---