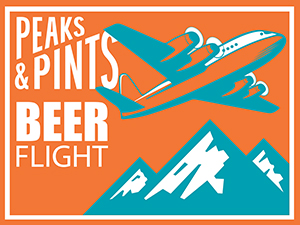 When the obnoxious and greedy dolt Augustus Gloop drowned in a river of chocolate, people all over the world nodded in unison: "If it's my time," they all agreed, "death by chocolate sure as hell beats getting flattened by failing infrastructures or dying of suffocation at the hands of an Oompa-Loompa." People all over the world just might suffer a chocolate death today as it's World Chocolate Day. Luckily for us craft beer lovers, there are many delicious and unique chocolate beers being crafted by worldwide breweries — just in time for this national day. Stop by Peaks & Pints craft beer bar, bottle shop and restaurant and grab our special to-go beer flight — Peaks and Pints Pilot Program: World Chocolate On The Fly — and enjoy the sweet flight that'll leave you high on cocoa.
Peaks and Pints Pilot Program: World Chocolate On The Fly
Samuel Smith's Organic Chocolate Stout
5% ABV, 28 IBU
ENGLAND: OK, it's chocolate time. Samuel Smith's Brewery has always brewed the old-fashioned way and the British operation still pulls water from its original well dug in 1758. Its Organic Chocolate Stout pours dark brown with a thin, khaki head. Light oatmeal and bready aromas lift to the nose, reminiscent of rising dough. On the tongue, this brew's complex and, with its oatmeal character, has a decidedly cookie quality to it: It's silky-smooth across the tongue, but also deep and grainy in the flavor. It's velvety and delicious, with creamy chocolate milk, chocolate syrup and cocoa powder dancing on the tongue. The brew sinks into the mouth and finishes sweet and full.
Rogue Chocolate Stout Nitro
5.8% ABV, 69 IBU
OREGON: Rogue Ales' award-winning Chocolate Stout is brewed with 10 ingredients: Northwest Harrington and Klages, Crystal 135-165 and Beeston Chocolate malts, Cascade hops, rolled oats and roasted barley, natural chocolate flavor, free range coastal waters, and PacMan yeast. The mellow flavor of oats, chocolate malts, and real chocolate are balanced perfectly with the right amount of hops for a bittersweet finish. The addition of a nitro charge to this Rogue classic blends up chocolate and malt flavors into a smooth creamy chocolate experience.
de Molen Mout & Mocca
10% ABV, 81 IBU
THE NETHERLANDS: Brewer Menno Olivier brough 12 years of experience to his Brouwerij De Molen, which translates to "The Mill Brewery" as the operation is located in a 300-year-old windmill. He began brewing in his kitchen as a hobby, went on to brew in Westmaas and Amsterdam, and then served as master brewer of De Pelgrim, a Rotterdam city brewery. His Mout & Mocca, translating to English as Malt & Mocha, is a coffee Russian imperial stout with biscuit malt, some chocolate, leather and light coffee on the nose. The taste follows the nose leading with coffee and dark chocolate and ending bitter.
Equilibrium Rocky Road Trip
11% ABV
NEW YORK: Conditioned on cacao, vanilla beans, marshmallow, almonds, and walnuts, Equilibrium Brewing's Rocky Road Trip pours pitch black with a creamy tan head releasing notes of Rocky Road ice cream. Flavors of a smooth chocolate ice cream shake and dollops of chewy marshmallow swirls contrast with an almond nuttiness and a touch of walnut to create a balanced stout that pays homage to one of their favorite ice cream flavors. Decadent, creamy, and playful, this imperial stout will take to you back to sweet childhood memories.
Omnipollo In Plenty
12% ABV
SWEDEN: Swedes Karl Grandin and Henok Fentie are fancy. Their beer is fancy, thanks to homebrewer turn mad scientist Fentie. Their label art is fancy, thanks to visual artist Grandin. They don't brew much in Sweden, but they travel to fancy lands to brew their creative brews, many times with collaborating breweries. Since they founded Omnipollo in 2011, they keep a constantly curious, razor-sharp and fancy approach to everything they do. Inspired by those lovely decadent chocolate, coconut and vanilla filled cakes Omnipollo's In Plenty is a thick imperial stout full of cocoa nibs, really aromatic toasted coconut, and vanilla. It's rich, thick, and sweet.
LINK: Peaks & Pints cooler inventory
---