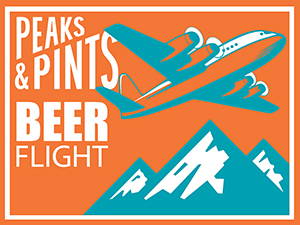 It dropped to 37 degrees last night in Tacoma. Today, it's 51 and all the rain, with winds peaking at 15. Winter is coming. If you're looking to curl up in front of fireplace with a delicious beer, it's time to think winter warmer. These brews are not within a narrowly defined style; rather, they're a broad range of beers that offer bold flavors, often with sweet maltiness and lots of alcohol. In fact, if you want to know the whole horrifying holiday gamut permissible in your winter warmer, the BJCP's guidelines for "Winter Seasonal Beer" include "Christmas cookies, gingerbread, English-type Christmas pudding, evergreen trees, or mulling spices. Any combination of aromatics that suggests the holiday season is welcome." Terrifying, yes, but again, we're not really opening up a spice rack and dumping it into beer this season. The BJCP will "allow for brewer creativity as long as the resulting product is balanced and provides some spice presentation." When Peaks and Pints thinks winter warmer, we think of the beer we list below. Stop by our craft beer bar, bottle shop and restaurant and grab a to-go flight of Peaks and Pints Pilot Program: Winter Warmers On the Fly.
Peaks and Pints Pilot Program: Winter Warmers On the Fly
Samuel Smith Winter Welcome Ale
6% ABV, 32 IBU
The Old Brewery at Tadcaster was founded in 1758 and is Yorkshire's oldest brewery. Samuel Smith Brewery is one of the few remaining independent breweries in England, and further is the last to utilize the classic Yorkshire Square system of fermentation solely in stone squares. The rich Samuel Smith strain of yeast at The Old Brewery dates from the early 1900s. Hops are hand-weighed by the master hop blender, and the brewing water is drawn from the original well, sunk over 250 years ago. Samuel Smith's Winter Welcome Ale is a limited edition sporting big, malty caramel drop with sweet toffee with just a touch of banana and cloves balanced against whole-dried Fuggle and Golding hops leading to a dry, bitter finish.
Kulshan Kitten Mittens Winter Ale
7.4% ABV, 39 IBU
Kulshan Brewing adds four different malts — 2-row, Chocolate, roasted barley and Munich — to Kitten Mittens Winter Ale giving it the rich, medium-bodied winter warmer we adore with a nose of milk chocolate and a touch of brown malt. The body strikes a nice mix of easy malty notes and medium sweet chocolate balanced by earthy hop notes, thanks to the Apollo, Willamette and Fuggle hops. Expect a touch of chocolate liquor on the finish.
21st Amendment Fireside Chat
7.9% ABV, 45 IBU
21st Amendment Brewery produces a line of very tasty brews including Fireside Chat, a winter ale with a nod toward Franklin Delano Roosevelt's Depression-era radio addresses. (Franklin Roosevelt won the 1932 presidential election based in large part on his promise to repeal the 18th Amendment. He did so incrementally, beginning by legalizing the sale of beer, and ending with the 21st Amendment, the first and only time an amendment to the Constitution has ever been repealed.) On the nose, all the typical winter warmer flavors are accounted for: roasted malts, cinnamon, ginger, caramel, clove and a smidgen of orange peel. Big notes of cinnamon and ginger lie in wait up front, with a touch of subtle orange peel and some clove with a big ginger sendoff, washing in some cinnamon, bread notes and subtle chocolate, too.
Deschutes 2020 Jubelale
6.7 ABV, 65 IBU
Deschutes Brewery's former head brewer John Harris originally brewed Jubelale for Christmas and modeled it after an English strong ale or winter warmer. He brewed that first batch on October 26, 1988, and according to the brewing log, it contained pale malt, caramel malt, chocolate malt, and dextrin malt, and the hops used were Galena, Cascade, "Wills" (assuming Willamette), and Tettnanger in the hop back. Starting gravity was 1.065, and the resulting alcohol was 6.25 percent by volume. The Bend, Oregon brewery has been producing the robust and malty but approachable Jubelale winter festive ale every year since. Its spicy-malt flavor, cocoa, dried fruit and toffee notes ignite cozy warmth on the taste buds — perfect for any number of winter pastimes, like making toys. This year's Jubelale label artwork — an iconic staple anticipated almost as much as the beer itself — was designed by Eric Nyffeler, a popular Portland based artist best known for his concert posters for musicians including The Avett Brothers, Phish, St. Vincent, the Decemberists, and many more.
Double Mountain Fa La La La La
7.6% ABV, 85 IBU
Winter warmers are top-fermenting ales that offer plenty of malty and sweet flavors alongside a balanced hop character. Many of these tasty brews are blended with spices, which give the style its trademark "warmth." Double Mountain Brewery's winter warmer is a big, malty hop bomb. Brewer Matt Coughlin loads the brewery's inaugural holiday brew up with Gambrinus Organic Pilsner, Munich malt, imported Crystal malts and enough Centennials to fill Santa's toy bag.
---