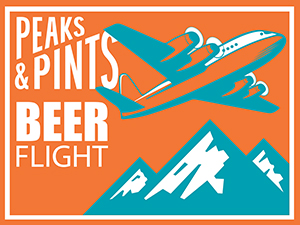 Europeans have been putting beer in wooden vessels for hundreds of years. Before industrialization, beer was fermented in wood, stored, and shipped in wood, and poured directly from wood. Beer spoiled often. Life sucked. By the mid-20th century, most breweries had happily traded their temperamental wooden barrels for the reliability and convenience of metal tanks. Then, breweries realized how kind wood can be to beer that's treated properly. Sure, it's expensive, and predicting when a batch will be ready is tricky. But results are rarely disappointing — such as aging beer in wine barrels. Wine barrels induce fruit flavors and usually make a beer's mouthfeel more vinous and dry. Barrels made of French oak, as opposed to American, create a subtler character in beer, often spicy and tannic. Today, Peaks and Pints ages its daily to-go beer flight in wine barrels in what we call Peaks and Pints Pilot Program: Wine Barrels On The Fly.
Peaks and Pints Pilot Program: Wine Barrels On The Fly
Mirage Ray
5% ABV
Mike Dempster opened Mirage Beer in the Seattle South Park neighborhood, south of Georgetown, in November 2017. He earned his chops brewing at Greenpoint Beer Works in Brooklyn, Buoy Beer Co. in Astoria, and Wingman Brewers in Tacoma where he helped Peaks & Pints brew a recreation of Bert Grant's Perfect Porter called Perfect Proctor Porter for our opening day, Nov. 1, 2016. Even though Mirage is currently building a new permanent home in Ballard, this beer began in the Winter of 2020 with a base of spontaneously inoculated wort brewed in the methode traditionnelle and fermented in freshly emptied Cabernet Sauvignon puncheons. In the Spring of 2021, it was blended with a saison brewed with aged hops that spent 36 months in freshly emptied Pinot Noir barrels. It's naturally conditioned in the bottle with Brettanomyces.
de Garde Ivy
6% ABV
De Garde Brewing brews their Ivy wild ale with 100-percent regionally grown pale malted barley. In the kettle, it sees both 3- to 4-year aged whole leaf hops, as well as pellet hops from the most recent harvest — both grown in Oregon. One malt, one hop, Tillamook water, and 2 years in neutral wine puncheons. They choose from these barrels a blend that is funky, but not too funky, tart, but not too sour. Complex, but still hedonistic.
Cascade Apricot 2021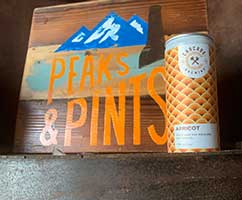 7.1% ABV
Cascade Brewing's Apricot 2021 is a blend of sour blond ales aged in oak wine barrels for up to 14 months, then naturally fermented with Northwest-grown apricots and aged on the fruit of the first and longest-running blends in our portfolio, Apricot has become a quintessential part of Cascade Brewing's identity as a producer of Northwest sour ales, including the Apricot 2019 version on tap at Peaks & Pints.
The Ale Apothecary Orobas
7.75% ABV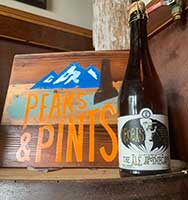 Fermented with equal parts barley and honey, honoring the early, mystical root of brewing, The Ale Apothecary adds raw honey to Orobas' wort in barrels for wild yeast to start fermentation. After 22 months the wild ale is transferred into barrels of Pinot Noir grape pomace from Domaine Drouhin for 7 months.  The result is a 100 percent naturally carbonated wild ale with honey made with 100 percent Oregon ingredients for a dry, grape, and floral sour ale with a tannic bite.
7 Seas Tripel Delight
10.4% ABV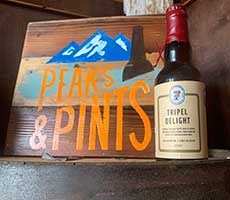 Founders Mike Runion and Travis Guterson opened 7 Seas Brewing in 2008, but a fire in January 2009 at the original downtown Gig Harbor address meant the two young beer makers and co-owners had to relocate. Popularity and growth forced them to move to a larger location back in downtown Gig Harbor, which they eventually closed after opening an 80,000-square-foot expansive taproom and production facility with 10,000 sq. ft. basement for barrel program in downtown Tacoma at a site that once held part of the Heidelberg Brewery. 7 Seas still has a home in Gig Harbor — a waterfront taproom in the former Green Turtle location. Their barrel aged, Trappist-inspired Tripel Delight is conditioned on dried citrus peel and a touch of fresh ginger. Aged for 2 years in port wine barrels, this Belgian style tripel showcases a dried fruit characteristic with subtle caramel flavors leading to a dry, mildly tannic finish.
LINK: Peaks & Pints cooler inventory
---