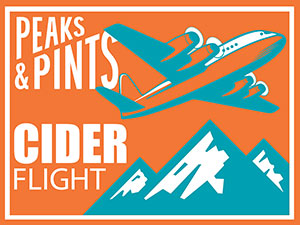 The biggest question in the hard cider world is: How does the Zehner family find time to make their delicious Incline Cider juice? The social media accounts of Incline co-owners Jordan and Lesley Zehner are filled with mountain hikes and marathon trainings. Yet, with help from Jordan's parents and co-owners, Chris and Teresa, Incline continues to make delicious cider, as well as fill their taproom with what seems like a party daily. Since 2015, the Zehner family has made delicious, crushable cider, many from a dry-hopped apple base to pull out citrus aromas. The Auburn-based cidery with a popular Tacoma taproom uses 100 percent fresh pressed apples, no added sugar, no carbonated water, and the result are ciders that are balanced, not too sweet and super flavorful. Stop by Peaks and Pints and grab Peaks and Pints Monday Cider Flight: Incline.
Peaks and Pints Monday Cider Flight: Incline
Incline Lemongrass
6.5% ABV
Lemongrass is an herb with a lemony scent. The culinary herb is produced from the stalk of the lemongrass plant (Cymbopogon citratus). This plant grows in many tropical climates, most notably in Southeast Asia. A common ingredient in Thai cooking, lemongrass can also be found in Indonesia, Sri Lanka, and India — adding citrus-like aroma and zing to these countries' dishes. It is also used in herbal teas (tisanes), cocktails, and Incline Cider's Lemongrass cider with 100-percent fresh pressed apples and a hit of hops. Its bright, refreshing, and slightly tart.
Incline Marionberry
6.5% ABV
It's a cross between the Chehalem and Olallie blackberries. It has a dark red to black color, has medium-sized seeds and weighs 5 grams on average. The flavor is richer than a regular blackberry, which is why the fruit has been dubbed "the cabernet of blackberries." It's the marionberry. Incline Cider's most popular cider, Marionberry pours a dark purple with an inviting dark fruit nose. The fruit forward cider has a tart finish that keeps it balanced.
Incline Passion Guava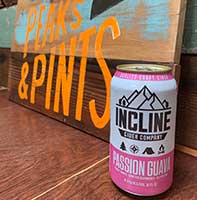 6.5% ABV
Pink Starbucks-inspired creations have been making the rounds on TikTok, which dramatically increased after Starbucks released their Iced Guava Passionfruit Drink in May 2020. Peaks & Pints wouldn't be surprised if Incline Cider's Passion Guava cider made the TikTok rounds too. Tropical, citrusy, and tart, Passion Guava is packed with real passionfruit and guava puree offering subtle tartness and acidity balancing the profile, keeping big fruit flavors front and center without too much sweetness.
Incline White Peach
6.9% ABV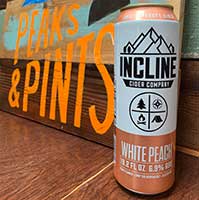 From the outside, yellow and white peaches are distinguished by their skin color — deep yellow with a red or pink blush for the former versus pale and pink for the latter. Inside, the golden flesh of the yellow peach is more acidic, with a tartness that mellows as the peach ripens and softens. White-fleshed peaches are lower in acid and taste sweet whether firm or soft. White peaches also more delicate and easily bruised, which kept them from being sold in most stores until the 1980s, when hardier varieties were developed. According to Russ Parsons in How to Pick a Peach, older varieties of white peaches (and nectarines) had a bit of tang to balance the sugar, but the ones sold today are more uniformly sweet. Incline's White Peach is sweet, indeed, but not too sweet. Peach flavor does shines, though.
Incline Prickly Pear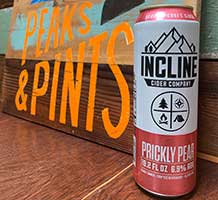 6.9% ABV
Prickly pears are the fruit of the nopalito cactus, whose paddle-shaped stems are also eaten in the form of nopales. These cacti are found throughout the Southwestern U.S. and Mexico. While they're quite unpleasant to bare skin with their protective spines, this cactus fruit yields mild, sweet, and refreshing juice. Incline's Prickly Pear offers tropical aromas and a vibrant fuchsia color accent the unique characteristics of the cactus fruit. It's earthy, bright, and semi-dry.
LINK: Peaks & Pints cooler inventory
---