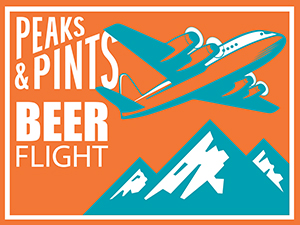 Today, Peaks and Pints presents a to-go flight of Western Red Brewing beer brewed in Poulsbo, Washington. We're not featuring the family-owned, lumber-themed brewery because we pour craft beer from a Western red cedar tap log, the namesake of the Denver and Marianna Smyth's Poulsbo brewery, but rather the beer is good. With all due respect, the beer tastes like Head Brewer Denver has trained at several breweries. He hasn't. He's a lumber company owner and homebrewer turned who went pro in 2017 with a 1,500-square-foot brewing yard and family-friendly lumber-themed tasting room. The handle-bar mustached Denver and his family knows business and are growing Western Red Brewing gradually. Cheers to him! Today, we're offering a to-go flight of their beer — a flight we're calling Peaks and Pints Pilot Program: Western Red On The Fly.
Peaks and Pints Pilot Program: Western Red On The Fly
Western Red Main Line
5.24% ABV
In the Smyth's other world, a mainline is a heavy cable that is wound up on the drums of the donkey or yarder in order to pull the logs from where they were cut to where they can be loaded. Western Red's Main Line isn't heavy. It's a light, clean, flavorful, balanced beer with notes of caramel, biscuit and earthy hops, lively carbonation, and a nice lingering biscuit malt flavor. It's heavier on the malt side, but the dry finish ensures that it's not too sweet or heavy.
Western Red Powder Wedge Porter
5.2% ABV, 24 IBU
In the Smyth's other world, a powder wedge is filled with gunpowder to split logs too large for a sawmill to handle. In their Western Red world, Powder Wedge is a solid black ale with hints of coffee, vanilla and light roastedness. This porter is not showy or cloying. It's rich and flavorful, finishing malty, yet clean and similar to what one looks for in the traditional English version of the style. There's plenty of flavor without being too heavy or strong and its malty sweetness invites a second glass.
Western Red Single Buck IPA
6% ABV, 76 IBU
Bucking is the process of cutting a felled and delimbed tree into logs. Single Buck stands firm with clean body, citrus and honey-drizzled biscuits aroma, and a modest bitter bite in the finish. Citrus hops ebb over tropical fruit with 6 percent alcohol by volume, bringing a welcome change from today's norm of paint-peeling hop bombs.
---