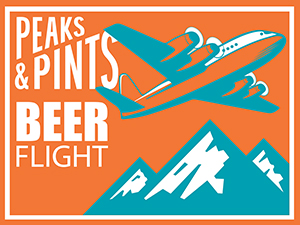 Colleen and Chad Kuehl wandered into each other at the University of Iowa many years ago, then wandered around the world. Then engineer Chad wondered about craft beer, eventually attending the American Brewer's Guild in 2011 before working at Hilliard's Beer in Seattle. They wondered what would happen if they started Wander Brewing in Bellingham. Peaks & Pints wanders how will ever top our Wander Brewing to-go beer flight, which we call Peaks and Pints Pilot Program: Wander On the Fly. This beer flight of bottles and cans includes the first two sour beers fermented in Wander's coolship, the first coolship erected in Washington state. Cheers!
Peaks and Pints Pilot Program: Wander On the Fly
Wander Act One
8.2% ABV, bottle

Wander's Act One is just that, their first sour beer 100 percent spontaneously fermented in the state's first coolship. Coolship, an anglicized term from the Dutch/Flemish word, koelschip, is a large, shallow and open stainless steel vessel used to make spontaneously fermented ales, similar to how they're made by lambic breweries in Belgium. Act One is, in fact, a kriek lambic exposed top the open air in the coolship to be inoculated by wild yeasts (including various strains of Saccharomyces and Brettanomyces) and bacteria (including various strains of Lactobacillus and Pediococcus), and then it's pumped into barrels where it will begin to slowly ferment with Balaton cherries.
Wander Intermission
6.8% ABV, bottle

Act One is complete. We now pause for Intermission. The second stage in Wander's evolving coolship project is Intermission, a blend of 100 percent coolship-captured spontaneously fermented lambic-style beer aged for two years in French oak. It's bubbly dry with tangerine-pineapple tartness and layered in Brettanomyces funk. Act Two is near.
Wander Correspondent Foreign Extra Stout
6.4% ABV, 40 IBU, can

The Foreign Extra Stout style is brewed for the export market today, but with a history stretching back to the 18th and 19th centuries when they were more heavily-hopped versions of stronger export stouts. Wander Brewing scored a gold at the 2017 Great American Beer Festival for its Correspondent Foreign Extra Stout. Typical for the foreign extra stout style, Wander hits a higher gravity, but blow imperial numbers, for sweet, darkly-toasted caramel and some milk chocolate from the malts, but mostly toasty grain, followed by a nice sweet pine note and long mildly sweet finish. A creamy, medium body with lively carbonation goes for the gold.
Wander Thunderboom Hazy Double IPA
8.6% ABV, can

A thunderous brew that is big, loud and obnoxious in all the best ways. Featuring Simcoe, Cashmere and El Dorado hops, Thunderboom New England-style IPA explodes with humongous tropical fruit, pineapple, melon and light grapefruit aromas.
---