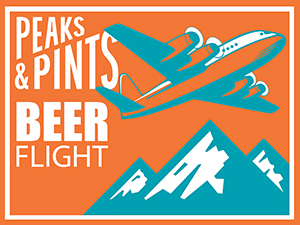 In 2014, Luke Wohlers and his wife and business partner, Trinie Thai-Parker, put Henry David Thoreau's book, Walden, back on their bookshelf then launched Walden Selections, their Seattle-based wine distribution and import company. Walden's sales have nearly doubled every year. Today Walden Selections imports 200 to 250 wines from 60 or 70 producers, with an operation in Oregon, too. Their wine book rocks, but Peaks & Pints digs their import beer and cider books, especially after Shelton Brothers importers closed during the pandemic. Peaks & Pints recently received another Walden Selections shipment. Let's turn it into a to-go beer flight! Stop by Peaks & pints craft beer bar, bottle shop, and restaurant in Tacoma's Proctor District and grab Peaks and Pints Pilot Program: Walden Selections Beer Flight.
Peaks and Pints Pilot Program: Walden Selections Beer Flight
Drie Fonteinen Braambes Oogst 2020 Blend No. 21
5.5% ABV
Drie Fonteinen macerated hand-picked blackberries from Ferme Framboos in Huldenberg, Vlaams-Brabant, Belgium, for three months in a 50/50 cut with lambikken from five different barrels and five different brews. Before bottling, they added lambikken from another barrel and two different brews. The majority of the lambikken is 3 Fonteinen brewed, and one quarter of those are from their Brabant farmers' collective.
Drie Fonteinen Framboos Oogst 2019 Blend No. 14
6.2% ABV
This Framboos was created with raspberries from Ferme Framboos also from beautiful Huldenberg. Drie Fonteinen macerated these for three months on jonge lambik from three different barrels and three different brews. They blended with another two jonge lambikken from two different barrels. It's a 100 percent Drie Fonteinen brewed lambik.
De Molen Tsarina Esra
10.1% ABV
Brewer Menno Olivier brough 12 years of experience to his Brouwerij De Molen, which translates to "The Mill Brewery" as the operation is in a 300-year-old windmill. He began brewing in his kitchen as a hobby, went on to brew in Westmaas and Amsterdam, and then served as master brewer of De Pelgrim, a Rotterdam city brewery. His Tsarina Esra is an imperial porter with his roots in England from many ages ago with flavors of chocolate and licorice.
Nøgne Ø Batten Down the Hatches
14% ABV
Nøgne Ø is a Norwegian brewery founded in January 2002 by Gunnar Wiig and Kjetil Jikiun. The name is Danish for "Naked Isle" and was selected from the 19th-century Norwegian poem Terje Vigen by Henrik Ibsen. Nøgne Ø has one of northern Europe's largest barrel cellars; they hand-picked and tasted their way to this full-bodied, tasty, and harmonious imperial stout. Cognac and aquavit from the barrels shine through easily and help enhance the feeling of exclusive confectionery.
LINK: Peaks & Pints cooler inventory
---