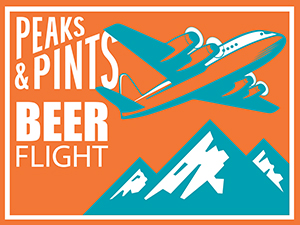 Wag Pet Market has held a leash for 18 some years in Tacoma's Proctor District. That's still a puppy in dog years. The pet store is open for business during these dog poopy times with a full stock of fun toys and great treats, as you can witness on their Facebook. Wag also gives animal birthday shout-outs on Facebook, too. The store is open 11 a.m. to 4 p.m. Monday, Wednesday, Friday and Saturday, allowing two mask-wearing customers inside, with the option of curbside service. You can text your orders to 253.756.0924. After shopping at Wag, Peaks & Pints suggests you walk down the street to our craft beer lodge and pick up a to-go flight of animal craft beer so both you and your pet will have fun at home. We also open at 11 a.m. for the flight, Peaks and Pints Pilot Program: Wag Pet Market On the Fly, plus 800 more bottles and cans to go. Bow wow wow yippee yo yippee yay!
Peaks and Pints Pilot Program: Wag Pet Market On the Fly
Loowit Iron Rabbit Hazy IPA
4.3% ABV, 12 IBU
Loowit Brewing's flagship hazy IPA has what looks to be a female Iron Rabbit totting a double-headed battle axe — so we guess it can be on this flight. … Brewed with Extra Pale Pilsner malt, unmalted wheat, plus Citra, Mosaic, and Ekuanot hops, this hazy IPA has full flavors of citrus balanced by hints of tropical fruit and a bouquet of flowers, create a refreshingly crushable beer. The styles low bitterness allows for each sip to provide exciting hop flavors with out punching your taste buds to death.
Black Raven Kitty Kat Blues
5.8% ABV, 35 IBU
From Redmond, comes this Black Raven Brewing unassuming pale ale that has the screws turned a bit with additions of dried blueberries, vanilla bean and, originally, organic mountain-grown catnip, but has since been substituted with hibiscus. The result is an easy drinking pale ale that finishes like this morning's blueberry muffin with, of course, vanilla, dry bittering hops and hibiscus.
Revision Sparkle Muffin
7% ABV, 30 IBU
Revision Brewing brews a ton of New England-style IPAs; this one sparkles with fruitiness, strawberry and blueberry hop notes, medium-muffin hop bitterness, medium cracker muffin, and a dry finish. Indeed, this fruit-forward single IPA with a prancing pink and white cat on the can features deep flavors of citrus from the hops yet is easy drinking.
Fat Orange Cat Bruno The Baby Beer Cat
6.8% ABV
Fat Orange Cat Brew Co. is a small, seasonal farm brewery in East Hampton, Connecticut, but many of their craft beers, including Bruno the Baby Beer Cat hazy IPA, is brewed and canned at Dorchester Brewing in Boston, Massachusetts. They specialize in small batch recipes making an effort to support and promote local agriculture. Fat Orange Cat's Bruno is brewed with Mosaic, Galaxy and Denali hops for intense but balanced berry, pineapple, and citrus flavors with a smooth, purrfect finish.
Timber The Pugs and the Pit
12% ABV
The plaid-wearing outdoors enthusiast Jason Stein would leave his Upper West Side apartment in New York City and travel to Long Island to homebrew barrel-aged imperial stouts and barleywines in his parents' garage. Today, he'll brew his Timber Ales in Connecticut on 12 Percent Beer Project's big system. His The Pugs and the Pit imperial stout is brewed in collaboration with his friends from Moksa Brewing Company. This imperial stout is aged on Ugandan vanilla beans and cocoa nibs before being canned for your pugs and pitbulls to knock around on the floor.
---