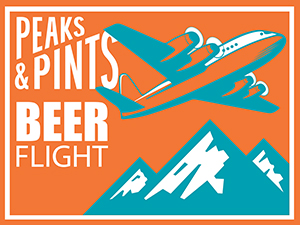 The historical epoch of Armistice Day began with the Nov. 11, 1918, signing of a ceasefire between Germany and the Allied powers of World War I. President Woodrow Wilson initiated it. In the South Sound, we're reminded of war's impact more often than people in most other cities. But even so, it's not often enough. Our freedoms, our heritage, and the way of life we enjoy today are made possible because of our military veterans. Today's 100th anniversary of Veterans Day honors all of America's veterans for their patriotism, service, and sacrifice. And for their families, there is no better time than now to recognize them and give thanks for the remarkable sacrifices they have made. Happy Veterans Day to all the veterans and current troops serving in our military. Today, Peaks & Pints offers a special veteran-themed to-go beer flight, which we call Peaks and Pints Pilot Program: Veteran's Day Beer Flight. Cheers!
Peaks and Pints Pilot Program: Veteran's Day Beer Flight
Boundary Bay Cabin Fever
8.5% ABV
Bruce Kale was Boundary Bay Brewing's first employee. The Army veteran's parents also served in the Armed Forces. His father, Glen Kale, served as a drill sergeant in Greensboro, N.C. before shipping off to India during World War II. His mother, Frances Curtis Kale, served in the Navy as a Radio Radar Receiver as well as an Assembly and Repair Airplane Carrier also during WWII. Currently, Kale's parent's uniforms are on display at Boundary Bay. Boundary Bay's General Manager Janet Lightner's father, Craig Lightner, also served as a pilot in the Navy. Boundary Bay's winter seasonal Cabin Fever is rich, malty, and deceptively strong. With an extended conditioning period, this winter warmer has a smooth mouthfeel. The aroma has a rich, nutty maltiness with some vanilla, raisins, caramel, and bread. The flavor leans sweet nutty initially and then opens for more of a balance with spicy hops that are not strong and end up creating a lovely lingering bready aftertaste.
Top Rung Probie #3: Thi-Way To The Danger Zone
6.6% ABV, draft
Led by Thurston County firefighter Capt. Casey Sobol, with veteran Tyler Mathis leading the brewhouse, Top Rung Brewing has championed active and retired military since they opened in April 2014. Making its return for batch 3, the Probie series highlights new yeast and hop variations. This version is an IPA. Brewed with Cascade and Saaz mash hops with Ahtannum and Mottueka cryo dry hops impart expect guava notes and Sauvignon Blanc aroma from thiolized yeast. "Thiolized" refers to engineered yeast strains that have the ability to "unlock" new tropical aromas and flavors produced during fermentation.
Varietal Twine Climber
6.7% ABV
Chris Baum, John Cope, Chad Roberts, David Paulson, and Karl Vanevenhoven opened Varietal Beer Co. in April 2018 in the Port of Sunnyside between Yakima and the Tri-Cities in Eastern Washington. The ownership all had a variety of dreams and life goals, but their Venn diagram centered on owning a brewery in the Yakima Valley. Paulson, who moved to Yakima in 2004 after serving in the U.S. Marine Corps, brought a financial and accounting background to Varietal. Brewed with Citra, Simcoe and Mosaic, Twine Climber is a citrus-style West Coast IPA.
Georgetown Bodhizafa
6.9% ABV, 60 IBU
Georgetown Brewing's Bodhizafa won the 2016 GABF Gold Medal for IPAs, beating out more than 300 beers to win the honor. We could just drop that and walk away. What else needs to be said? Maybe the IPA is pale in color with a light silky texture from the rolled oats. The flavor and aroma both express mandarin and citrus. Five pounds of hops per barrel makes this IPA truly juicy, full of citrus and fruity. We could talk about the obsession the Seattle brewery has with the film Point Break. Or, keeping with today's theme, Georgetown's Research and Development Brewer Matt Edwards, who invented Bodhizafa, is a military veteran. So are his fellow Georgetown brewers Jack Treptow and Rick Denkert. We'll let Bodhi do all the talking, brah. 
Task Force Until Valhalla 2022
6.5% ABV, draft

There is nothing better than kicking back on a Sunday afternoon with sandwiches, swapping war stories with friend, and knocking back a couple craft brews. But what if, when you separated from the military, you could make beer for a living? Col. (Ret.) Colin Miller CW4 (Ret.) Jon Alexander and did. Thirty-one years ago, the duo brainstormed a craft beer brewery while serving with the 2nd Battalion, 160th Special Operations Aviation Regiment (Airborne). The idea of starting a brewery after they were done with their Army careers appealed to the two beer lovers. Joined by a few fellow veterans Capt. (Ret.) Jim Leise, Lt. Col. (Ret.) "Big" Ike Eisenbarth, CW4 (Ret.) Dan Ayers, CW4 (Ret.) Joe Wall, Col. (Ret.) Tamarin McCartin and others opened Task Force Brewing in Lakewood with a mission of "providing locally-sourced food and carefully-crafted beer to like-minded enthusiasts and burgeoning beer fans alike." Their Until Valhalla 2022 Imperial Hazy IPA is brewed with the Yakima Chief Veterans Blend 2022 featuring HBC 586, Triumph, Chinook, Ekuanot, and Idaho 7. This is the fifth year for the Veterans Blend and YCH is honored to partner with the HunterSeven Foundation, a Veteran-founded, nonprofit organization that specializes in medical research and education specifically on the post-9/11 Veteran cohort.
Protector Citra Juicy DIPA
8% ABV, 70 IBU
Navy SEAL Sean Haggerty brewed his first batch of Protector Brewery beer in a five-gallon Gatorade cooler while serving in Iraq. It was 2010, and after patrols he craved a beer. Haggerty had ingredients shipped in and brewed beer on the down low. While he remained in the military until 2015, Haggerty recruited a brewing team. He brought in fellow SEAL Ryan Sangster and friends Ryan Allis, a biologist, and Mark Thorsen, who brought experience in beer sales and design, respectively. The team also recruited Ben Betz — another SEAL who was also into brewing and thinking about opening a beer company. With the goal of brewing delicious organic beer, they launched San Diego's first certified organic brewery in June 2017 in the Miramar is a neighborhood in the northern part of the city. Protector's Citra Juicy DIPA uses a Pilsen malt base to ensure insane amounts of Citra and Mosaic hop flavors and aromas. They add a small amount of oats to stabilize the haze and mellow the high alcohol. Expect clean bitterness and a nice, crisp finish.
LINK: Peaks & Pints cooler inventory
---