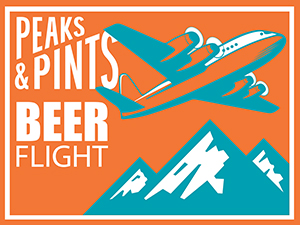 Founder Paul Arney and his team are focused on one thing at The Ale Apothecary — making truly unique beers, using strictly Oregon ingredients — including local barley, wheat, hops, barrels, and even the wild yeast drifting around the high desert air — aged in oak, waiting patiently for the right moment to express themselves. Ex-Deschutes brewer Arney bottle conditions his beer, allowing for natural carbonation and more complex flavors that are unlocked after further aging, and as a result, everything at their Bend, Oregon taproom is in bottles. And much of it is already spoken for through the brewery's exclusive ale club, which has a running wait list of 100. A pile of Ale Apothecary beer landed at Peaks and Pints. How about you drop by our craft beer bar, bottle shop and restaurant today for a to-go flight of Arney's beer — a flight we call Peaks and Pints Pilot Program: The Ale Apothecary Beer Flight.
Peaks and Pints Pilot Program: The Ale Apothecary Beer Flight
Ale Apothecary Barrel Age Wild Ale
5.5% ABV
Somewhere between a saison and a pale ale, The Ale Apothecary combines four grains grown in Madras, Oregon, their house yeast, and Crystal hops from Sauvie Island in their mountain brewery for a crisp, dry hopped wild ale bottle-fermented with honey and aged in oak. Expect musty, oaky orange, mango funk with a nice light zippy limey acidity.
Ale Apothecary Tumalo Kriek
6.17% ABV
The picturesque Tumalo Creek is a tributary to the Deschutes River. Over the winter, it is blanketed by deep snow and during the spring is usually too swollen to fish well. It's a popular spot for trout the other two seasons. Tumalo Creek is also Ale Apothecary's source for brewing water, which is a major ingredient of their Tumalo Kriek — a spontaneous wild ale aged in oak barrels with cherries and conditioned with honey. It's a tart cherry forward fruit beer with just enough oak and funk to make it awesome.
Ale Apothecary Ralph
7.75% ABV
Arney's great-grandfather, Ralph, was a pharmacist who worked in rural Eastern Washington. A wall in Apothecary's taproom bathroom is decorated with prescriptions for beer that Ralph wrote for "patients" during Prohibition, one of the few legal ways to obtain alcohol in that era. Ale Apothecary Ralph is brewed in honor of pharmacist-father of their founding brewer-artist. Mashed overnight in an oak vat, Ralph is made of Mecca Grade Vanora malt, Skagit Valley Caramel malt, aged Goschie Farms Cascade hops, water from their Skyline aquifer, and microbes and fir boughs from our surrounding forest. Open fermentation occurs in wooden vats prior to aging in Oregon pinot noir barrels from Domaine Drouhin. Over a year later, Ralph is transferred to a large barrel with fresh fir boughs prior to bottle fermentation with Oregon honey. The result is a restrained fir/herbal character in the nose and on the palate, with light lemony barnyard funk and a little pucker.
Ale Apothecary Earthbound Astronaut
8.4% ABV
Seth Klaun's family has been farming in central Oregon since 1905. Klaun's Mecca Grade Estate Malt incorporates a revolutionary malting process to transform rare grain varietals into malt bursting with character. The Ale Apothecary digs Mecca Grade Estate Malt as it allows the Bend, Oregon brewery to make 100 percent Oregon grown beer. Brewed with toasted Mecca Grade Estate Metolius malt, Earthbound Astronaut is a rich, smooth, and malty sour with a hint of cherry in the finish.
Ale Apothecary Sahalie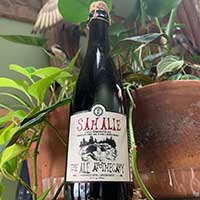 9.4% ABV
The flagship of Ale Apothecary, Sahalie grabbed gold at the 2018 Brussels Beer Challenge. It's brewed with local Oregon barley malt, wheat, and last year's crop of Oregon Cascade hops, which are added to the boil copper for bitterness and dry hopped for a month in oak barrels. Hop bitterness and acid produced by Apothecary house lactobacillus culture provide the balance to the malt and oak structure of the beer, which is aged for a year in oak. Sahalie has a tropical and citrus fruit nose of apricots, pineapple, and orange produced from yeast esters and hop oils. The palate is tart and pithy, combining earthy and herbal undertones that evolve as the beer warms and opens up within your taster glass.
Ale Apothecary El Cuatro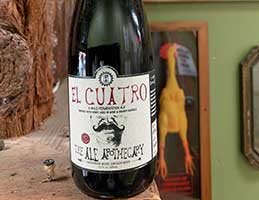 10.11% ABV
El Cuatro is made of barley and caramel malts co-mingling with Lactobacillus and Brettanomyces. After brewing and conditioning, the wild ale is transferred into brandy barrels to age for up to a year during an extended Brettanomyces Lambicus fermentation. Prior to bottling, the beer is blended with a small portion of year-old Sahalie, which houses the only hops added to this beer. Brandy barrels and wild yeast fermentation offer a plum and cherry fruitiness balanced by the slight toast of the malt body.
LINK: Peaks & Pints cooler inventory
---