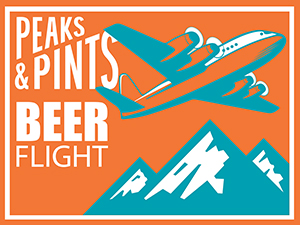 Valentine's Day conjures up visions of classic couplings: Romeo and Juliet, John and Yoko, sweet fruit and chocolate. Combine those latter two with some beer, and you have a three-way that will warm the cockles of the most demure drinker. In celebration of the Hallmark holiday, Peaks and Pints presents a beer flight with that shares the flavors of the usual Valentine's day gift: chocolate covered fruit. Indeed. While the bitterness of an especially hoppy beer might not be ideally suited (unless, of course, you were recently dumped – when bitterness might be appropriate), there are several offerings that blend well with the day, offering explosive tastes of chocolate and/or sweet fruit. Peaks and Pints found it in our hearts to gather up a few beers that would be appropriate for Valentine's Day. Fall in love with Peaks and Pints Pilot Program: Valentine's Day Beer Flight.
Peaks and Pints Pilot Program: Valentine's Day Beer Flight
Lindemans Framboise
2.5% ABV
Indigenous to the Senne Valley of Belgium, lambics stem from a farmhouse brewing tradition several hundred years old. These brews are spontaneously fermented — meaning pots containing the wort are left outside and uncovered, allowing whatever critters happen to be flying by on a passing breeze to ferment the beer. These wild yeasts give lambics their distinct tartness. Most Belgian brewers also utilize aged hops, which add antibacterial properties to the beer, rather than bitterness or flavor. In the case of fruit lambics, whole fruits are traditionally added after halfway through fermentation to add sweetness and new dimensions of flavor. Lindemans Framboise is quintessential lambic. It's the one people tend to know about — and with good reason. It's delicious. There is a sugary sweet here that overpowers the inherit sourness of a good lambic. Sounds like a bad thing, right? Put it in your mouth and see if you feel the same way.
Samuel Smith Organic Chocolate Stout
5% ABV, 28 IBU
Samuel Smith has always brewed the old-fashioned way and the British operation still pulls water from its original well dug in 1758. Its Organic Chocolate Stout pours dark brown with a thin, khaki head. Light oatmeal and bready aromas lift to the nose, reminiscent of rising dough. On the tongue, this brew's complex and, with its oatmeal character, has a decidedly cookie quality to it: It's silky-smooth across the tongue, but also deep and grainy in the flavor. It's velvety and delicious, with creamy chocolate milk, chocolate syrup and cocoa powder dancing on the tongue. The brew sinks into the mouth and finishes sweet and full.
Lindemans Kriek
3.5% ABV
Lambics are sharp, acidic, and fruity. They can be compared to yogurt or vinegar but with hints of sweetness. There are also several sub-styles of lambics. Lindamans has been brewing lambic since 1811. They were the first to introduce lambics to the American market (in 1979) and have remained the most popular brand. While they also make a peach, raspberry, and pear lambic, the cherry is their most traditional flavor. Whole fresh cherries are added to the casks, triggering a third fermentation, and promoting a spritz-y carbonation that gives the finished beer a champagne-like character with excellent mouthfeel. The flavor is akin to a natural black cherry soda, having a dark sweetness with only a flash of malty bitterness.
Block 15 Love Potion #9
6.3% ABV, can and draft

We're in love with Block 15 Brewing's Love Potion #9. First, it's a red and black raspberry rather than cherry stout, and melts like a chocolate truffle on the tongue. Second, it succeeds because the intense, silken dark chocolate that floods the mouth is immediately followed by the slightly tart berry. Third, the craft beer is, for its style, dry. Each sip is an infusion of intensity but never excess, allowing our senses to revisit the sensation of a liquid truffle repeatedly. Give us a few minutes and we'll come up with a total of nine reasons why we could drink two pints of this potion.
Oakshire Heart Shaped Box
14% ABV, bottle and draft

Oakshire Brewing's 2023 Heart Shaped Box version is aged in bourbon barrels for nearly a year where it develops its complex flavor profile and character. The beer is further conditioned with generous amounts of tart Oregon grown raspberries, Eugene roasted organic Guatemalan coffee from Farmers Union Coffee Roasters, organic vanilla beans and organic cocoa nibs. Expect notes of rich bourbon, cocoa nibs, espresso, tart raspberry, roasted malt, vanilla bean, and wood coat the tongue. It's rich yet crushable at the high percent.
BONUS: Peaks & Pints suggests pairing Lindeman's Framboise raspberry-flavored lambic with Samuel Smith's Organic Chocolate Stout. Try putting two or three ounces of Framboise in a pint glass, then topping it off with the stout. The deep notes of roast malt and chocolate marry beautifully with profound, aromatic raspberry.
LINK: Peaks & Pints cooler inventory
---