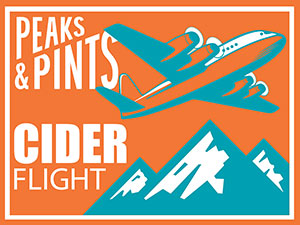 Yonder Cider Co., one of Washington's top independent cider producers, launched in August 2020 during the heart of the pandemic, selling its first cans out of the founder Caitlin Braam's garage in Seattle's Phinney Ridge neighborhood. In its first two years, Yonder expanded statewide, growing by more than 240 percent in the past year. Produced in Wenatchee, Washington — the heart of Apple Country — the growing cidery prides itself on a blend of culinary and bittersweet apples, producing ciders as beautiful and bold as the packaging they come in. Since Peaks & Pints suggests a to-go cider flight every Monday, and it's been a little over three months since we tapped our new house cider for 2022-23, Yonder's House of Yonder dry cider, we though it's an appropriate time to suggest a to-go flight of Yonder Cider. Stop by Peaks & Pints today and grab Peaks and Pints Monday Cider Flight: Yonder Cider Co.
Peaks and Pints Monday Cider Flight: Yonder Cider Co.
Yonder House of Yonder
6.7% ABV
The story of Peaks & Pints' house cider, House of Yonder, lies fully with Yonder Cider and the apples grown in Wenatchee and the surrounding rugged, sun-drenched, windblown valley. Yonder Cider Queen Caitlin Braam held court with her Hand of the Queen, Monique Tribble, Lord David Alton of Sales, and Pappi Swarner of Peaks & Pints, which sits over the Cascade Mountains in the northern region of the City of Destiny. Tribble dribbled possible House of Yonder blends into chalices. Vilberie, Maria Mendre, and tiny red fleshed apples became the Holy Grail with the addition of Yonder's proprietary culinary blend. The court sipped non-carbonated variations of the dry cider for sugar point perfection. "We sweeten with added fruit, juice or inverted cane sugar," added Tribble. "We ferment everything totally dry without adding water back," added Queen Caitlin. Peaks & Pints bends the knee before Queen Caitlin and her Hand, Monique Tribble, for creating a house dry cider that will rule Tacoma until Nov. 1, 2023.
Yonder Palisades
6.5% ABV
Palisades cider is a blend Fuji, Honeycrisp, Roxbury Russet, Dabinett, various red fleshed apples and Pacific Northwest blackberries, all of which is supported by an herbal hint of sage. The semi-sweet cider pours a clear ruby red with heavy carbonation. Moderate to strong berry hits the nose, followed by strong tart berry flavor with a hint of sage in the finish.
Yonder Cashmere
6.9% ABV
Yonder's winter seasonal Cashmere is inspired by one of Yonder founder Caitlin Braam's favorite cocktails, the Negroni. Made with tart cranberry, ⁠dark cherry and a hint of bitter orange, Cashmere hits the nose with orange peel and berry, pairing beautifully with notes from one of her favorite cider apples, Ashmead's Kernel.
Yonder Velvet Cashmere
8.9% ABV
Yonder grabbed their Negroni-inspired winter seasonal — Cashmere — and blended it with Fast Penny Spirits' Amaricano amaro to create Velvet Cashmere. Tart with notes of cranberry, dark cherry and bitter orange, the addition of amaro brings a beautiful richness to this cocktail-like creation. Aromas of toasted sugar and dark fruit shine through while hints of truffle, vanilla bean and Mexican chocolate mingle with a savory bitterness.
LINK: Peaks & Pints cooler inventory
---