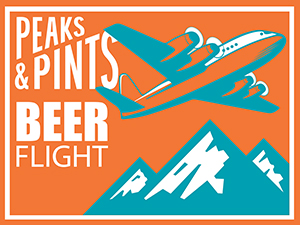 Happy Valentine's Day! As this saccharine-sweet holiday (or Singles Appreciation Day, if you prefer) rears its head, couples are clamoring for romantic plans while singles and casual daters are simply trying to let the day pass without a hitch. Why stress? It's just a day. So to give you a little peace of mind on this hectic day of love, Peaks and Pints presents a Valentine-theme to-go beer flight that we call Peaks and Pints Pilot Program: Valentine On The Fly.
Peaks and Pints Pilot Program: Valentine On The Fly
Lindemans Framboise
2.5% ABV, 12 IBU
Romance might be hard to come by these days. In fact, it might be the last thing on your mind. But if you and your lockdown bae somehow managed to stay together or found each other during these depressing and stressful times, you deserve a drink. As you watch on Instagram, this week's Peaks & Pints Lantern lounge beer blend was the Chocolate-Covered Raspberry, a Lindemans Framboise and Samuel Smith's Organic Chocolate Stout blend from the minds at Merchant du Vin in Seattle. Lindeman's Framboise is quintessential lambic. It's the one people tend to know about — and with good reason. It's delicious. There is a sugary sweet here that overpowers the inherit sourness of a good lambic. Sounds like a bad thing, right? Put it in your mouth and see if you feel the same way.
Samuel Smith's Organic Chocolate Stout
5% ABV, 28 IBU
Samuel Smith's has always brewed the old-fashioned way and the British operation still pulls water from its original well dug in 1758. Its Organic Chocolate Stout pours dark brown with a thin, khaki head. Light oatmeal and bready aromas lift to the nose, reminiscent of rising dough. On the tongue, this brew's complex and, with its oatmeal character, has a decidedly cookie quality to it: It's silky-smooth across the tongue, but also deep and grainy in the flavor. It's velvety and delicious, with creamy chocolate milk, chocolate syrup and cocoa powder dancing on the tongue. The brew sinks into the mouth and finishes sweet and full.
Rogue Double Chocolate Stout
9% ABV
Rogue Ales is unconventional and their Chocolate Stout, which debuted for Valentine's Day in 2001, is no exception. Imagine an oatmeal chocolate chip cookie and a chocolate truffle got together in a bed that had been strewn with hops. Now imagine the imperial version. Rogue's Double Chocolate smells like the inside of pain au chocolat thanks to ample bittersweet Dutch chocolate. Clocking in at 9 percent alcohol by volume and wearing a red 750ml casing, this 2010 World Beer Championships gold medal winner is definitely a Valentine's Day buzz.
Wild Ride Nut-Crusher Peanut Butter Porter
6% ABV, 18 IBU
Let's talk love. Not the name of Wild Ride Brewing's beer, but our love for peanut butter. It transports us to a happier, simpler age. It's not a candy thing. It's a comfort thing. Redmond, Oregon's Wild Ride Brewing brings together two favorite flavors, peanut butter and porter, in this liquid chocolate truffle treat with a strong nuttiness. It's awesome.
LINK: Peaks & Pints Cooler inventory
---