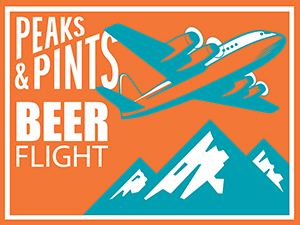 While some of the typical sources of stress relief like hitting the gym or going to yoga are off the table for the unforeseeable future, a simple hike around the 'hood can be a grounding way to reconnect to the present moment. Sure, social distancing still applies, but given the deserted nature off most public places besides the toilet paper aisle at the grocery store, more than likely you'll have some space to simply breathe in the fresh spring air and let go of some of the anxiety that comes in a time of great uncertainty. Peaks and Pints suggests you include our little craft beer lodge in your hiking loop. We even came up with a hiking-themed to-go beer flight, Peaks and Pints Pilot Program: Urban Hiking Beer On the Fly, so you can cheers back at the homestead.
Peaks and Pints Pilot Program: Urban Hiking Beer On the Fly
Crux PCT Porter
5.5% ABV, 30 IBU
The Pacific Crest Trail stretches from the Mexican border to the Canadian border, covering more than 2,600 miles along the way. On average, it takes thru-hikers about five months to complete the trek. Most hikers start in the south, and by the time they make it into Oregon, they've built up a mighty powerful thirst. Enough PCT hikers stop in Bend, Oregon for a shower, a civilized meal and craft beer that Crux Fermentation Project decided to brew PCT Porter just for them and the organization that supports the hikers, Pacific Crest Trail Association. Kick off the hiking boots, pull one of these out of our cooler and enjoy this velvety, chocolate porter with a small bitter bite at the back.
Bellevue WTA Tangerine Pale Ale
5.2% ABV, 43 IBU
Bellevue Brewing's Washington Trails Tangerine Pale Ale is brewed to be enjoyed with alpine views, summit sunsets and your favorite hiking companions. This citrus pale ale's swirling hop aromatics, a smooth malt body, sweet orange peel and tangerine zest combine with a smooth, crisp finish. It tastes even better when you think about the one percent of proceeds from sales that benefit WTA helping power our hiking guide, trip reports and volunteer trail maintenance teams.
Kulshan Tree-dimensional IPA
6.4% ABV
Kulshan Brewing collaborated with Peaks & Pines on the Tacoma craft beer lodge's house beer, Tree-dimensional-IPA. Paying homage to the outdoor enthusiasts who join Peaks daily in Tacoma's Proctor District, Tree-dimension IPA is the perfect beer to toast the powder, currents or trails, as well as revealing the sprains. Tree-dimensional IPA, or Tree-D, continues Peaks & Pints' love affair with old school piney IPAs, this time brewed with Simcoe, Idaho 7, CTZ, Centennial, and whole leaf Cascade in the hop back for all the pine, plus creamy mouthfeel and bitter finish.
Two Beers Wonderland Trail IPA
7.1% ABV, 84 IBU
No better way to end this mountain beer flight than Two Beers Brewing's salute to the famous trail circumnavigating Mount Rainier. It's the Seattle brewery's first foray into the West Coast-style, a light bodied IPA complemented by 2-Row, Vienna and Munich malts while featuring a seamless blend of Washington-grown Amarillo, Citra, Mosaic and Cascade hops. Expect a slightly sweet aroma of tangerine followed by a wave of citrus and passion fruit.
Barrel Mountain Trail Builder Imperial IPA
9% ABV, 100 IBU
Barrel Mountain Brewing donates a portion of profits from its Trail Builder Imperial IPA trail associations, clubs and volunteers that maintain and improve Washington state's trail systems. Thank the Battle Ground brewery as you dip your nose into mildly caramel malt, citrus and dank hops, orange citrus with slight lemon. Flavor follows with pale malt with slight caramel, citrus and dank hops, plus orange, grapefruit and lemon juice and rind. The Trail Builder finishes with lightly resinous citrus rind bitterness and lingering citrus and herbal flavors.
---