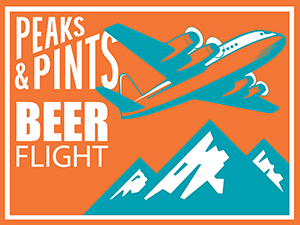 Sean Bowman, Timothy Czarnetzki, and David Powell founded Urban Family Public House in the heart of Old Ballard in January 2012. The partners initially served a range of styles from other breweries, but later devoted a few of their taps to house beers made on a 15-gallon system. A little over two years later, the renamed Urban Family Brewing traded Ballard for Magnolia and upgraded to a 7-barrel brewhouse. Andy Gundel started helping the company with social media and logistics soon thereafter, and in 2016 became a majority owner. In the years since, Urban Family moved back to Ballard into a 20-barrel brewhouse, a large walk-in space, an expanded taproom, and a larger outdoor area. Today, Peaks & Pints presents a to-go flight of Urban Family beers — a flight we're calling Peaks and Pints Pilot Program: Urban Family Beer Flight.
Peaks and Pints Pilot Program: Urban Family Beer Flight
Urban Family Planetary Bombardment
6.3% ABV
"Nothing unites humanity better than a good interplanetary war," states Urban Family's Planetary Bombardment hype. "Our latest fruited sour is made with a golden tart base, then fruited with a blend of guava, strawberry, and raspberry. This tropical drink is a soft rosy hue with a glowing haze.
Urban Family Topic Heart
7% ABV
Great ready for the tropic thunder! This mango and passionfruit sour hit the nose with hops and mango, followed by mango and passionfruit tartness, plus a little apricot. We're also getting citrus hops. It's sour but not overpoweringly, refreshing, and crisp.
Urban Family Sacred Arrow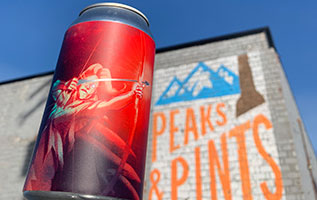 8% ABV
Urban Family's imperial raspberry sour, Sacred Arrow, is a mixed-culture raspberry sour packing a punch at 8 percent. For those who aren't familiar with the term "mixed-culture," think of it like a rustic sourdough starter compared to store bought yeast. In the starter there's many different types of yeast working in harmony. Compare this to your store-bought yeast, which is a single laboratory isolated strain. Sacred Arrow hits the target with huge aromas of raspberry jam, plus a not-so-subtle tartness that finishes clean and bright.
Urban Family Disambiguation
9% ABV
This wood-aged sour has a strong theme of stone fruit. Urban Family aged their foeder-soured golden base into barrels with Collins Family Orchards donut peaches and yellow nectarines. After two years of fruit conditioning, these barrels were blended to create this latest wood-aged stone fruit sour. After bottle conditioning, this golden, sparkling peach and nectarine sour has potent flavors of peach skin and flesh, slight oak, and hints of tropical fruit from the donut peaches.
Urban Family Stove-altine
6.8% ABV
Collaboration with Old Stove Brewing, this dark and medium bodied breakfast milk stout is brewed with lactose for extra sweetness Onda Origins Neo Noir coffee and maple. The Neo Noir coffee brings notes of toasted marshmallow, praline, and dark chocolate.
Urban Family McKnight Moves
8% ABV
New Belgium Brewery Lead R&D Brewer Kelly McKnight joined the Pink Boots Society to brew a Belgian-style quad with five-spice and a copious amount of pear at Urban Family. Five-spice powder is a spice mixture of five or more spices — Chinese cinnamon, fennel seed, star anise, and cloves — used predominantly in almost all branches of Chinese cuisine. The five flavors of the spices refer to the five traditional Chinese elements. McKnight would like to stress this name was not her idea.
Urban Family Lighthouse in the Woods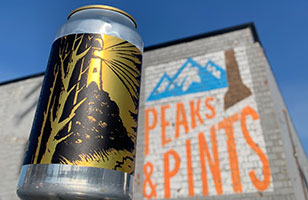 12.1% ABV
Urban Family's Lighthouse in the Woods barrel-aged imperial stout is a blend of 50 percent 2020 and 50 percent 2021 double mash stout, and then aged in Woodinville Whiskey Rye and Bourbon barrels. This year, they're using their 2-year blend to create three distinct variations using complementary ingredients to this huge stout. Lighthouse in the Woods, their third and final 2022 release, features an addition of Navel orange puree and zest.
Urban Family No Billboards In Space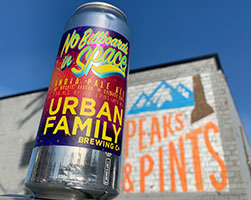 6% ABV
Urban Family's No Billboards In Space begins with a base of 2-row, malted oats and wheat and more flaked oats and wheat. They whirlpool it with Chinook hops and then double dry hopped with more Chinook, Mosaic, and Azacca to make this easy drinking hazy with flavor notes of stone fruit, pineapple, and guava.=
Urban Family Wizard Party
9.5% ABV
Wands at the ready, Tacoma. Urban Family's Wizard Party doesn't quite hit the 10 percent level, but this "triple IPA' brewed with more than 4.5 pounds per barrel of El Dorado, Azacca, Sabro, and Mosaic hops is magical. Witches and wizards can expect to lose themselves in a magical elixir that bursts with flavors of ripe mango, strawberries, papaya, and orange juice.
LINK: Peaks & Pints cooler inventory
---