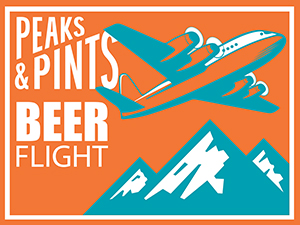 American Craft Beer Week, the annual springtime salute to small and independent craft breweries, wraps up today. This year's rallying cry was "Turn your beer world upside down" — a nod to the freewheeling spirit that craft breweries are known for. "The pioneering craft breweries turned the beer world upside down. They believed that beer drinkers were ready to branch out from industrial lagers and explore deeper, bolder flavors," said Ann Obenchain, Brewers Association marketing and communications director in a news release. "This revolutionary ethos persists. It's part of the craft brewing community's DNA. And this year's American Craft Beer Week is all about celebrating the rulebook-tossing spirit that craft brewers share." So, on this last day of the American Craft Beer Week, turn your craft beer upside down with these five Pacific Northwest brewed beers as our to-go flight, Peaks and Pints Pilot Program: Upside Down Beers On The Fly.
Peaks and Pints Pilot Program: Upside Down Beers On The Fly
Dwinell Echo Chamber
4.7% ABV
A collaboration with Ronin Fermentation Project, Dwinell Country Ales brewed the rosé wild ale Echo Chamber, a blended spontaneous wheat ale fermented in oak barrels with cantaloupe and conditioned with the pressings of red wine grapes. It's effervescent with a light, dry body, and mineral crispness. Expect a vinuous, earthy grape and oak barrel nose, followed by tart, lactic acid, soft oak, and earthy grape notes. Mineral crispness. Body is light, dry, and bubbly
Holy Mountain Mystical Saviours
4.2% ABV
Poland has a long and rich history of brewing beer. In fact, Poland has been producing beer for more than 1000 years and their various concoctions are enjoyed throughout the globe. Holy Mountain Brewing brewed a Polish-style lager, Mystical Saviours, with a combination of Pilsner malts and a touch of malted rye. It has a crisp and slightly noble-spicy profile not only from the rye addition, but also from the generous addition of Lubelski hops, a high humulene hop with interesting aromas of magnolia and lavender.
Wayfinder Clovenbock
7.2% ABV
Bock season historically is associated with Lent and Easter, with the height of their releases falling shortly before Mardi Gras. Maibock, or heller bock, refers to the early springtime version of bock beer. It's a lager traditionally brewed in the dead of winter and aged until spring. The Maibock is a medium-bodied beer with deep golden to clear copper color and moderate to strong malty aroma. Its flavor emphasizes the malt; hints of spicy tones are sometimes part of the background. Wayfinder's Clovenbock Maibock offers notes of toffee, warming, malty, and pagan.
Rogue Pineapple Party Punch
8.4% ABV, 40 IBU
Rogue Ales Pineapple Party Punch is an imperial hazy IPA brewed with citrusy hops, pineapple, and toasted coconut. Bursting with pineapple, coconut, and bright hop flavors, this imperial hazy IPA is reminiscent of a Piña Colada. Crack one open, close your eyes and from the opening surge of pineapple and citrus to the smooth, sweet coconut finish, you're ready for a sunny spring Sunday.
Pelican Coastal Collaboration Volume 2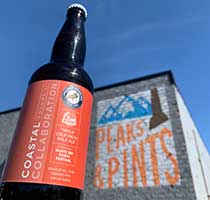 10% ABV, 70 IBU
With obvious deep ties to their seaside homes, Pelican Brewing created a collaboration series showcasing their love for the coast and their commitment to creating more equitable communities. For their second Coastal Collaboration Series beer, Pelican hooked up with Beachcrest Brewing to brew as crisp and refreshing triple IPA hopped and strong version of the currently emerging style of cold IPA. Expect hop aromas of melon and white grape followed by notes of tropical pineapple and red berries.
LINK: Peaks & Pints cooler inventory
---