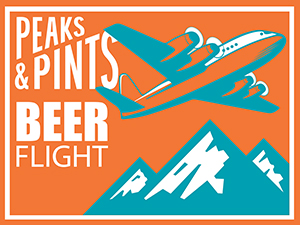 The New England IPA is juicy, with assertive tropical notes of grapefruit, peach, melon and/or tangerine. They are also made with wheat or oats and served unfiltered, which leaves them hazy. To achieve haze, brewers mess with malt, hops, and yeast. Malted grains provide the sugars that yeast snack on and transform into alcohol, but they also add proteins to the mix. Usually, brewers use a base of mostly malted barley, but other grains such as oats and wheat have higher protein contents, which make for a cloudier beer appearance, a "soft" body, and a little haze in IPAs. Brewers are also leaving hop matter in the liquid to enhance its aroma, flavor and haze. Adding hops after the boil, or dry hopping, can also lead to haze. Last, brewing with a less flocculant yeast strain, so the yeast doesn't fall out of suspension, adds haze, as well as fruity flavors called esters, adding to the "juicy" flavor and aroma often associated with hazy IPAs. Today, Peaks & Pints presents a to-go beer flight of new hazy IPAs — a flight we're calling Peaks and Pints Pilot Program: Unfiltered IPAs On The Fly.
Peaks and Pints Pilot Program: Unfiltered IPAs On The Fly
AleSmith Cloud Stream IPA
6.9% ABV, 7 IBU
We're not sure if AleSmith Brewing tapped the secretive Microsoft Research division, which works on everything from quantum computing to AR/VR to genomics, to crack thresholds of haziness in India Pale Ales. Whether it was Microsoft, or simply lack of filtering, Cloud Stream is a year-round hazy IPA packed with notes of red currant, passionfruit, and mango. It's full body and creamy mouthfeel are followed by a smooth, drinkable finish.
Fremont Head Full of Dynomite v26
6.8% ABV
Fremont Brewing excels at hazy IPAs, especially commanding the actual opaque, dense colored quality of the hazy to bloom, making for an incredible visual treat. Lots of fruit flavor, especially in its Head Full of Dynomite series, which version 26 sits in our cooler. This version is brewed with Citra, Mosaic, and HBC 630 hops hist the nose with orange along with stone fruit, florals, pine and grass, followed by mild sweetness and citrus flavors.
Matchless The Grail
6.8% ABV
Skagit Valley Pilsner malt, flaked oats and flaked wheat create a soft, hazy platform to showcase Matchless Brewing's  "The Holy Grail" of hop combos: Simcoe, Citra, and Galaxy. It kicks out massive grapefruit, tangerine and passion fruit flavors and aroma while the Simcoe helps to keep it all in balance with just the right amount of earthy dankness.
Single Hill Pushin' Hazies
7.2% ABV, 40 IBU
Double dry-hopped and bursting with fruity aromas, Pushin' Hazies is Single Hill Brewing's latest celebration of hops. Anchored by the familiar tropical punch of Citra, and elevated with a smattering of modern varieties, Pushin' Hazies has flavors from lychee to blackberry to cherry.
Counterbalance Well Enough Alone Hazy IPA
5% ABV, 45 IBU
Counterbalance Brewing Company, started by two former homebrewers who met while working at Seattle coffee company Caffe Ladro, opened its doors and launched wholesale distribution in February 2015. The Seattle's historic Georgetown neighborhood brewery celebrated their sixth anniversary last month, including releasing this light hazy IPA brewed with El Dorado, Mosaic, Amarillo, Citra, and Columbus hops. The dank, earthy qualities from the Columbus blend with the fruity, candy like flavors from the El Dorado hops, with the other hops throwing anniversary fruit confetti.
---