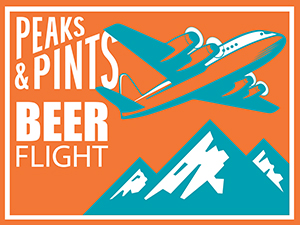 Triple IPA: It's a palate-smashing beast of an ale designed for those times when a hazy IPA simply won't cut it. Yet, the style still isn't recognized — and debate rages among the pimpliest of beer nerds over whether it's a style at all. Peaks & Pints believes the triple IPA is a massively hoppy beer of 10 percent ABV with outrageous amounts of dry hops, hop flavor, malt flavor, alcohol, and bitterness. The Triple IPA may be like a double IPA in hop character, but is differentiated from the style by a thick, syrupy body accented by intense hop resins that make it a heavy sipping beer. Great triples harness an artful assortment of hops and propping them up with a suitable quantity of the proper malts. Still not sold? Here are five examples that recently arrived in our cooler. Stop by and grab the to-go beer flight, Peaks and Pints Pilot Program: Triple IPA Beer Flight.
Peaks and Pints Pilot Program: Triple IPA Beer Flight
Spartacus Bullet Proof
10% ABV
Spartacus Brewing's head brewer Cassio Vallinotti specializes in bitter IPAs in their brewhouse in Juiz de Fora, Minas Gerais, Brazil. His Bullet Proof triple hazy IPA is brewed with Nelson Sauvin, Talus, and Simcoe for notes of orange, fruit, splash of pine, and resin over a silky, absurdly hop-saturated body.
Ladd & Lass Holographic Memory
10% ABV
In December 2021, after 300 batches of homebrew, and countless building egress drawings, Nick Ladd and Jessie Quan, husband and wife, opened Ladd & Lass Brewing in Seattle's U-District. Housed in the former Floating Bridge Brewery spot on 45th Street near Interstate 5, which was also the former Rainbow Tavern, they brewed Holographic Memory with an absurd amount of Centennial, Citra Cryo, Sabro Cryo, and Ekuanot Lupomax hops. This triple IPA is saturated with tropical fruity hops balanced against a luscious malt body.
Mason Ale Works Nightmare Water
10.5% ABV
In 2017, restaurateurs Grant Tondro, Zak Higson, and Nate Higson opened Urge Gastropub & Whiskey Bank in San Marcos, California, the coastal offshoot of their Urge American Gastropub in Rancho Bernardo. The kicker? They hired Mike Rodriguez to run their attached Mason Ale Works creating an elevated brewpub atmosphere. Rodriguez brewed at Kansas City's Boulevard Brewing for several years before spending five as head brewer at The Lost Abbey. Their Nightmare Water is a hazy triple IPA brewed with 100-percent Citra Incognito hops for notes of citrus and floral and aromas of passionfruit.
Mother Earth Big Mother
10.5% ABV, 100 IBU
Big Mother has been Mother Earth Brewing's anniversary ale since it opened 11 years ago. Its everything you expect from a triple IPA: Big but not too boozy, massively hopped, and just enough caramel malt character to balance the higher alcohol and lingering bitterness. A whirlpool and dry hop assault lends aromas and flavors of apricot, orange, red grapefruit, and papaya.
Sierra Nevada Hoptimum
11% ABV, 75 IBU
Sierra Nevada Brewing has been running a "beer camp" at its Chico, California brewery for quite some time — before COVID, obviously. After arguing over who gets top bunk, Sierra Nevada brewers and beer industry folks concoct experimental batches using the brewery's pilot system. One of these collaborative efforts was released as Sierra Nevada Hoptimum Double IPA. Thanks to tweaks that involve mixing things up in the hop department to achieve a bit more balance, the 2022 incarnation of Hoptimum is brewed with Amarillo, BRU-1, Pahto and Simcoe hops for sweet resinous hop goodness.
LINK: Peaks & Pints cooler inventory
---