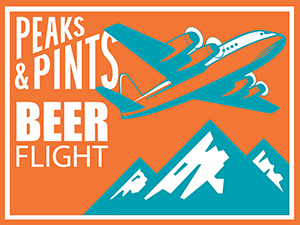 The triple IPA is a palate-smashing beast of an ale designed for those times when a hazy IPA simply won't cut it. Yet, the style still isn't recognized — and debate rages among the pimpliest of beer nerds over whether it's a style at all. Peaks & Pints believes the triple IPA is a massively hoppy beer of 10 percent ABV and greater with outrageous amounts of dry hops, hop flavor, malt flavor, alcohol, and bitterness. The triple IPA may be similar to a double IPA in hop character, but is differentiated from the style by a thick, syrupy body accented by intense hop resins that make it a heavy sipping beer. Great triples harness an artful assortment of hops and propping them up with a suitable quantity of the proper malts. Swing by Peaks & Pints and grab our to-go flight of triple IPAs — a flight we're calling Peaks and Pints Pilot Program: Triple India Pale Ales On the Fly.
Peaks and Pints Pilot Program: Triple India Pale Ales On the Fly
Wayfinder Earth vs Triple IPA
10.5% ABV, 1000 IBU
Let's check in with the hype behind this triple IPA. … "We come bearing glorious news! Scientists have now concluded that the incoming asteroid 2001 CB21 will NOT be colliding with planet Earth. Meanwhile … Over at the Wayfinder laboratories our team of beverage technicians have joined forces with the masterminds behind Ruse Brewing to cure thirst and harness the Herculean forces of a cataclysm. Aptly named Earth vs. Triple IPA, this aromatic, intensely fresh concoction is earthquake in a can. A cacophony of grapefruit-forward hops followed by temblors of tangerine rumbling over the clean, singular force of a West-Coast inner core. Join us for this earth-shaking attack that shakes the planet from below the mantle to very tip of the hop bine." Seriously, though, this is a truly amazing and delicious triple IPA.
Reuben's Blimey That's Bitter
10.5% ABV, 65 IBU
Blimey is a shortening of Gorblimey, which itself is a euphemism for "God blind me." It's mainly used by the British, but occasionally used jocularly by Americans who put on a bad Cockney accent and pair it with words such as guvnor. Blimey, this triple IPA has an intense citrus, pine and tropical aroma followed by a smooth medium-full mouthfeel. First brewed in early 2014, Reuben's Blimey That's Bitter features 6 pounds per barrel with 90 percent of these hop additions — Citra, Simcoe, Amarillo, and Chinook — in the last 10 of the boil and later.
Future Primitive Chemistry of Consciousness
11% ABV
Is Future Primitive Brewing's "Chemistry of Consciousness" named after the fifth studio album by American thrash metal band Toxic Holocaust, released on October 25, 2013? Or is it named after the actual chemistry of consciousness where large parts of the human brain participate in the generation of many different types of conscious experiences. Either way, Future Primitive's Chemistry of Consciousness triple IPA is packed with copious amounts of Cryo Pop and Sorachi Ace hops for a boozy IPA.
Revision Hops In A Can
10.5% ABV
Revision Brewing's hazy triple IPA brewed with Citra, Simcoe, Amarillo, and Mosaic hops for a respectable citrus and pineapple aroma, followed by sticky, resiny, sweet citrusy hop flavor.
450 North Phoenix Tears
12% ABV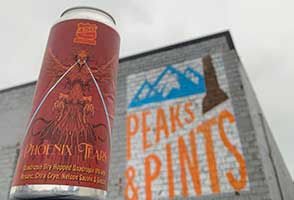 Phoenix Tears is 450 North Brewing's double dry hopped quadruple IPA brewed with about 15 pounds per barrel of Galaxy, Citra Cryo, Mosaic, and Amarillo, and a final dry hop of all Galaxy. It's like chewing on a hop salad with hop croutons finished in dank hop juice.
Sig Quattuordecuple
12.3% ABV
SiG Brewing also calls their 14x dry hopped Quattuordecuple hazy a quadruple IPA. Maybe because they dump 14 different additions of El Dorado, Citra, Strata, and Mosaic hops, and use the most malt on a single beer. The result is an extremely boozy but smooth and juicy IPA.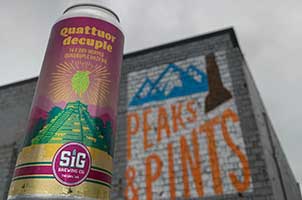 LINK: Peaks & Pints cooler inventory
---