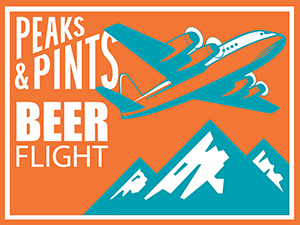 Like many brewers, Kyle Larsen got his start at Full Sail Brewing. Then, in 2010, he walked across the street to Double Mountain Brewery and became head brewer for two other Full Sail alums — Matt Swihart and Charlie Devereaux — while earning a Masters in Brewing Science and Engineering from Heriot Watt University, a public research university based in Edinburgh, Scotland. After a long stint at Siren Craft Brew in the UK, Larsen returned to the Columbia Gorge to add his talent to Thunder Island Brewing, followed by an interim head brewing tour at Trap Door Brewing in Vancouver, Washington, before he and his wife, Kacie, opened their own Kings & Daughters Brewery via Barrett Beverage, a contract brewery where Larsen serves as acting operational brewmaster. The name Kings & Daughters not only gives a nod to the Larsens' three young daughters, but King is a family name from past generations on Kyle's side and it's also the middle name of their son. K&D's focus will lean toward the soft side of the flavor and design — sessionable and feminine. Today, Peaks & Pints leads you on a tour of Larsen's past with a to-go beer flight we're calling, Peaks and Pints Pilot Program: Kyle Larsen On the Fly.
Peaks and Pints Pilot Program: Kyle Larsen On the Fly
Full Sail Haze of the Gods
8.5% ABV, 35 IBU
After a year pouring beer at Belmont Station bottle shop and taproom in Portland in 2006, Larsen worked more than two years at Full Sail Brewing in Hood River, Oregon. Under Head Brewer John Harris, Larsen preformed all duties — from producing wort through fermentation. He wasn't there when Full Sail launched Haze of the Gods, a homage to the Bridge of the Gods that crosses the mighty Columbia River in nearby Cascade Locks. Full Sail Brewmaster Greg Doss brewed the hazy double IPA with Strata and Mosaic hops for flavors of sun-ripened peach, passionfruit, and mango.
Double Mountain Sally Can Wait Dark Export Lager
5.9% ABV, 23 IBU
For seven years at Double Mountain Brewery Larsen took on every aspect in the brewing process from raw material intake to packaging and shipping. He also designed and installed a new draft system, assisted with installing a new Comac keg racker, GAI 3003 bottling line, CO2 distribution system, compressed air system, and the trial and implementation of a product centrifuge. Long after Larsen left his head brewing job at Double Mountain, the Hood River brewery released Sally Can Wait Dark Export Lager, an ode to 1990s Britpop — specifically Oasis' "Don't Look Back In Anger." The crisp, malt and yeast driven dark lager pours a dark amber color with a frothy tan head. The generous use of malts is evident in the lager's sweetness that's offset by a biscuity character on the finish. For its 2022 seasonal beers, Double Mountain Brewery is partnering with Spotify and including a custom Spotify Playlist for each beer. On the side of the label on Sally Can Wait, a Spotify QR code is located on the label's lower right sidebar. Open the Spotify App and use the camera to search the bar code. Once scanned, Spotify will show the playlist that has been created by the brew team from Double Mountain specifically curated for each new beer release, including Sally Can Wait.
Thunder Island Ya Ee Juicy IPA
6.2% ABV, 10 IBU
Dave and Caroline Lipps opened Thunder Island Brewing in Cascade Locks, Oregon, in October 2013. Larsen joined the team around the time the Lipps opened their new, 15-barrel brewing facility down the road in 2020. Their flagship IPA, Ya Ee Juicy IPA, is brewed with seven different hops fore tons of juicy citrus and tropical fruit aroma without being bitter.
Kings & Daughters Subtle Removal of Matter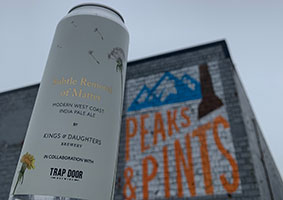 7.5% ABV
Larsen returned to Trap Door Brewing building to brew Subtle Removal of Matter IPA with his former employers. Subtle Removal of Matter embraces this ethos of collaborative brewing. They employed new techniques and utilized new hop products. By removing much of the vegetal hop matter from the beer, they created a clean hop oil profile with the intensified citrus, tropical, and fruit notes they love and that have become synonymous with modern IPAs.
Trap Door Double Tang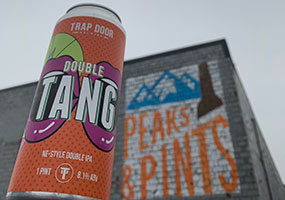 8.1% ABV
After Zane Singleton stepped down as head brewer at Trap Door Brewing in 2020, Larsen took over the job in the interim while he worked on opening his own brewery. Trap Door new brewers Kevin Hanny and Jake Watt grabbed their New England-style IPA Tang with its soft, fluffy body, minimal bitterness and El Dorado hop produced orange PEZ flavor and supporting cast of all things grapefruit and doubled everything in their Double Tang.
LINK: Peaks & Pints cooler inventory
---