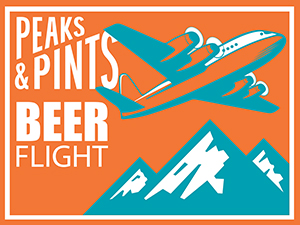 Specialty beer importer Merchant du Vin's Trappist Tuesdays continues at Peaks & Pints with another to-go flight of Trappist beers — although only one of the beer, Trappistes Rochefort Triple Extra, is imported by Merchant du Vin. For the uninitiated, Trappists are Roman Catholics who follow the Rule of St. Benedict, a 73-chapter book of precepts written in the sixth century by St. Benedict of Nursia that maps out a doctrine for life in self-supporting communities set apart from the material world. They don't perform public ministry, and their days are structured with set hours for reading, study, prayer, and brewing beer. Today's beer flight features Trappist beers that are a bit unique: a new beer, a sessionable beer, and a Trappist beer brewed in the United States. Pro tip: When pouring Trappist beer from a bottle, which includes the three beers below, what you do is start straight … pour straight, and release the carbonation straight ahead, then tilt the bottle. If you find your glass full of foam, don't freak. Foam is not the enemy in Belgium, as it serves as a preliminary test of what awaits inside. OK, let's get to drinking from Peaks and Pints Pilot Program: Trappist Tuesday Unique Beers.
Peaks and Pints Pilot Program: Trappist Tuesday Unique Beers
Chimay Dorée (Gold)
4.8% ABV
Patersbier, also known as enkel, meaning "single" in Dutch, is a table beer. The style likely came about when monks did an additional sparge of a mash to extract leftover sugars. Once collected, it is brewed as its own beer and turned into a highly sessionable beer. This long-practiced brewing technique is known as parti-gyle. Brewed by the Abbaye de Notre Dame de Scourmont, Chimay Dorée was intended only to be consumed by the abbey monks or at the nearby inn Auberge de Poteaupré, which is associated with the abbey. The monks had a huge problem with people secreting bottles out of the monastery tasting room and selling on the black market — so they just released it for standard production. It's brewed from similar ingredients as Chimay's Première but paler and spiced with coriander.
Trappistes Rochefort Triple Extra
8.1% ABV
In 1920, well before the production of the famous Trappistes Rochefort 6-8-10 in the 1950s, the monks at Rochefort brewed an extra-strong blonde beer, which they continued to brew for several years. Now, more than 100 years later the monks brewed a strong blonde beer inspired by the original recipe, the Triple Extra. Mellow, with a distinct body just like their classic 6-8-10, the Triple Extra is distinguished by its golden blond color, its rounded taste, plus notes of citrus and a spicy fragrance.
Spencer Monks Reserve Ale
10.2% ABV
In January 2014, the 63 brothers of St. Joseph's Abbey — about an hour's drive west of Boston — received the thumbs up from the International Trappist Association, selling the first Trappist beer brewed outside Europe. Spencer Brewery Reserve Ale is a full-bodied classic Trappist quadrupel with a nose of dark malts, caramel, bread, raisins, figs, molasses, plums, cinnamon, and herbal and earthy hops. The taste is sweet with strong notes of dried fruits and spices, while the background has a strong malty profile with notes of roasted malts, caramel, and dark bread.
LINK: Peaks & Pints cooler inventory
---