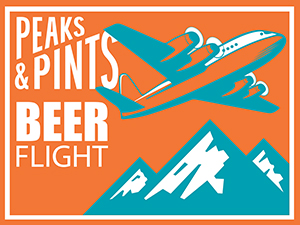 Nothing makes Santa happier than enjoying a frosty adult beverage after his exhausting work delivering presents. And hey, shouldn't you be rewarded for your gift giving too? Sierra Nevada Brewing, Pierce County Toys For Tots, and Peaks & Pints have teamed up for a raffle ticket for toys program through today. Stop by Peaks, donate a toy for a raffle ticket, enjoy delicious Sierra Nevada pints of Celebration Fresh Hop IPA and Dankful IPA, then join us at 3 p.m. today for the grand prize raffle party to win a Sierra Nevada longboard, backpack, and other prizes. In celebration, Peaks & Pints presents a to-go flight of Sierra Nevada Brewing craft beer — a flight we call Peaks and Pints Pilot Program: Toys For Tots On The Fly. Stop by Peaks today, donate toys, receive a raffle ticket for every toy, hang out for the Be Dankful and Celebrate Toys For Tots party from 3-5 p.m., then take home a bunch of Sierra Nevada beer. Cheers!
Peaks and Pints Pilot Program: Toys For Tots On The Fly
Sierra Nevada Porter
5.65% ABV, 40 IBU
For a brewery that produces so much beer (almost 19 million gallons in 2005 alone), it's a great feat that Sierra Nevada's brews continue to be incredible. Of course, the immaculate condition they keep the brewery in must play a part in their consistency, not to mention the fastidious care the brewers put into all their beers. Showcasing a mahogany color and a silky tan head, this porter tenders very noticeable hops in both its flavor and aroma, as well as coffee notes. And while Sierra Nevada's version is a bit hoppier than other porters, we'd expect nothing less from this hop-friendly brewery.
Sierra Nevada Wild Little Thing
5.5% ABV, 7 IBU
Sierra Nevada has reached out to younger and non-beer drinkers with this slightly tart and hazy ale with a bright pink pop of color. Wild Little Thing is a highly refreshing, slightly sour ale with just the right smack of tartness. Brewed with hibiscus, guava, and strawberry, it hits the nose with cherry, strawberry, blueberry, and grape. Strawberry flavors are there, sure, but we also get cherry, blueberry, and apple. The finish is long with a surprisingly thick, coating mouthfeel.
Sierra Nevada Pale Ale
5.6% ABV, 38 IBU
Sierra Nevada's Pale Ale has been the beer drinker's gateway craft brew for more than three decades. Peaks and Pints doesn't know how many times we've heard someone tell us that, for some reason, they ordered a Sierra Nevada Pale Ale at a bar instead of a Bud or Coors. And that this seemingly insignificant decision in their life was transcendent. No longer would they settle for watered-down corporate beer. Sierra was their introduction to the world of craft. To the possibility of bitter hop flavors. It was a palate shocker. The proverbial beer awakening. BTW, generous quantities of premium Cascade hops give the Pale Ale its fragrant bouquet and spicy flavor.
Sierra Nevada Fresh Hop Celebration IPA
6.8% ABV, 65 IBU
Now that it's late November, where do all the hops go? They're currently hibernating in this yearly seasonal from California's Sierra Nevada Brewery. Amid the many big and malty winter ales, Celebration Ale provides a comfortable winter home for the season's displaced hops. A little darker than the average American IPA, this ale has a citrusy, piney, and resinous hop character and a medium body.=
Sierra Nevada Dankful
7.4% ABV, 55 IBU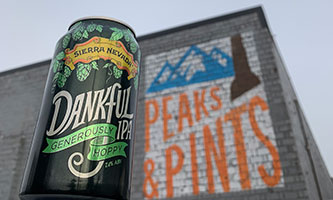 Sierra Nevada's Dankful IPA is a generously hoppy beer that will help the brewery raise funds for a variety of charitable works. The brewery has committed to at least $1 million in donations through the program over this year. Brewed with Ekuanot, Mosaic, Idaho 7, Columbus, Nelson Sauvin, and Neo-Mexicanus hops, Dankful hits the nose with catty, resinous weed, and some lemon zest. The initial flavors are resin and edible flowers followed by a grapefruit pith bitterness to finish.
Sierra Nevada Narwhal Imperial Stout
10.2% ABV, 60 IBU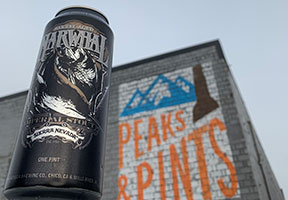 As black as midnight, Sierra Nevada Brewing Co.'s Narwhal Imperial Stout is one of the driest imperial stouts you'll come across. Roasty, too, but with an uncharacteristically wave of deep, dark fruitiness, ending in medium-high bitterness and substantial alcohol burn. The sweetness and hops are moderate and just enough to blend in with the dark fruit, chocolate and coffee flavors and aromas, to keep a balance. A slight touch of extra bitterness at the end, and no alcohol aftertaste or hotness, help leave a clean finish.
LINK: Peaks & Pints cooler inventory
---
Category:
Beer Line Blog
,
Contest
,
Craft Beer
,
Critical Drinking
,
Events and Festivals
,
In The Cooler
,
News and Updates
,
Peaks and Pints Lodge Meetings
,
Peaks and Pints Pilot Program
,
Proctor District
,
Shop
,
South Sound
,
Specials
,
Tacoma events