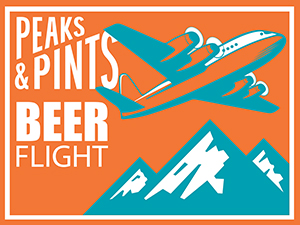 Your mother? She's easy. She likes spending time with you. She likes brunch. She would love that new Coach bag … but she's way too selfless to buy it for herself. On Mother's Day, you can be the hero. Father's Day is another story. Your father is not easy. His hobbies mostly involve television, not that we're stereotyping or anything. And if he needs something, he buys it for himself (or tasks Mom with it). What the heck could Dad possibly want? Beer and you. Peaks & Pints suggests five things to do with dad this weekend and a to-go flight of Father's Day themed beers for the post-events analysis. Stop by our craft beer bar, bottle shop and restaurant in the Proctor District today and grab Peaks and Pints Pilot Program: Tacoma Dad Events and Beer.
Peaks and Pints Pilot Program: Tacoma Dad Events and Beer
Rainier Beer
4.73% ABV, 10 IBU
TACOMA RAINIERS: The Tacoma Rainiers are playing the Las Vegas Aviators this weekend … in Vegas. Peaks & Pints suggests you grab dad and Rainier Beer, then tune into the games with broadcaster Mike Curto via streaming on your phone, tablet or computer here.
DAD BEER STREAMING (DRINKING): In 1883, Andrew Hemrich and partner John Kopp established Bay View Brewery in Seattle's Georgetown neighborhood. Ten years later, Bay View Brewery joined with the breweries of Albert Braun and Claussn-Sweeney to form a new association, the Seattle Brewing & Malting Company. The brand name eventually chosen for the company's flagship beer was "Rainier," the ultimate Northwest dad beer. The Bay View plant continued to operate, and in 1906 added a bottling shop and additional refrigeration. By 1905 production of Rainier Beer reached 300,000 barrels per annum. The company employed more than 300 men, and there was room to build worker homes beside the Duwamish River that then still curved through Georgetown. Kopp and Hemrich produced Rainier beer in Washington until 1916, when the state of Washington enacted its own prohibition, four years before the 18th Amendment enacted the nationwide prohibition. Following the repeal of the Prohibition, the brewery was purchased by Lethbridge, Alberta brewers Fritz and Emil Sick, who then repurchased the Rainier brand and began brewing Rainier back in Seattle in 1935. Today, Pabst Brewing Co. brews Rainier Beer with a satisfying malty flavor over a slightly fruity background, spiced with Chinook, Mt. Hood, and Willamette hop notes.
Triceratops Revival Coffee Milk Stout
4.4% ABV
MOTORCYCLE SHOW: Motorcycles will take over the LeMay Collections at Marymount Saturday. LeMay Motorcycle Days includes vintage and modern motorcycle exhibits, stunt team performances and skills trails, field events and National AHRMA Trials, beer garden, vendors, food trucks, and more.
POST-FUNC DAD BEER: In 2014, Joint Base Lewis-McChord firefighter Rob Horn took his homebrewer skills pro and open the Tumwater brewery, Triceratops Brewing, named after his three kids (three Horns). When concert promoter, Capitol Theater executive director and Olympia Heritage Commissioner Audrey Henley and her coppersmith, mechanic, rock star husband Jimmi Davies said yes to their downtown Olympia working motorcycle garage coffee bar Revival Motors & Coffee supplying the complex, full-bodied, cold brew Arabica coffee from Caffee Umbria for Horn's Revival Coffee Milk Stout, you must ask yourself, "Of course dad wants a motorcycle-themed beer brewed by a dinosaur dad!"
Baerlic Dad Beer
5.6% ABV, 1 IBU
JERRY MILLER: Jerry Miller really, truly is legendary. One gander at the man's lengthy resume can tell you that. A T-Town original (born here in 1943), and a founding member of Moby Grape (see: San Francisco music scene in the '60s, and one of the most influential bands to emerge from it), Miller has made a name with his top-notch guitaring, songwriting, and singing. Since your dad still hangs onto the '60s, you should take him to see Miller at The Spar Sunday night.
POST-FUNC DAD BEER: In 2014, then-homebrewers Ben Parsons, a graphic designer, and Richard Hall, who earned his paycheck as a bike mechanic, took their work-a-day approach to life and transplanted it into Baerlic Brewing, which means "of barley" in old English. Tucked onto Southeast 11th Avenue in Portland's Central Eastside, the "stubbornly independent brewery and taproom" Baerlic has thrived thanks to devoting a significant part of their taplist to lighter, crowd-pleasing lagers and pilsners. Their work-a-day approach has paid off: their Dad Beer. Grabbed bronze for Golden, Blonde And Other Light Ales at the 2020 Oregon Beer Awards. Brewed with flaked corn reminiscent of our great great granddad's favorite chuggin' beer from the 1880s this golden lager has more of a crushed corn flakes aroma than the corn syrup we all know too well. Mild traces of tangerine, hay, and dried flowers add to the aroma. The taste is similar to the classics, but much more pronounced. The corn flakes are dominant, but like a simple and healthy breakfast, it works. Some white rice like sweetness, some water crackers, a slash of orange, and a hint of floral hops finish it off. It finishes dry, but not too dry.
Oskar Blues Old Chub
8% ABV, 25 IBU
PROCTOR FARMERS MARKET: Whether your dad likes to man the grill armed with a pair of tongs and a novelty apron or prefers to sit back and let the food and beer be brought to him, be sure to hit up the Proctor Farmers Market Saturday for meats, fish, barbecue sauce, and oysters to pair with a classic Scotch ale.
POST FUNC DAD BEER: Scotch whiskey loving dad is sure to enjoy this one! Oskar Blues' Old Chub is a celebration of malts. The Scottish style ale is brewed with copious amounts of crystal and chocolate malts, and a dash of beechwood-smoked malts. The cola-colored beer features a dense, tawny head; a creamy mouthful and hints of raisin are noticeable in the bouquet, even if it is slightly crowded by the strong malt scent and smokiness. On the tongue expect caramel, chocolate and lightly roasted malt. Complex and rich, it finishes with a whisper of smokiness that calls to mind a fine single malt scotch.
Pelican Father Of All Tsunamis
11.2% ABV, 55 IBU
BODYBUILDING: When the term "dad bod" leapt into the popular lexicon a few years ago, few of us could have predicted that it — and the debate around it — would prove to be so long-lasting. Whether you love the term, hate it, or are simply a little disappointed when you look in the mirror at it, the dad bod remains … a thing. For inspiration, take dad to the Tanji Johnson Classic bodybuilding show at the Tacoma Armory Saturday. It will showcase athletes representing the bodybuilding, classic and men's physique, fitness, women's physique, wellness, figure, and bikini divisions.
POST-FUNC DAD BEER: When is a dad beer a father beer? When it's an imperial stout aged in rye whiskey barrels. "Father [Of All Tsunamis] was initially born when we imagined how fantastic it would be to age an imperial version of Tsunami Export Stout in whiskey barrels to create an incredible Imperial Stout," says Darron Welch, founding Pelican Brewing brewmaster, in pre-Father release hype. "Father offers a stout black color, dark chocolate, coffee-like roastiness combined with the inherent spiciness of the rye to make a pretty darn special beer." Indeed. Rich roasted malt aroma with notes of dark chocolate, vanilla, earthy rye, caramel, oak and whiskey hits before a wave of rich roasted malt, caramel, dark chocolate and vanilla. The Father storms until smooth and decadent earthy rye, oak and whiskey flavors go to bed.
LINK: Peaks & Pints cooler inventory
---
Category:
Beer Line Blog
,
Craft Beer
,
Critical Drinking
,
Events and Festivals
,
In The Cooler
,
Peaks and Pints Pilot Program
,
Proctor District
,
Shop
,
South Sound
,
Specials
,
Tacoma events