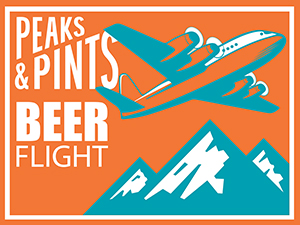 Rejoice, o cherry tart lovers of the South Sound! Today, June 17, is National Cherry Tart Day! Ok, so it's not like you had this holiday on your calendar, but maybe you should as Peaks & Pints carries many cherry-flavored beer, cider, and mead. See what we did there? Cherries can balance otherwise heavy beers or add extra freshness and flavor to the lighter styles. Cherries have been added to beer for centuries, especially with Belgian lambic styles, which are called krieks. Cherry beer is no longer a throwback to centuries past. North American brewers are adding cherries to their craft, whether it's a kriek, or another beer style infused with the finest cherries. In celebration of National Cherry Tart Day, Peaks & Pints presents a to-go flight of cherry beer that we call Peaks and Pints Pilot Program: Cherry Beer On The Fly.
Peaks and Pints Pilot Program: Cherry Beer On The Fly
Triceratops Little Critics Sour Pennsyltucky on Cherries
4.8% ABV
Triceratops Brewing joins the rest of the American brewers rewriting the rules on sour beers. They use traditional sour styles as a jumping off point to experiment with techniques such as hops additions for bittering and aroma, racking sour beers into freshly used wine or spirit barrels, blending batches, adding adjuncts, or, in the case of Triceratops, sour a lager on cherries then barrel age it. Little Critics is soured with Triceratops' house culture and conditioned on 30 pounds of Washington-grown cherries for a pleasing tartness, a restrained level of acidity, and an approachable 4.8 percent. Extended aging in Heaven Hill whiskey barrels further enhances the beer's complexity.
Rodenbach Alexander
5.6% ABV, 8 IBU
Originally brewed in 1986 to commemorate 150 years of brewing, Alexander consists of a blend of two-thirds aged beer (two years in oak foeder fermenters) and one-third young beer, flavored with macerated cherries. If Rodenbach Grand Cru is the quintessential Flanders red ale, then Alexander is the quintessential kriek version of that style, finally available to anyone with a taste for tart, complex cherry beer. Alexander pours cranberry-red and has a dense cherry nose, with moderate carbonation. The trademark acetic flavors of the Flanders red style are subtly present, balanced nicely by a semisweet maltiness. The dominant flavor is definitely cherry — crisp and fruity, rather than syrupy and medicinal.
Ommegang Rosetta Kriek
5.6% ABV, 9 IBU
Brewed and blended by Ommegang's sister brewery Liefmans in Belgium, Rosetta combines old (aged on cherries at least three years) and young Flemish brown ale (or oud bruin) with a lively and fruity kriek, or cherry beer. The blend, which was developed by Ommegang Brewmaster Phil Leinhart, results in a complex yet refreshing mahogany-brown brew that is an intriguing interplay of tartness and sweetness.
Firestone Walker Krieky Bones
5.7% ABV
Traditionally, gold is given on a 50th wedding anniversary. What is traditionally given on a 50th birthday? Jumbo remote control? Atomic Nose and Ear Hair Trimmer? Emergency underwear? Firestone Walker proprietor David Walker received a sour cherry fermented beer for his 50th. A handful was sold at a release and the public went bonkers. Behold Krieky Bones! This beer begins its life as a Flanders Red inspired beer aged with Brettanomyces more than a year in French oak foeders. Sour Montmorency cherries are added and allowed a secondary fermentation. The aroma is of cherry pie complete with flavors of piecrust, spice and an underlying funk. Vienna malt notes give way to an assertive acidity and a bright carbonation.
Cascade Rose Chérie
6.2% ABV
Founded in Portland, Oregon in 1998, Cascade Brewing is a pioneer of the sour beer renaissance, innovating the "Northwest Sour Ale" in 2006. The brewery's portfolio of distinctive sour ales features fruit-forward, barrel-aged ales with complex flavors and aromas derived from the acid, the fruit, and the residual flavors present in the aging barrels. Rose Chérie, meaning "Darling Rose," features a blend of sour red and golden ales aged in oak wine barrels and foeders for up to 12 months then infused with Oregon-grown Bing and Montmorency cherries and dried rose petals. The nose is all about fresh roses, plus tart cherries, white pepper, red apple, and rhubarb, followed by fresh cherries, dried rose petals, strawberries, and sparkling rosé wine.
The Lost Abbey Red Poppy Ale
6.5% ABV
The golden poppy is the state flower of California and the red poppy is found in Belgium's Flanders fields where The Lost Abbey's inspiration for this Flanders red style sour originated. Red Poppy Ale is a veritable celebration of sour cherries in an explosion of aromas and tastes. Brewed from a brown ale base and aged in their oak barrels for more than 12 months, this beer is not for the faint of heart.
E9 Balaton Farmhouse
6.8% ABV
Tacoma's House of Saison, E9 Brewing, grabbed Belgian pilsner malt, Belgian pale malt, wheat, water, and hop, and then fermented the ingredients stainless steel tanks. Next, Head Brewer Shane Johns transferred the young saison to oak barrels with added Brettanomyces. Last, E9 blended barrel and aged the bend on whole fruit Balaton cherries grown in the Yakima Valley. The pink-ish saison ends up with a slight funk and a brilliant showcase of cherry.
Crooked Stave Mama Bear's Sour Cherry Pie
7% ABV
Crooked Stave's Mama Bear's Sour Cherry Pie burgundy sour ale aged in oak barrels with more than 3,000 pounds of Colorado Montmorency cherries is the result of blending carefully chosen batches of Origins with a heavy-handed addition of cherries sourced from orchards on the Colorado western slope. Expect all the jammy sour cherry notes, plus caramel, earthy notes, tart, cinnamon and berries. The finish is sour and sweet with cherry, cinnamon, tart, berries and earthy notes.
Cascade Kriek 2020
7.9% ABV
Kriek has been a fundamental part of Cascade's Northwest sour portfolio since 2007. The 2020 version is a blend of sour red and blond ales aged in red wine barrels for up to two years with fresh, Oregon-grown Bing and Montmorency cherries for a pie cherry, oak, wood spice, and Flemish red ale nose. On the tongue, expect tart cherry, black cherry, oak, vanilla, and baking spice.
LINK: Peaks & Pints cooler inventory
---