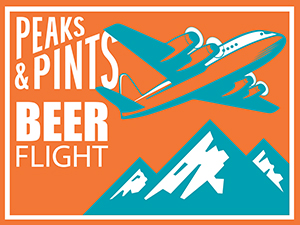 Surly Brewing doesn't settle. It's what drove them to change the laws of Brooklyn Center, Minnesota, to allow breweries. It's what drove them to convert a Brooklyn Center abrasives factory to a brewery in 2005. It's what drove owner/veteran brewmaster Todd Haug to brew the aggressive, addictively bitter Furious IPA flagship. It's what drove Surly's owner, Omar Ansari, to go bar to bar, asking them to carry our beer. It's what drove them to earn medals from the Great American Beer Festival and Best Brewery in America honors. It's what drove them to build a state-of-the-art destination brewery in the heart of the Twin Cities in 2014. It's what drove them to launched a charitable arm, Surly Gives A Damn, and start organizing volunteer events around the Twin Cities. It what drove them to open a market in Washington state. It's what still drives them today. Stop by Peaks & Pints and grab a to-go flight of Surly beer, a flight we call Peaks and Pints Pilot Program: Surly On the Fly.
Peaks and Pints Pilot Program: Surly On the Fly
Surly Coffee Bender
5.1% ABV, 25 IBU
In December 2005, entrepreneur/beer lover Omar Ansari and veteran brewmaster Todd Haug began kicking out Surly beers from their blocky little brewery tucked into the industrial hinterlands of Brooklyn Park, Minnesota. Their first beer was Bender, an oatmeal brown ale. Coffee Bender followed years later brewed with Guatemalan coffee for cold press coffee aromatics and intense coffee flavors are balanced by the oats in the malt bill, resulting in a cappuccino-like creaminess.
Surly One Man Mosh Pit
7.2% ABV
Peaks & Pints has seen, and participated in, the evolution of the mosh pit — from slam dancing to the wall of death (participants split into two halves, before slamming the two sides into one another). We're good with being a one man mosh pit now —mostly the House of Pain jump where all we do I jump. We're also good with the Surly One Man Mosh Pit. An absurd dose of Amarillo, Citra, and Mosaic dry-hopping hoists this IPA above the fray. Juicy and hazy, it's the perfect soundtrack to the music in your head. Jumping is optional.
Surly Brewing Abrasive Ale
9.2% ABV, 100 IBU
Surly originally brewed this beer at the end of 2008 to bid farewell to growler sales, only to underestimate the demand for the first double IPA in Minnesota. They brewed the beer again in spring 2009 and the rest is IPA history. Also history: 16 Grit, the beer's first handle and a size of abrasive grit used at the old abrasives factory that houses the original Surly mothership in Brooklyn Center. They brew the imperial IPA recipe with oats, English ale yeast and a massive dose of Citra, plus a little Warrior hops. The oats help balance the huge bitterness, and the overall effect brings a candied citrus character.
---