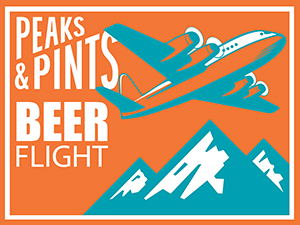 Nintendo designer Shigeru Miyamoto's character Mario has appeared in more video games than any other. While he first appeared wielding a hammer as "Jumpman" against his nemesis Donkey Kong, it was the 1983 arcade game Mario Bros. that introduced his brother Luigi and cemented the pair as Italian American plumbers-slash-adventurers. But the mustachioed mascot's defining moment came in 1985 with the release of Super Mario Bros. for the Nintendo Home Entertainment System, which teleported the brothers to the Mushroom Kingdom to save Princess Peach from the mischievous Bowser, King of the Koopa. Today, Mario and Luigi make the jump to beer as the new batch for 450 North Brewing smooth sours has a Super Mario Bros. theme. If you're game, stop our craft beer lodge, bottle shop and restaurant in Tacoma's Proctor District and grab our to-go flight, Peaks and Pints Pilot Program: Super Mario Bros. On The Fly.
Peaks and Pints Pilot Program: Super Mario Bros. On The Fly
450 North Smoothy Bomb
5% ABV
Bombs as depicted in the Mario series are not entirely unique. They're based on a widely used cartoon gag that stylizes bombs as merely causing a small flare, unlike real-world bombs, and are most often depicted simply as stereotypical cherry bombs. Part of their Smoothie Hard Seltzer line, 450 North's Smoothy Bomb is conditioned on black berry, banana, acai, and pomegranate.
450 North Slushy It's A-Me! Cup
NA ABV
One day while Charles Andre Martinet was relaxing at the beach, he received a phone call from his agent and was told that he nabbed the part to play Super Mario in Super Mario 64 in the English version. He has been voice acting for Nintendo video games since, including saying "It's me, Mario!" The "a" is a representation of his accent. You could almost write it as "Itz-a me, Mario!" It's A-Me! Cup, part of 450 North's Collector Cup Series, is a smoothie sour conditioned on cranberry, boysenberry, sweet cherry, graham cracker, brown sugar, vanilla soft serve ice cream, and lactose.
450 North Slushy Let's A-Go! Cup
NA ABV
Lets-a-go, Mario is a game developed by Mega Studios for the Nintendo 3DS. The game is a 2D platformer — the first original Mario platformer since Super Mario Land 2: 6 Golden Coins to use sprites — that takes heavy influence from the earlier games in the series. Part of 450 North Brewing's Collector Cup Series, Slushy Let's A-Go! Cup is a smoothie sour conditioned on pineapple, peach, granola, green apple, vanilla cream, and vanilla soft serve ice cream.
450 North Slushy XL Peach Ring
5.45% ABV
Princess Peach Toadstool, simply either Princess Peach or Princess Toadstool, is usually seen as Mario's damsel in distress and love interest. Mario seems to insist each successful rescue put him one step closer to putting a ring on Peach's finger, but Peach doesn't seem to care much at all. A screenshot of Mario placing a ring on Peach's finger could easily be an in-game power-up, if not a practical joke, thrown on the main page without a second thought. Sakurai also teased "Who is the ring for?" on Miiverse, suggesting that one way or another, all is not as it seems. Or, you know, it's just a randomly selected daily screenshot. Anyway, 450 North Slushy XL peach Ring is a fruited Berliner weisse conditioned on over 1,000 pounds of peaches.
450 North Slushy XL Unicorn Juice 2021
NA ABV
Peaks & Pints doesn't have enough deep knowledge of Super Mario Bros. to understand the Unicorn Juice reference. We do know Snailcorns are large snail-like creatures that have the characteristics of a unicorn such as a large horn, hence to the name, which is a portmanteau of snail and unicorn. They only appear in New Super Mario Bros. and are never seen outside of ice stages. We also know this year's version of 450 North's Unicorn Juice Berliner weisse is conditioned with rainbow amounts of starfruit, peach, mango, and pink guava.
450 North Golden Amber Coins Sour DIPA
NA ABV
Coins are the main currency and most common item in the Mario series. Collecting 100 coins will yield a 1-Up Mushroom as a reward. Coins can be found floating in the air, in question mark boxes/bricks, and in bubbles underwater, among other places. Golden Amber Coin, part of 450 North's Gemstone Series, is a sour double IPA conditioned on goldberry, pineapple, and yuzu.
LINK: Peaks & Pints cooler inventory
---