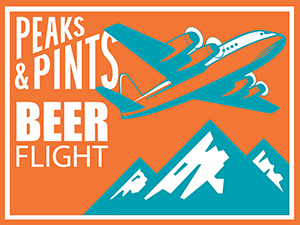 Washingtonians who knew Facebook existed on Feb. 5, 2006 introduced F-bombs to the social media platform. They had just watched the Steelers steal Super Bowl XL from the Seahawks with the help of some shockingly one-sided officiating. Mike Pereira, the NFL supervisor of officiating, wasn't logged on because left the country for Costa Rica. Seahawks fans replayed their TiVo recordings of the fishy calls repeatedly in disappointment and disgust. Phantom flags! Imaginary touchdowns! Jerramy Stevens dropped passes! Even Seahawks Coach Mike Holmgren blamed the referees for the loss. Super Bowl LVI will hit the Peaks & Pints screens this afternoon. Last month, we suggested a thematic beer flight involving the Los Angeles Rams and Cincinnati Bengals for their playoff games. Today, in an effort to relieve the long-lasting Super Bowl XL pain, and have a bit of fun, we're skipping beer flight beer associated with each team and suggesting beers correlating with NFL penalties. Grab Peaks and Pints Pilot Program: Super Bowl LVI Flags On the Fly to-go, or have our bartenders crack them open to cry into at our craft beer lodge in Tacoma's Proctor District. Are you ready for some penalties!
Peaks and Pints Pilot Program: Super Bowl LVI Flags On the Fly
Wayfinder Hidden Hand
5.2% ABV, 30 IBU
It is a foul for defensive holding if: a defensive player tackles or secretly holds any opponent other than a runner; during a punt, field goal attempt, or Try-kick attempt, a player secretly grabs and pulls an offensive player out of the way, allowing his teammate to shoot the gap (pull-and-shoot) in an attempt to block the kick. If a defensive player is called for holding then drink Wayfinder Beer's Hidden Hand. Expect a Czech-style dark lager that's clean, brings the roasted malt, is deceptively smooth, plus a 5-yard penalty.
Stoup Feel My Muscles Imperial Porter
8.5% ABV, 40 IBU
Football players who use his hands or arms to materially restrict an opponent or alter the defender's path or angle of pursuit will be called for "offensive holding." It is a foul regardless of whether the blocker's hands are inside or outside the frame of the defender's body. Material restrictions include but are not limited to: grabbing or tackling an opponent; hooking, jerking, twisting, or turning him; pulling him to the ground; or feeling an opponent's muscles. If an offensive player holds then drink Stoup Brewing's big, bold, muscular porter built on a base of Maris Otter, Munich, 2-row, chocolate, and crystal malts. Expect a rich and malt-forward porter with chocolate, caramel, plus a 10-yard penalty.
Equilibrium Mass x Acceleration
8% ABV
A continued point of emphasis is the use of helmet foul. It is a foul if a player lowers his head to initiate and make contact with an opponent. Equilibrium Brewery's Mass x Acceleration, or Force, is a hazy IPA brewed with Mosaic and Amarillo. This juicy elixir pours a glowing tangerine color with aromas of dank orange juice with that melony EQ juice thing. The taste is orange/mango for days, melon flavored gummy bear juice, and a 15-yard penalty.
Rogue Knuckle Buster Cold IPA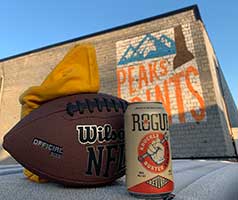 6.1% ABV, 60 IBU
A facemask penalty occurs when a player grasps, pulls, and or twists another player's helmet to try and slow them down. The specific action of grabbing the facemask triggers the penalty. The "facemask" penalty exists because the cage in front of the helmet is the most commonplace player's grab to manipulate an opponent's head. However, the penalty extends to grasping other helmet parts, including edges, ear holes, and padding. If a player is called for facemasking, then drink Rogue Ales' Knuckle Buster Cold IPA brewed with Revival Cycles in Austin, Texas. Like a cross between a pilsner and an IPA, this beer opens with a delightful floral hop aroma that is followed by more hops, cracker, bread, and a soft sweetness across a light body. The finish is crisp and refreshing with a nice bit and 15-yard penalty.
E9 Transmissions on Air
6.4% ABV, 55 IBU
In the NFL rulebook, it states that a flag will be thrown for taunting when there is "the use of baiting or taunting acts or words that engender ill will between teams." For instance, flexing on an opposing player or cursing at an opposing player is taunting. If you see a player taunting another player on a screen, then take a drink of E9 Brewing's Transmissions on Air Northwest hop heavy IPA with Ekuanot, Amarillo, Chinook and Simcoe. Expect aromatics of herbal, floral hints of eucalyptus, mint, pithy grapefruit, plus a 15-yard penalty.
AleSmith Party Tricks
6.8% ABV
In 2017, the NFL severely scaled back the excessive celebration rule; penalties for excessive celebration are only called for using the goalposts as a prop (to avoid inadvertently warping the goalposts out of place), lewd or violent gestures, or prolonged celebrations intended to delay the game. If you see a player or team performing the entire Electric Slide after a score, then take a drink of AleSmith Brewing's Party Tricks IPA brewed with a massive amount of Strata, El Dorado, and Citra hops for notes of grapefruit, strawberry, and passionfruit, plus a 15-yard penalty.
LINK: Peaks & Pints cooler inventory
---