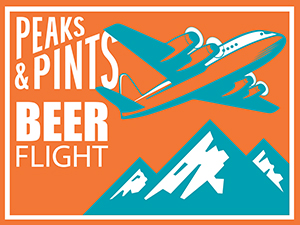 In a not-very-surprising move, summer beer festivals are receiving "See you next year!" stamps months before their scheduled 2020 appearances. Get a cupholder on your bike, you degenerates, because we're drinking outside for the next four months, biking from one social-distance barbecue to the next. And, your friend Bob mixing Bud Light and Budweiser to make his elixir, Bud Medium, isn't going to cut it. No, load up your bicycle with sunkissed craft beer and suck down the season's freshest. Today, Peaks & Pints offers a to-go flight of "sunshine" beers to place at the front of your cooler queue. Stop by from 11 a.m. to 8 p.m. today for Peaks and Pints Pilot Program: Sunshine On the Fly.
Peaks and Pints Pilot Program: Sunshine On the Fly
Reuben's Southsun Mexican Lager
4.8% ABV
Reuben's Brews thirst-quenching, light lager is brewed with Vienna and pilsner malts for a light, smooth body, and delicate Saaz hops pack just the right crisp flavor.
AleSmith Sublime Mexican Lager
5.2% ABV
In celebration of the 25th Anniversary of Sublime's release of their iconic album, 40oz. to Freedom, Sublime contacted AleSmith Brewing Co. to craft this unique brew. Sublime Mexican Lager is a thirst-quenching twist on a traditional Vienna-style lager highlighted by a grainy, malt-forward sweetness and easy drinkability. It's clean, crisp, balanced with a smooth finish and dons a big ol' sun on the front of the 19.2-ounce can.
Hellbent Seattle Sunshine Hazy Pale
5.7% ABV, 34 IBU
Hellbent Brewing brewed a hazy pale ale for the Emerald City Supporters, an independent supporters' group for the Seattle Sounders FC. The ECS sings "Seattle Sunshine" every time it rains on them! Seattle Sunshine Hazy Pale is all about the hops, and contains no bittering additions. The first hops that hit the field — Mosaic, Citra, and Simcoe — are added in the whirlpool, forming citrus, tropical, and stone fruit hop flavors. Then, the Seattle brewery kicks the hop party up a notch by dry hopping at the end of fermentation with Azacca, Citra, Amarillo, Mosaic, and Simcoe, which creates a sublime hop burst of citrus and tropical fruit aromas that will blow your cleats off. OK, it's more of a soccer in the rain kind of beer, but you tell a soccer fan it doesn't belong here.
Fortside Sunshine Dreamin'
7.1% ABV, 38 IBU
According to Fortside Brewing, this hazy IPA has "big juicy aromas of ripe mango, bright citrus, smooth strawberry, and tart kiwi from a profuse bounty of Citra, Galaxy, El Dorado, and Mosaic dry hopping. Rounded out with more Mosaic and Amarillo in the whirlpool, this heady juice bomb presents ultra soft and creamy with next to no bitterness, but the 6 pounds per barrel of hops creates its own flavorful and balanced tingle as this beer washes over the pallet and deeply satisfies, as morning sunshine after wading in a cold stream."
Fremont Summer Pale Ale
5.2% ABV, 45 IBU
If it were socially acceptable to drink beer in the morning, one with Amarillo hops would be the perfect way to start the day. Amarillo provides a super-citrusy aroma verging on oranges, lively tangerine flavor and a medium-high bitterness, that is sure to wake the taste buds. A staple at the brewery since 2010, Fremont Brewing's Summer Ale has just four ingredients: water, grain, yeast, and Amarillo hops. It tastes like tangerine flowers in a glass — refreshing, crisp, full of flavor that won't weigh you down on a sunny day.
Reuben's Summer IPA
6.8% ABV, 50 IBU
Adam Robbings' beer recipes had much success at homebrew competitions, including winning the silver medal at the National Homebrewing Competition in 2012, and his talent, along with a Kickstarter campaign that raised close to $11,000, eventually earned him his own brewery — Reuben's Brews officially opened in Seattle's Ballard district in August 2012. Since then, the team has accrued an astounding amount of accolades, including 15 World Beer Cup medals over the past three years. Dip your nose into Robbings' seasonal Summer IPA for citrus fruit aromas. The taste follows suit with notes of orange and grapefruit, with a medium light body and slightly bitter finish. Bitter and fruity, it's a lovely summer brew.
Silver City Sun Glitter
6.5% ABV, 60 IBU
Gleaning its name from the radiant visual of sunlight reflected from Pacific Ocean waves at sunset, Silver City Brewery's Sun Glitter IPA is a fusion of peach flavor with a dense, hazy malt profile and lactose sugar, yielding a deliciously creamy and vanilla-like sweetness. Dip the nose for peach and tropical flavor. It's not a peach bomb, but rather sports bitter citrus with some peach sweetness.
---