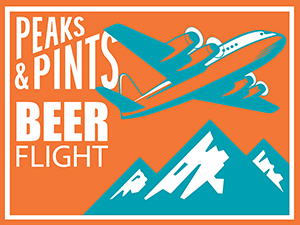 You've heard of gose. It's German, a sour beer. Pronounced "go-zuh," like the thing that wrecked New York in Ghostbusters. Reported to be between 200 and 1,000 years old, it's sour and salty, a low-ABV session beer, which means it won't get you sauced. The gose style is a wheat beer that balances a sour twang from lactic acid-producing bacteria, a distinct salinity and a subtle floral spice from added coriander. It's made with a souring process using a natural bacteria like what you'd find in yogurt. This provides a natural acidity; a really nice tartness that helps balance. It has a really clean and dry finish with a bit of salt. Today, Peaks and Pints suggests a to-go flight of summer gose that we call Peaks and Pints Pilot Program: Summer Gose On the Fly.
Peaks and Pints Pilot Program: Summer Gose On the Fly
Anderson Valley Briney Melon Gose
4.2% ABV
At Anderson Valley Brewing Company in Boonville, locals and travelers mix in the age-old spirit of a roadside public house, and you might even end up speaking a few words of the local folk dialect, Boontling, before you leave. Their Briney Melon Gose hits the nose with melon-like fruit sweetness and some underlying honey notes. Expect a thirst-quenching lactic tartness up front followed by some melon-fruit sweetness. The saltiness only adds to the melon sweetness, which transitions to a medium-sour finish.
Cigar City Margarita Gose
4.2% ABV
Salt, sugar or nothing? Rocks or blended? Straight or flavored with mango, guava or some other tropical fruit that epitomizes warm beaches, blue seas and palm trees? What other drink gives you so many choices and so quickly brings to mind lazy summer evenings than the margarita, a perfect balance of sweet and tart, ideal for a steamy day. Cigar City Brewing, just off the Gulf of Mexico in Florida, grabbed their German-style gose, an ancient style of low alcohol beer brewed with salt, and gave it the Jimmy Buffett treatment by adding orange peel and lime essence to create a different take on the summer sipper. Beast the heat with Cigar City Margarita Gose while soaking in your kiddie pool.
Modern Times Fruitland Gose
4.8% ABV
Modern Times' Fruitlands series sports the same sour, salty base beer. From there, the brewery adds fruit to give the gose a distinctive flavor. March through May, Apricot is available. October through January you'll find sour cherry, and June through September the Passion Fruit/Guava version, which has joined this sour beer flight. The passionfruit and guava gives it a tropical flavor that pairs nicely with the base beer, making the brew taste something more akin to a nice fruity punch than a beer, although certainly not as sweet. Passionfruit is definitely the star with this one, but you get a little bit of guava as well, especially on the nose.
Decadent Fruit Machine
6.1% ABV
In 2016, Mad scientist brewer Paul Pignataro founded Decadent Ales, a nanobrewery located in Mamaroneck, New York, and is distributed by Twelve Percent Beer Project, the brewery arm of Twelve Percent Imports, as well as contract-brews at Thimble Island Brewing Co. and Dorchester Brewing Co. in Connecticut and Massachusetts. His Fruit Machine is a gose style ale with mango, orange and passionfruit, but we only get mango and orange on the nose. The passionfruit appears on the palate, as does mango, but the orange takes a supporting role. It's more fruity that tart for a gose.
---