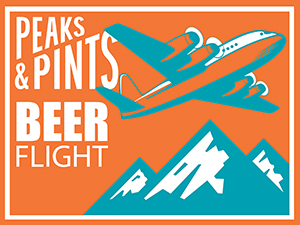 South Sounders tend to get creative in the helter swelter. Besides crafting explicit fantasies about sitting on a block of ice or getting clocked by an exploding fire hydrant, the stuff soft-drink commercials are made of, our survival in the summer heat includes many cooling down alternatives. A quick survey of the supermarket beverage section reveals how many hybrids have evolved. Want water? You can pick flavored, sparkling, calorie-free, vitamin-packed — you name it. And then there are hard seltzers, hard iced coffees, hard kombucha, and the immortal Slurpee, hangover cure to the gods. But for today's Peaks and Pints Pilot Program to-go beer flight we're offering refreshing fruity beers to beat today's heat — a flight we call Peaks and Pints Pilot Program: Summer Beer Blends On the Fly.
Peaks and Pints Pilot Program: Summer Beer Blends On the Fly
Matchless Rad Lemons
4.2% ABV
Radlers — also known as shandies — were invented by a Bavarian innkeeper in 1922, who found himself confronted by hordes of thirsty cyclists looking for some mid-ride refreshment. He mixed his dwindling supplies of lager with lemon soda, and a new drink called the "radlermass" was born. ("Radler" is German for "cyclist," while "mass" is the Bavarian term for a liter of beer.) Matchless Brewing's version is a dry hopped lemon radler with crisp tart lemons in a smooth light lager.
Great Divide Roadie Grapefruit Radler
4% ABV, 16 IBU
Great Divide Brewing's Roadie Grapefruit Radler is a beer created for a cruise down the bike trail. The Roadie Grapefruit Radler is a combination of two of Great Divide's passions — beer and the cycling community. Inspired by the annual BoulDurango, where some of Colorado's most tenured brewers join up for a 400-plus mile ride, it's brewed with natural grapefruit puree. This easy-drinking ale pours a hazy sunrise gold, bursts with citrus aroma, dry and slightly tart and is a seriously refreshing beer that comes in at a miniscule 4 percent ABV.
Schöfferhofer Grapefruit
2.5% ABV
Frankfurt, Germany's Binding Brauerei takes credit for creating the globe's first grapefruit-infused hefeweizen, a 50-50 blend of grapefruit juice and unfiltered wheat beer. Schöfferhofer's bubbly offering is more benign and accessible than more citrusy radlers, with a heavier sweetness that could be a turn-off to some. Still, this 2.5-percent ABV radler would make a fine brunch alternative to a mimosa, or to chase away the thudding fog of last night's bad decisions.
Left Hand Peach Beerllini
4.1% ABV, 8 IBU
More than 230 barrels of peach puree went into Left Hand Brewing Peach Beerlini light and refreshing effervescent concoction of pale malts and peach nectar. Each can of Peach Beerllini Radler has approximately a half a peach worth of puree. Based on that, it's not surprising that the aroma of this beer is all peaches, like millions of peaches. The taste is slightly sweet from the sugars in the peaches, but not cloying, with light carbonation. It finishes with sweet peach and dryness
---