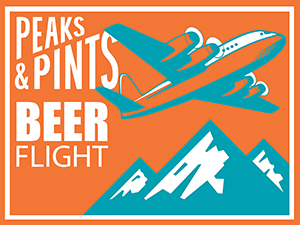 Sue Kidd, a longtime food writer for the Tacoma News Tribune, Dine Pierce County and other publications, died Tuesday from an aggressive form of cancer. She was 52. That's how the sad news is written in newspapers. As the founder of the now defunct alternative newsweekly Weekly Volcano in November 2001, I would have written it with more F-bombs as Sue (I'm using her first name for this story) was a skilled F-bomb practitioner. She was also a top-notch food critic and feature writer. She ran circles around my Volcano coverage of the local food and beverage scene. Every Wednesday and Friday, when her work hit the News Tribune's paper and screens, I would shake my fist toward the sky and scream, "You scooped me again, Sue Kidd!" Sue was a Professional with a capital "P" — writing, researching, and paying anonymously. I finally met Sue, her infectious laugh, and six or seven of her F-bombs as a co-owner of Peaks & Pints. She wrote several stories about our craft beer bar, bottle shop, and restaurant in Tacoma's Proctor District, as well as phoned me for my thoughts on beer for her projects. Tacoma will miss her. I will miss her. Today, I honor her with a to-go flight of food-themed beers that I have in the fridge — a flight I'm calling Peaks and Pints Pilot Program: Sue Kidd On the Fly. Cheers Sue Kidd! — Ron Swarner
Peaks and Pints Pilot Program: Sue Kidd On the Fly
Hoosier Pecan Pie
5.5% ABV
In 2015, founder Brian Nentrup opened Hoosier Brewing with an investment group in Greenwood, Indiana, then closed in 2018, only to re-open a year later with new investors. The small batch craft brewery focuses on crazy juicy IPAs, silky stouts, mouth-watering sours, crisp lagers, and fruity Berliner smoothies, which all can be enjoyed with throwing axes in their taproom. I don't know if Sue Kidd enjoyed a joint now and then, so I'll skip the cannabis strain Apricot Jelly fruited sour and suggest you honor sue with sips of Hoosier's Pie Face – Pecan Pie fruited sour with a roasty pecan flavor.
Avery Pear of Peaches
9% ABV
We're quite certain if we could s-pear just a few minutes of our precious time, we could come up with a batch of puns far superior to this one. OK, maybe not. Building on their success with big IPAs, Avery Brewing adds another hazy option to their beer portfolio with Pear of Peaches. Packed with juicy hops, Pear of Peaches brings a punch of fruity flavors to the genre of imperial hazy IPAs. Using contemporary dry-hopping techniques, Avery's brewers add Simcoe and Amarillo hops, and then traditionally dry-hopped with Mosaic hops. Pear of Peaches is a surprisingly easy drinking double IPA with tons of fruit-forward hops paired with all-natural pears and peaches.
The Bruery Bakery: Banana Nut Muffin
8.1% ABV
Founded in 2008 by Patrick Rue, The Bruery began when Rue, a recent law school graduate and homebrewer, figured out that he loved his hobby so much, he'd start a brewery instead of studying for the Bar. Sound bananas? Well, bite into this bold imperial stout and experience a fresh-outta-the-oven banana nut muffin in your glass. Inspired by the morning treat, this imperial stout is brewed with banana, walnut, and vanilla for a full body with rich banana character balanced with nutty flavor from the addition of walnuts, finishing with just a touch of sweetness.
Great Divide Peppermint Bark Yeti
9.5% ABV
Russian imperial stouts take everything that stouts are known for and scale them up to monster size. Fittingly, Great Divide Brewing named their version a monstrous name. Yeti lives up to the billing with a huge malty body packing in 9.5 percent alcohol and big flavors to match it. This foodie Yeti version is brewed with peppermint and white chocolate for slight sweetness and mint with a good roast in the base.
Off Color Dino S'mores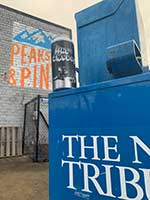 10.5% ABV, 40 IBU
John Laffler of Goose Island and Dave Bleitner of Two Brothers opened Off Color Brewing in March 2013. At the brewery's launch party, a local pastry chef cooked up a batch of dinosaur-shaped s'mores for munching; these treats provided the inspiration for an imperial stout Off Color would later brew in collaboration with Danish brewer Amager Bryghus and venerable Windy City bottle shop West Lakeview Liquors. The beer — flavored with marshmallow fluff, molasses, vanilla beans, graham flour and cocoa nibs — was named Dino S'mores and has been available since 2014. It's sweet and sugary, with a bouquet of blackstrap molasses, graham cracker and marshmallow fluff atop a layer of alcohol, vanilla, marshmallow, and milk chocolate.
Modern Times Soft Swerve Banana Coconut Sundae
14% ABV
San Diego craft brewer Modern Times Beer is shutting down four of its eight locations on the West Coast as it retrenches following the pandemic to focus more on its Southern California home turf. One of San Diego's best-known craft brands, Modern Times said Monday it is closing outlets in Portland, Oakland, Santa Barbara, and Los Angeles and refocus its distribution solely on California and the Southwest. The move comes about a month after Jennifer Briggs, formerly of New Belgium Brewing, took over as chief executive. Modern Times' Soft Swerve Banana Coconut Sundae is a bourbon barrel-aged imperial stout conditioned on wild Thai banana, Dominican cocoa nibs, toasted coconut, untoasted coconut, Ugandan vanilla, and toasted, sliced almonds. Drink it up while you can.
LINK: Peaks and Pints cooler inventory
---
Category:
Beer Line Blog
,
Craft Beer
,
Critical Drinking
,
Food/Beer Pairing
,
In The Cooler
,
News and Updates
,
Peaks and Pints Pilot Program
,
Proctor District
,
Shop
,
South Sound
,
Specials