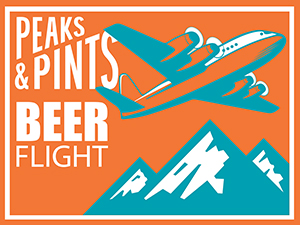 Today, Peaks and Pints centers on strong ales for our daily to-go beer flight — including Belgian, English and American strong ales — in a flight we're calling Peaks and Pints Pilot Program: Strong Ales. Belgian strong ales malty character can be rich and sweet, with complexity in flavors that include high roasted and mild hoppy bitterness. They are commonly brewed with candi sugar, which can add to the style's alcoholic strength, which ranges from 7 to 11 percent ABV. Bigger than a pale ale yet smaller than a barleywine, the English strong ale is a rich and complex beer z— a bold mix of fruity, estery, and malty. Hop character can vary from mildly bitter to a full blown with a bold hop flavor and aroma. American Strong Ale is an unofficial style that encompasses many of the unbounded creations coming out of American craft breweries, which we also include several American strong ales in today's flight. These beers are higher alcohol versions of pale ales, though not as robust as barleywines.
Peaks and Pints Pilot Program: Strong Ale
Rogue Santa's Private Reserve – Kringle Krusher
8.3% AB, 33 IBU
Rogue Ales has tagged a subhead to this year's version of Santa's Private Reserve: Kringle Krusher. The strong ale is brewed with natural vanilla flavors then aged on rum oak barrel chips. The rum ball-inspired beer's can show Santa catching Krampus stealing his beloved rum balls where he offers Krampus a choice: either give them back, or wrestle for them. "Krampus, blinded by the allure of the delicious sweets, chose to face Santa in the ring," states Kringle Krusher hype. "A poor choice, as not even a full minute into the fight, Santa knocked Krampus down and landed a devastating elbow drop. Krampus, writhing in pain, conceded the match and handed over the rum balls. The elbow drop, forever known as the Kringle Krusher, and Santa's love for the confection are the inspiration for this year's Santa's Private Reserve."
Chimay Grand Reserve (Blue)
9% ABV, 35 IBU
Chimay Blue Belgian strong dark ale was originally released as a Christmas beer. Ho ho yo this Belgian strong dark ale the darkest of the three Chimay ales — a deep auburn, with a nice head floating on top. We can see some visible suspended particles floating among the plentiful bubbles, enticing us with promises of big flavor. The Blue's bouquet is very sweet with hints of caramel and a brandy aroma, which alludes to the high ABV. The flavor is rich and complex — malty, yeasty, sweet, and alcoholic.
Maritime Pacific Jolly Roger Christmas Ale
9.2% ABV, 50 IBU
A Christmas beer with pirate skull and crossbones donning the bottle? This one is for you, Jack Skellington! George and Jane Hancock founded the ma-and-pa Maritime Pacific Brewing Company in an old transmission shop in 1990 in Seattle's Ballard neighborhood. In 1997 they opened the Jolly Roger Taproom named, as they say, "in honor of our most popular holiday brew": Jolly Roger Christmas Ale. A beer fridge staple, Jolly Roger English strong ale combines rich malt character with a blend of fresh Northwest Chinook, Amarillo and Cascade hops.
Fort George Maine Justice
12.5% ABV
"Well, I do declare, if this ain't the best doggone bourbon peach tea beer west of the Mississippi," states Maine Justice hype. "We fixin' to serve ya'll up a heaping spoon full of sweet tea inspired hooch that's tasty as all get out. This here strong ale was aged in some of Kentucky's finest bourbon barrels, just long enough to get some nice vanilla and charred oak to pair with a hefty dose of peaches and black tea. The result is a full-flavored beer reminiscent of peach rings, earthy tea leaves, toasty vanilla bourbon, humid nights full of lightning bugs, and the gentle sway of a porch swing overlooking that glorious Maine bayou. I reckon this beer is pretty as a peach."
LINK: Peaks & Pints cooler inventory
---