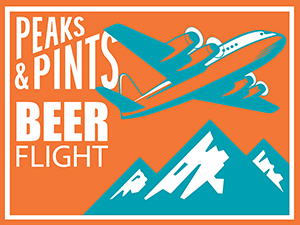 We've told the Stoup story a thousand times, but it bears repeating. Scientist Brad Benson and foodie Lara Zahaba opened Stoup Brewing in Seattle's Ballard neighborhood in 2013. Washington state's first female Cicerone, Robyn Schumacher, became Stoup's third partner, assisting Benson in the brewing room. Benson graduated from Gonzaga University with a B.S. in Chemistry and has been crafting beer for more than 25 years. In the summer of 2017, the brewery opened "Upstairs at Stoup," which was an 800-square-foot expansion of the 3,000-square-foot taproom and brewery to include event space upstairs. The space holds up to 40 people seated and 60 to 70 standing. This year, Stoup expanded into a 6,000-square-foot space behind its current brewery. The expansion allows packaging and cold storage to move out of the current production area, freeing up space for more fermenters and holding tanks to eventually triple production. Stoup Sales Executive and Mountain Explorer Dexter Chanhsomphou brought us another round of Stoup craft beer. Let's make Stoup today's to-go beer flight. Enjoy Stoup's fun verbiage as we present Peaks and Pints Pilot Program: Stoup On The Fly.
Peaks and Pints Pilot Program: Stoup On The Fly
Stoup Quibble Mild
4% ABV, 15 IBU  
"Not a beer to argue about. Easy drinking? Yes! Sessionable? You bet. Malt forward with balanced bitterness, this is a beer designed for whiling away an afternoon with friends."  Quibble follows the mild style: low alcohol, malt focused with bitterness playing a supporting role to balance the malt, but not distract from it.
Stoup Schwarzbier
5% ABV, 27 IBU
"Thanks to a base of pilsner malt, Munich malt and a touch of dark, roasted malt, our take on the German black lager is a moderately dry lager with a mouthwatering roastiness. It's the perfect hybrid of malt flavor and lager crispness."
Stoup Joy Seeker (Hazy) IPA
6.4% ABV, 40 IBU
"In times like these, life can start to feel pretty challenging. Yeah, you're doing ok, exercising and eating right, but something is missing. You just can't quite put your finger on it. Well we know what it is…joy! The world could use a lot more of it right now. Thankfully, joy is out there, you just have to look for it. Let's get started right now with a pint of this delicious hazy IPA. It's got all the happy hops: Citra, Mosaic, Azacca and Wai-iti. Basically it's a citrus, mango and peach glass of goodness. Start with a pint, then get out there and keep looking. Joy is out there!"
Stoup PMA IPA
6.6% ABV, 50 IBU
"If you're looking for a little something to boost that PMA, this beer is for you! Light in color, balanced and juicy with a big citrus and bright fruit aroma, PMA IPA is simply bursting with positive vibes. Healthy doses of perennial favorites like Amarillo Citra, Idaho7 and Mosaic lay the foundation for goodness. Experimental Hop HBC 692 (TALUS) brings that Positive Mental Attitude home with a berry and citrus punch you have to taste to believe."
---