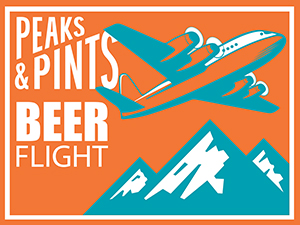 Do you know where you and your people come from? Jason and Kim Harper's great great grandchildren will know: Stemma Brewing. Stemma, a Latin word meaning "written family genealogy," is owned by the Harpers, both of whom moved to Bellingham to attend Western Washington University, and then stayed. As part of his WWU curriculum, Jason developed a business plan to take his homebrewing passion pro, which happened in December 2017 when Stemma opened on the border between Bellingham neighborhoods Sunnyland and Roosevelt. Jason took his experience working for a beer distributor and his Level 3 Advanced Cicerone certification and launched the family-friendly brewery with his award-winning homebrew recipes on a 10-barrel brew system previously owners by Silver City Brewery and Cloudburst Brewing. Today, Peaks & Pints presents a to-go beer flight of four Stemma beers — a flight we call Peaks and Pints Pilot Program: Stemma On the Fly.
Peaks and Pints Pilot Program: Stemma On the Fly
Stemma Kim's Sure, Why Not? Lavender Ale
6.5% ABV
Kim Harper earned her Bachelor's from WWU with a concentration in finance, and a minor in accounting, which lead to an operations and administration career in retail banking and investments before opening Stemma Brewing with her husband, Jason. As part of Stemma's Staff Beer Series, the brewery releases Kim's Sure, Why Not? Lavender Ale today. It's a berry lavender ale brewed with strawberries, blueberries, and locally sourced lavender.
Stemma Jason's Wait What? Hazy IPA
6.5% ABV, 40 IBU
After graduating from WWU, Jason Harper became the operations manager at Dickerson Distributors a wine, beer, spirits, and non-alcoholic beverage wholesaler located in Bellingham. Jason has his Level 3 Advanced Cicerone certification, one of only a handful in the state, which makes him an expert in keeping and serving beer, beer styles, beer flavor and evaluation, beer ingredients and brewing processes, and pairing beer with food. Jason also has a beer being released today as part of his Staff Beer Series — a Hazy IPA brewed with orange peel, vanilla bean, Cryo Pop Blend, Mosaic, and Lotus hops.
Stemma Talus Single Hop
6.8% ABV, 50 IBU
A little less than a year ago, The Hop Breeding Company (HBC), a joint venture between Yakima Chief Ranches LLC and John I. Haas Inc., released the new proprietary hop Talus™ brand HBC 692. Drawing from its roots as a cultivated daughter of Sabro® brand HBC 438, Talus offers aromas of citrus, floral, wood and fruit, followed by intense tropical, citrus and coconut flavors. Stemma brewed a Talus single hop IPA that's all that, especially mango.
Stemma It's Another Double IPA
9% ABV, 70 IBU
A double IPA just wasn't enough, you wanted another and Stemma delivered. Brewed with Citra, Centennial, Chinook, and Simcoe hops, it hits the nose with citrus and resin. On the tongue, expect orange, tangerine, mango and some pine.
LINK: Peaks & Pints cooler inventory
---