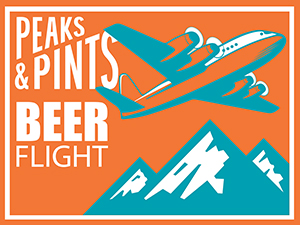 Here are a few things we know about hoppy beers: American drinkers flip out over them, which means breweries are going to keep brewing them, which means we're going to see continued releases of variations such as sour versions. Brewers are marrying two disparate flavors of hoppy and sour by subduing those major traits, but playing up the fruity qualities each share to create something unique. They can make hoppy beer brighter, complex, and tantalizingly unique and refreshing. These brewers know bitterness is often going to be more prominently "on display" due to the clean playing field, but they're OK with it. Peaks & Pints is OK with it, too. Therefore, we're suggesting a to-go of sour IPAs — a flight we call Peaks and Pints Pilot Program: Sour IPAs On The Fly.
Peaks and Pints Pilot Program: Sour IPAs On The Fly
Urban Family Hoppy Sour Batch #3
6% ABV
Hoppy sours give you the best of both worlds — the aromatic splash of an IPA with the puckering funk of a sour. Urban Family Brewing brews delicious sours and IPAs. It's logical for Urban Family to brew a Hoppy Sour series. Batch #3 is brewed with their house lactobacillus strains, plus Citra and Enigma hops. The result is a more hoppy and less sour version than the previous two. It's a hoppy sour rather than a sour IPA with notes of white wine, tropical fruit, citrus, hops and a dank finish.
Hoof Hearted Maxxx Profitz
6% ABV
Hoof Hearted (say it fast) been "turning tanks like cassette tapes since late 2011," according to their website. Known throughout the industry for their deft hop-wrangling and nude air guitar prowess, they're also know for the sour IPA series Maxxx Profitz. The version Peaks & Pints brought in yesterday is money. Brewed with strawberry, pink guava, lemon, Tahitian vanilla, and lactose, it pours a golden color with a slight haze. It hits the nose with guava and tartness. On the tongue, expect guava, strawberries and cream flavor, with a dry finish.
Evil Twin What Even Is Blue Raspberry Anyway?
7% ABV
Butterfly-pea flower tea, commonly known as blue tea, is a caffeine-free herbal tea, or tisane, made from a decoction or infusion of the flower petals or even whole flower of the Clitoria ternatea plant. Butterfly-pea flower tea is in Evil Twin Brewing's blue-ish green sour IPA, along with raspberries. The nose screams candy — green apple candy or even blue raspberry jolly ranchers. The blue raspberry jolly rancher carries into the taste with a sourness until the very end. It drinks much more like a sour than an IPA.
---