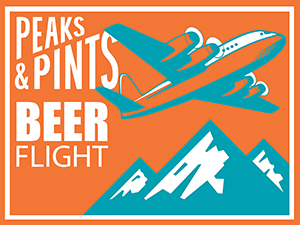 These days, beers with adjuncts such as fruit, marshmallow, and milk sugar have become common. Gone are the times when a pie-inspired beer felt radical. And here, now, is a weird phase in the billion-armed evolution of American beer, where ordering a sour made to taste like a slushie is a year-round staple. Slushie sours — also known as pastry sours or smoothie sours — are the evolution of the fruited kettle soured beers — gose and Berliner weisses — that made a resurgence and grew incredibly popular in the early part of the 2010s. Brewers donning aprons added non-traditional ingredients to these traditional-styles to recreate desserts in liquid form. Today, Peaks & Pints presents a to-go flight of the evolution of smoothie sours (what we have in stock) — a flight we call Peaks and Pints Pilot Program: Smoothie Sour Evolution On The Fly.
Peaks and Pints Pilot Program: Smoothie Sour Evolution On The Fly
The Bruery Terreux Frucht: Guava 2018
4.5% ABV
While we don't currently have any non-fruited Berliner wiesses in the house, we do have this The Bruery Terreux's single-fruit sour, Frucht: Guava from 2018. German-style wheat beer gains even more funky notes and natural earthy-woodiness from fermentation in one of Rue's twin oak foeder vessels — the largest known to be fabricated in this country. This fruited Berliner weisse-style features juicy, zesty guava. It hits the nose with huge guava notes that provide some perfume-like notes, as well as bold tropical notes. Bold guava notes follow the nose, giving huge tropical notes with some stone fruit and lemon popping through. Mid-palate offers some lactic tartness. It finishes with bold juicy guava and just a hint of oak — without any smoothie bells and whistles.
450 North Slushy XXL Filet of Fruit
% ABV NA
450 North Brewing Company is a small craft brewery situated on the Simmons family farm in Columbus, Indiana. Since 2012 the Simmons have been crafting some of the finest beers in the country, including pioneering the smoothie sour craze. They add extremely large amounts of unfermented fruit puree to kettle sours. By leaving the fruit unfermented, they make sours that look, smell, and drink like a fruit smoothie from a juice café, but with alcohol. After that is achieved, there is a never-ending list of adjuncts and spices that can be added to create whatever flavor they want. In 2019, they released their Slushy XL "smoothie-style" fruited Berliner weisse sours. This year, with their McDonald's themed Slushy XXL Filet of Fruit, 450 North skips the spice and marshmallow and just adds more fruit — specifically passionfruit, dragonfruit, starfruit, and jackfruit.
Wild Barrel Vice Fruit Basket
5.2% ABV
In 2016, The San Marcos brewery Wild Barrel Brewing was co-founded by three friends: beer expert "Dr." Bill Sysak of Stone Brewing and Master Pairings, Bill Sobieski as head brewer, and Chris White as president. They became known around the county for their multiple IPAs and fruit-bursting variations on the Vice — a clever twist on the name, Berliner Weisse, which is a style of sour that was most popular in the city of Berlin, Germany during the late 19th century. While their popular Vice Mixed Berries made with strawberries, blackberries, and boysenberries is in our cooler, we chose to highlight Vice Fruit Basket, their latest, with cranberries, blueberries, apricots, peaches, passionfruit, boysenberries, and vanilla.
Hoosier Spin To Win Strawberry Banana Coconut
5.5% ABV
Hoosier Brewing In 2015, founder Brian Nentrup opened Hoosier Brewing with an investment group in Greenwood, Indiana, then closed in 2018, only to re-open a year later with new investors. The small batch craft brewery focuses on crazy juicy IPAs, silky stouts, mouth-watering sours, crisp lagers, and fruity Berliner smoothies, which all can be enjoyed with throwing axes in their taproom. The first Hoosier Brewing's Spin to Win series release, this smoothie sour is brewed with strawberries, bananas, and coconut for a daiquiri- and smoothie-like tropical vibe.
Claim 52 Thicc: Lemon Blackberry Tart
5% ABV
In 2012, Mercy McDonald, Jeannine Parisi and Trevor Ross opened Claim 52 Brewing in West Eugene. Today, under the guidance of head brewer Bryce Fisher, they specialize in European-style, super-small batch beers made in the Northwest tradition, as well as exceptional hazy IPAs, and crazy dessert sours. Their latest dessert sour, Thicc: Lemon Blackberry Tart, is a puree gose conditioned on blackberry puree, lemon puree, and tart crust.
Sig The Creature From the Blue Lagoon
6.5% ABV
Jeff Stokes knows a thing or two because he's brewed a thing or two. He homebrewed while earning a political economics degree at The Evergreen State College. He poured beer at notable Olympia craft brew houses Skep & Skein Tavern and Gravity Beer Market. He earned the founding assistant brewing position at Three Magnets Brewing, earning numerous medals with head brewer Pat Jansen, and eventually commanding the 3-Mag brewhouse where he began brewing milkshake IPAs. Stokes is the head brewing at Sig Brewing, which opened in Tacoma's Historic Brewery District in the spring of 2020. He took his milkshake IPA skills and applied them to smoothie-style fruited sours, including The Creature From the Blue Lagoon, a "Blue Lagoon Cocktail Sour" made with lemonade, Maraschino cherry, orange, and Blue Curacao. It's sweet and tart — like a Pixie stix in a can.
LINK: Peaks & Pints cooler inventory
---