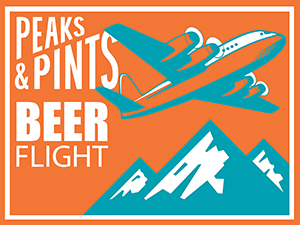 Most of you probably took one look at the headline of today's to-go beer flight and though, "What the hell does Peaks & Pints know about St. Patrick's Day? OK, maybe those weren't your first thoughts exactly, but you might be a tad skeptical about our credibility, given the telling nature of our environment, beer list, cooler inventory, kitchen menu, and all the staff's last names. Yet, we've tried black pudding, we have participated in the New York City St. Patrick's Day Parade and heard the story of the Blarney Stone. And we've even sung some misty-eyed renditions of "Danny Boy" before being tossed out on the sidewalk. While Peaks & Pints may not have Irish blood coursing through our veins, we can get behind one aspect of St. Patrick's Day, lads and lassies, the zero-to-60 drinking sessions. And, since we just received a pot full of liquid gold this month, our drink of choice today is the triple IPA. Stop by Peaks & Pints and grab our to-go flight, Peaks and Pint Pilot Program: St. Patrick's Triples On the Fly.
Peaks and Pint Pilot Program: St. Patrick's Triples On the Fly
Abomination Manticore's Manifest
10% ABV
Abomination Brewing teamed up with Spartacus Brewing, a Brazilian small brewery, to create a monstrous hazy hop bomb of a triple IPA. Brewed with an unreasonable amount of Citra, Nelson, Rakau, and Phantasm powder, expect notes of ripe peach, tropical citrus fruits, and Sauvignon Blanc grapes.
Nightmare Drawn And Quartered
10% ABV
Mostly carried out in the Medieval and Early Modern era, being torn apart by horses was also referred to as "disruption" or being "drawn and quartered." Infamous cases include the executions of François Ravaillac in 1610 and Robert-François Damiens in 1757. Nightmare Brewing's Drawn And Quartered quadruple dry hopped imperial New England-style IPA is brewed with Nelson Sauvin, Galaxy, Enigma, and Citra hops tossed into the mash tun, kettle, fermenter (four times) and brite for nectarine, mango, and underlying white wine aromatics, followed by tropical notes, mango, ripe pineapple, tangerine, and lychee flavors, finishing with a dank bite and alcohol warmth.
Hoof Hearted South of Eleven 666
10.2% ABV
Hoof Hearted Brewing's South of Eleven 666 begins as their OG hazy triple IPA but the Mosaic hop dry hop is bumped up to 6.66 pounds of per barrel for a hazy orange pour with a creamy, thin white head. It hits the nose with peach, papaya, and tangerine, followed by candied mango, pineapple, papaya, tangerine, and a piney, bitter, soft sticky finish. It's an easy-drinking triple IPA.
Equilibrium Lupus Salictarius Batch 3
10.5% ABV
Lupus Salictarius, which literally translates as "wolf of the willows," is disputably the first hop plants and is said to be the botanical name immortalized by a famous Roman philosopher. In collaboration with Mortalis Brewing, Equilibrium Brewing's Lupus Salictarius Batch 3 is brewed with a base of 2-row, flaked oats, and white wheat before adding a giant addition of Citra and Idaho7 in the whirlpool. They dry hopped with Citra, Nelson, and Galaxy for an explosion of tropical dankness, big guava, sweet tangerine citrus, white grape, a touch of passionfruit and New Zealand grass.
LINK: Peaks & Pints cooler inventory
---