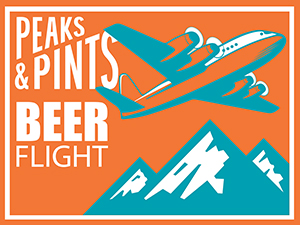 Smoked beer may sound like some newfangled trend, but it's actually a centuries-old tradition that has been making a comeback. In the centuries before temperature controls, grain for brewing was dried over an open flame, imparting a smoky quality to the resulting malt. Over the years, brewers have learned ways to keep that often acrid flavor out of their beers. In Bamberg, Germany, the rauchbier (smoked beer) tradition is still going strong with a handful of breweries that produce different types of smoked beers, including Schlenkerla Rauchbier Märzen. While the beers of Bamberg are almost exclusively lagers, most American smoked beers have a dark ale as their base. Porters are most common, the most iconic of which is Alaskan Brewing Company's Smoked Porter. Today, we present Peaks and Pints Pilot Program: Smoke On the Fly, a to-go flight of smoked beers, because sometimes smoke is exactly what you want. Just as with scotch, wine and even the humble brisket, a beer with these pungent flavors can become truly transcendent, a hearty food for the soul.
Peaks and Pints Pilot Program: Smoke On the Fly
Headless Mumby Smoked Rye Lager
5% ABV
In November 2018, Alex Maffeo and Keith Ciani opened Headless Mumby Brewing in west Olympia, specializing in lagers. Headless is a salute to the song "Roland the Headless Thompson Gunner" by Warren Zevon. Ciani is a rabid fan. Mumby is a reference to a defunct logging and shingle mill from the early 1900s, which operated in the area where Maffeo now lives. This past June, Headless Mumby grabbed gold for its flagship Smoked Rye Lager and Very Small Brewery of the Year at the 2019 Washington Beer Awards. Smoked Rye Lager is brewed with hefty doses of Munich and rye malts, subtle noble hops with a moderate smoked malt presence.
Wayfinder Linear Ashes
5.5% ABV
In fall 2016, three of Portland's most respected food and drink professionals opened Wayfinder Beer in a former Central Eastside Industrial District warehouse. Charlie Devereux, the co-founder of Double Mountain Brewery; Rodney Muirhead, the barbecue master at Northeast Portland's Podnah's Pit; and Matt Jacobson, the force behind late-night pizza sensation Sizzle Pie and hard-charging rock label Relapse Records, opened the brick-walled beer hall with a 10-barrel brewing system. Head brewer Kevin Davey brought his experience at Chuckanut Brewery, Firestone Walker and Gordon Biersch, where he took home a 2014 Great American Beer Festival gold medal for his Munich-style Helles. Their Linear Ashes, a collaboration with Structures Brewing, is a full bodied, very-special smoked lager beer with herbal notes, drying and a big dose of Beechwood smoke.
Dogfish Head Campfire Amplifier
6.5% ABV, 35 IBU
In music matters, an audio power amplifier (or power amp) is an electronic amplifier that amplifies low-power electronic audio signals such as the signal from radio receiver or electric guitar pickup to a level that is high enough for driving loudspeakers or headphones. In beer matters, a Campfire Amplifier is a Dogfish Head Craft Brewed Ales milk stout brewed with real marshmallows, graham crackers, coca nibs, cinnamon, Madagascar vanilla beans and a pinch of smoked malt.
Põhjala Forest Bänger
12.5% ABV, 35 IBU
"The forest has a deep influence on Estonian culture and cuisine," states Põhjala's website. "This heritage is embodied in our Forest Series. In these editions, we twist rare botanicals, forest ingredients and Estonian folk-medicine with ancient methods into absolutely extraordinary beers." Põhjala Forest Bänger is a banging imperial stout brewed with smashed rowan berries, Estonian juniper wood, and smoked malts. On the nose, expect freshly chopped juniper wood and tarry, campfire smoke mingles with overripe rowan berries, freshly fallen from the tree branches. It tastes like a smooth, rich berries mix with an explosion of smoke and spice — fennel, molasses, grape, pine resin and the hint of pipe tobacco.
Aecht Schlenkerla Rauchbier Marzen
6.5% ABV, 40 IBU
One day we hope to taste the perfect bacon beer but until then we have the hickory-charred resin-dried chocolate-smoked German-styled smoked bock beer Aecht Schlenkerla Rauchbier Marzen in which its barley malts are smoked over beech wood logs. Its higher smoke malt concentration and longer maturation in the 700-year-old cellars underneath Bramburg create a flavor profile of most intense smokiness beautifully balanced with deep malt sweetness. It tastes somewhat sweet dark malt with dark bread and a little treacle tone, dry toasty roast, moderately smoky notes of campfire and subtle smoked ham, oak, pretty dry on the back end where the smoky, ashy notes overpower the malt. It has a fairly light body with extremely low carbonation. It's a solid smoke beer.
Alaskan Smoked Porter
6.5% ABV, 45 IBU
A repeated Gold Medal winner at the Great American Beer Fest, Alaskan Brewing's Smoked Porter nearly as old as the brewery itself, dating back to 1988 when it debuted as one of the first smoked beers in the States. A testament to the beer's lifespan, Alaskan releases Smoked Porter in limited yearly vintages, each with their own unique identities. Relying on techniques derived from Alaskans who brewed more than a century ago, Alaskan uses direct heat from local alder wood to malt its barley — a process also recognizable to those who love smoked salmon. And the water for the beer comes from a nearby glacier. That's all fine and dandy, but let's get to drinking. A robust woodsmoke aroma backs up the beer's name even from a distance. Smoked Porter's flavor follows suit on the smokiness, though less intensely than the smell. Roasted malts, molasses, plums, and a puckering charcoal all swim up from this complex brew.
Single Hill Peated Reserve Overstory
13.3% ABV
"Not all beers are created equal," states Single Hill Brewing philosophy. "In the wild forests, the mature trees of the canopy mingle and blend to comprise the overstory. Overstory is comprised of hand-selected cuts of our imperial stout, barrel-aged in Westland Distilling American Single Malt and Peated Single Malt Whiskey casks. Flavor notes of espresso, dark fruit, and peat abound in each bottle. Not every tree will join the overstory, and not all beers can be Overstory. But, if you got it, flaunt it." Overstory Peated Reserve was brewed in fall of 2018 and matured in Westland Distilling Peated American Single Malt whiskey barrels. For the highland scotch lover this Overstory edition is the ultimate in complexity. At 13.4 percent ABV, and rich with oak tannins, deep cherry notes and peat smoke it's formidable while holding its balance.
De Molen Hel & Verdoemenis Scotch Whiskey BA – Brett
11% ABV, 102 IBU
The Hel & Verdoemenis Scotch Whiskey Brett BA, a variant of Brouwerij de Molen's flagship, is aged for 6 months on a smokey whisky barrel, with the last month being infused with a Brettanomyces strain, which adds more and more funky red fruit notes over time, but offers chocolate, sourness, roasted coffee, smoky barrel and dryness now.
LINK: Peaks & Pints cooler inventory
---