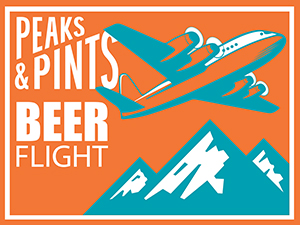 In the world history of beer, pilsners are relatively recent. Around 1840, eons before marketers invented "drinkability," Czech brewers in Bohemia created pilsner, a light beer that didn't taste like spongewater. The primary source of the innovation was the use of bottom-fermenting yeasts, which yielded a livelier, more consistent beer than the traditional top-fermented brews. Today, the best pilsners are still found in continental Europe, partly because of demand and partly because it's home to the style's signature Saaz hop, Pilsen's soft water and crackery, paler malt. German and Bavarian styles tend to emphasize bitterness and spicy hop flavor. But stateside, craft brewers borrow freely from both approaches and put a more personal flare — typically more hops — on the style. Today, Peaks & Pints presents a to-go beer flight of American fancy pilsners that we call Peaks and Pints Pilot Program: Showy Pilsners On the Fly.
Peaks and Pints Pilot Program: Showy Pilsners On the Fly
Matchless Digital Dreams
6% ABV
The enzyme amyloglucosidase has been used in brewing for a while now, breaking down big boozy imperial stouts to eliminate overly sweetness. It has the ability to break down complex sugars that might not otherwise ferment, allowing the yeast a bonus meal during fermentation. The same procedure can be applied to pilsner to create a bone-dry, crisp version, which is what Matchless Brewing did with their Digital Dreams pilsner. It's bone dry with full on tropical fruit and Sauvignon Blanc notes on the pallet, finishing with a quenching grapefruit linger.
Breakside I Can Show You the World
5.3% ABV
Breakside Brewery's 10th Anniversary collaboration series produced "I Can Show You the World" — a rustic pilsner with jasmine brewed alongside their friends Jay and Alex at The Rare Barrel. Breakside Brewmaster Ben Edmunds has a crush The Rare Barrel and their expertise at souring beer. In fact, The Rare Barrel's peach and jasmine sour, On the Shoulders of Giants, is one of the most influential beers to shape Edmunds brewing career, so much so that Breakside's debut sour beer was modeled after it. Fast forward three years and it was no surprise that Breakside and The Rare Barrel decided to make a jasmine beer together, but in an unexpected turn of events, they decided to make a clean, jasmine pilsner. Crackery Canadian base malt serves as a clean backbone to build up herbal, fruity, and floral flavors from European hops and jasmine flowers.
Occidental NW Pilsner
5% ABV
Occidental Brewing collaborated with their friends across Portland, Level Beer, on this latest installment of their Northwest Pilsner Series, following in the bootsteps of Baerlic Brewing, Heater Allen, Buoy Beer, and Kulshan Brewing. This "spring edition" is bittered with German Perle hops, then flavored with Sabro hops to add subtle coconut and mint undertones before a whirlpool addition of German-grown Amarillo for stone fruit balance.
Kulshan Pilsner
4.9% ABV
Since Bellingham native David Vitt opening the doors in 2012, Kulshan Brewing Co. has been brewing true-to-style, award-winning ales and lagers in Bellingham, with great success. Just a few short years after opening their Sunnyland neighborhood location, they opened K2, a 30-barrel production brewery in response to an overwhelming demand for more beer. Kulshan's German-style "Pilsner" is a showy pilsner and has the awards to prove it: gold medal at the 2017 Best of Craft Beer Award, silver at the 2018 Washington Beer Awards, and crowned champion of 2019 Peaks and Pints Tournament of Beer: Northwest Pilsners. The Kulshan Pilsner sports traditional clean and bready malt flavors supported by herbal, floral and slightly spicy hop aromatics and flavor from Hallertau Magnum, Hallertau Perle, and Spalt Spalter hops. With a medium body and a dry finish, Kulshan Pilsner is a winner.
---