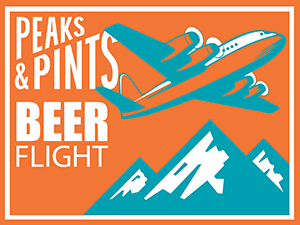 In 2010, Alexandra Ortiz started Shades of Pale Brewing with her husband Trent Fargher, a homebrewer for 15 years. He was looking to change careers, and to Alex, it seemed obvious. He loved to brew, and people loved his beer; he was open to the idea, but he didn't want to do it alone. After a rebrand in 2018, which included shortening the name to Shades Brewing, Alexandra and Trent focused their energy on producing unique, flavorful, and Kveik yeast sours alongside their already robust portfolio. Their Kveik sour series grabbed numerous medals at The Great American Beer Festival and The World Beer Cup including GABF gold winning Kveik 1, their golden sour fermented with Norweigian Kveik yeast that they have purified in their lab and grown in their propagation tanks. It is then dry hopped with Nelson Sauvin hops. The base beer is slightly tart, super fruity, and light in color and body. This beer is then flavored with the best quality fruits and botanicals to get the truly unique flavors of this great line of beers. Marcio Buffolo, microbiologist and head brewer at Shades, digs Kveik yeast as it offers a range of fruity flavors — papaya, mango, tangerine, orange, guava, and others. Today, Peaks & Pints presents a mini-flight of Shades beers — a flight we're calling Peaks and Pints Pilot Program: Shade Brewing Beer Flight.
Pints Pilot Program: Shades Brewing Beer Flight
Shades Kveik Thai Tom Kha
6.2% ABV
Inspired by the flavors of Thailand — specifically the Asian soup Tom Kha — Kveik Thai Tom Kha is brewed with coconut, kafir leaves, lemongrass, and galangal. The slightly tart beer provides a perfect base for the coconut and herbs. The tartness enhances the lemongrass and kafir leaf while helping cut through the rich slightly sweet coconut flavors. For those who love Thai food and/or looking for something rather unusual, this is a great selection. Kveik Thai Tom Kha won gold medal at GABF in 2019 and the bronze at The World Beer Cup in 2022.
Shades Kveik Peach Cobbler
6.5% ABV
Winner of the bronze medal at the World Beer Cup in 2022, Shades' Kveik Peach Cobbler smoothie sour is brewed with peach purée, cinnamon, vanilla, graham cracker, and milk sugar. The aroma is peaches, cinnamon, fruity sweetness, a lemon-like tartness, graham crackers, toasted crackers, and a touch of floral followed by notes of peaches, biscuits, toasted cereal, cinnamon, a slight hint of milk, lemon tartness, and vanilla.
LINK: Peaks & Pints cooler inventory
---