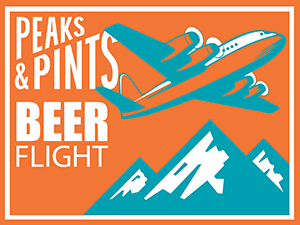 Not all stouts — a style marked using roasted malts and barley — are created equal, with alcohol levels, recipes, flavorings, and textures running the gamut. From the traditional stouts that emerged after porter rose to popularity in England in the 1800s to today's kaleidoscope of craft variations, the characteristics found within the category are myriad. Today, Peaks and Pints offers a flight of big coffee stouts. You could technically file coffee stouts under a master umbrella of "flavored stout," but with brewers finding new and interesting ways to work with coffee as an ingredient, Peaks and Pints believes coffee stout merits its own category. Coffee beans can bring a pleasing bitterness to all styles of beer, but stouts have long been the go-to match because the dark malty character of the beer works so well with the chocolatey, bittersweet notes of coffee. And the coffee stouts in the flight are boozy. Stop by Peaks and Pints Pilot Program: Big Coffee Stout Beer Flight
Peaks and Pints Pilot Program: Big Coffee Stout Beer Flight
Skookum Barrel Aged Breakfast Stout
11.5% ABV, 50 IBU
Breakfast stouts didn't receive their name because it is an essential part of a balanced breakfast, but rather it is made from brewed coffees and flaked oats, which themselves are classic breakfast elements. Skookum Brewery brewed an imperial milk stout aged in Marker's Mark barrels for 13 months, then rested on whole vanilla beans and cold pressed coffee. Sweet malt hits the nose with a fair amount of barrel notes ending with a pleasant coffee aspect. The flavor leans toward sweet coffee with a moderate barrel influence — think brown cow cocktail. It finishes with a mild boozy character.
Short Throw Fade Away
13.1% ABV
Brandon Tolbert gained notoriety during his time as head brewer at The Answer Brewpub.  In 2015, the Answer was awarded Best New Brewery for the state of Virginia with Tolbert at the helm.  He parted ways in 2018 to brew at Final Gravity Brewing and Ardent Craft Ales, while trying to establish his own brand.  He completed that goal in late 2019, partnering with the Twelve Percent Beer Project, to launch Short Throw Brewing. A collaboration with Other Half Brewing, Tolbert's Fade Away imperial silky, viscous pastry stout has a luscious chocolate forward malt base with ludicrous amounts of Vermont maple syrup and roasted coffee.
Evil Twin I'd Like A Triple Grandiose, Extra Sweet, Cookies N' Cream, Caramel Macchiato Cappuccino Please
12% ABV
Our flight boards in Brooklyn, New York, at Jeppe Jarnit-Bjergsø's Evil Twin Brewing. The founder and man behind Evil Twin Brewing was a physics and English teacher in his native Denmark before starting Copenhagen's Ølbutikken, a highly regarded beer store. He founded Evil Twin Brewing in 2010 as a nomadic brewery. In 2012, Jeppe Jarnit-Bjergsø moved the brewery to Brooklyn and relocated there with his family, opening the beer bar TØRST the same year. His I'd Like A Triple Grandiose, Extra Sweet, Cookies N' Cream, Caramel Macchiato Cappuccino Please is an imperial stout brewed with cacao nibs, coffee, cookies, caramel, and milk sugar.
Hubbard's Cave Coffee & Cakes
12.5% ABV
Born on the near west side of downtown Chicago in 2013, Une Année independent craft brewery was founded by Chicago native Jerry Nelson. Une Année — which means "One Year" in French — set out on a quest to make fine Belgian-inspired ales. Soon, with the help of Jerry's brother David, they expanded to include sours and then, in 2015 with the launch of a sister brewery called Hubbard's Cave, which pays homage to the traffic tunnel on I-90/94 where they first started making beer, American-style ales, imperial stouts and a host of IPAs followed. In 2020, they moved into their current location in Niles, Illinois. Their Coffee & Cakes imperial stout is brewed with SPUTNIK Coffee and maple syrup.
AleSmith Barrel-Aged Speedway Stout
13.3% ABV
AleSmith Brewing matured their signature Speedway Coffee Imperial Stout in premium bourbon barrels for up to one year to create Barrel-Aged Speedway Stout, with a lovely blend of flavors. Notes of oak, vanilla, and bourbon add another level of complexity to this beer's already massive flavor profile of chocolate, locally roasted coffee, and roasted barley.
LINK: Peaks & Pints cooler inventory
---