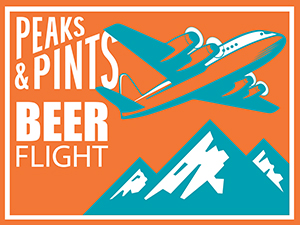 There are those who shy away from the right side of Peaks & Pints. And, by right side, we mean the right side of our Western red cedar tap log — home of the dark beers. Peaks & Pints isn't sure how it happened, but somewhere along the line casual beer drinkers got the wrong idea about dark beer. They're not all heavy or boozy. Take, for instance, the schwarzbier. Schwarzbier is one of the oldest known European beer styles, with origins in Kulmbach, Germany, circa 800 BC. Pronounced sh-vahts bee-uh, this lager style is named after its appearance, similar to other German lagers. Schwarzbier translates to black beer and may seem unapproachable, but the reality is quite the opposite. The body of schwarzbier is as light as any mass-produced lager you'll find; the ABV is pretty much the same as well. The only difference is that the malted barley used in the beer was roasted before it was added to the mash. This changes the color, sure, and adds toasty coffee and chocolate flavors to the finished product, but does not affect the thickness of the liquid or the alcohol content. Some dry roasted coffee tones are also characteristic, but schwarzbiers should not have a burnt-bitter or astringent taste. They will have low hoppiness, and are considered a well-balanced beer. Today, Peaks and Pints suggests a to-go flight of schwarzbiers that we call Peaks and Pints Pilot Program: Schwarzbier On The Fly. Prost!
Peaks and Pints Pilot Program: Schwarzbier On The Fly
Bosk Goth Beach Party
4.5% ABV, 28 IBU
Bosk Brew Works, a German-influenced, Northwest-inspired operation that largely makes lighter, German-style beers, opened in Woodinville two summers ago. Head brewer Will Lefevre brews beers on a 30-barrel system, including Goth Beach Party schwarzbier. Picture Robert Smith on the beach. That's how Lefevre likes to describe this black lager. It's soft, with moderate sweetness, mild smoke, dark toasted malt, chocolate, coffee and a hint of toffee but finishes clean like a pilsner.
Single Hill Rainshadow
5.1% ABV
In August 2016, Ty Paxton and Zach Turner opened Single Hill Brewing in an old JC Penney Tire Center in downtown Yakima. The two first met at a cider pressing party that a mutual friend was hosting in 2013. Three years later, over pints at Bale Breaking Brewing, the two hatch the idea for a community-based brewery in a town dear to their hearts. Their Rainshadow Schwarzbier hits the nose with roast plus a clean, mildly-sweet-ish malt that hints at chocolate and caramel. The flavor is full: toasty, caramel-ish, grainy, roasty, subtle licorice, bittersweet chocolate.
Block 15 Blacklight
5.25% ABV
Designed in cooperation with Oregon State University's fermentation science program, Block 15 Brewing's Schwarzbier is brewed with specialty dark malts and gently hopped with German hops. Extended cold conditioning rounds out its sharper roast character, producing a smooth and refreshing dark beer offering notes of toasted nuts, dark chocolate, and dried fruit.
Wander Nightmare Cyclist
5.5% ABV
Wander Brewing released a terrifyingly delicious schwarzbier brewed collaboratively at great distance with their friends Solemn Oath Brewery in Naperville, Illinois. "Smooth, rich German malt unapologetically cut off by two wheels of bright Czech Saaz. A beautiful symphony of chaos, just in time for the holiday of horror," states Nightmare Cyclist hype. It's delicately bitter, allowing the roasted malts to balance in their own way. It's very much akin to a light porter, and the bittersweet chocolate and not-burnt, softly coffee-like roastiness lingers in the finish.
---