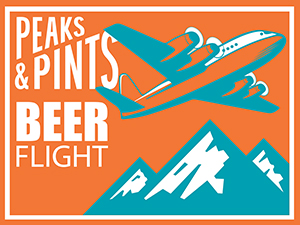 Evidently, it's National Sandwich Day! Or, so says the Internet. Peaks & Pints buys into it. Why wouldn't we want an excuse to bask in the wonderfulness that is meat and/or veggies and condiments wedged between two slices of glorious bread? Afterall, sandwiches are one of the things we do best (another is pairing craft beer and cider with dumb national food holidays). Peaks & Pints co-owners Robby and Justin Peterson might not have invented sandwiches, but they sure know how to design them — including our Roastmary. Our roast beef sandwich is a wonderful thing: succulent paper-thin slivers of choice roast beef, perched on marbled rye bread, slathered with Gouda and rosemary mayonnaise. Since this is a beer flight article, let's pair a flight with the Roastmary. Beer geeks and craft brewers tend to turn their noses up at brown ales because they lack the extreme flavors and hoppiness that is fashionable, but these are tasty beers that pair well with many different foods. The dark and rich notes of chocolate and coffee complement Peaks and Pints' roast beef and smoked Gouda sandwich. It's simple, hearty and, delicious and the focus of today's to-go beer flight, Peaks and Pints Pilot Program: Sandwich Browns On The Fly.
Peaks and Pints Pilot Program: Sandwich Browns On The Fly
AleSmith Nut Brown
5% ABV
Brown ales are a natural match for autumn drinking, and AleSmith Nut Brown fits the bill. Deep mahogany in color, its rich, malt-forward flavor profile balances notes of toasted nuts, creamy cacao and a hint of vanilla. A creamy mouthfeel and full body enhances its drinkability, making Nut Brown an extremely sessionable fall sipper that's not as heavy a winter warmers.
Samuel Smith's Nut Brown Ale
5% ABV, 31 IBU
Truly one of the best brown ales in the world; this is the cast and mold for lots of brewers trying to come up with a nut brown ale. Samuel Smith's Nut Brown Ale's aroma is subdued overall, showing only malted barley-related aromas of light caramel, soft red apple and a gentle walnut component. The flavor is a study in drinkability, as nothing about it dominates the palate. Toasty and robust, hints of almond and cocoa powder overwhelm the palate and a touch of burnt coffee lingers after every sip.
Surly Coffee Bender
5.1% ABV, 25 IBU
In December 2005, entrepreneur/beer lover Omar Ansari and veteran brewmaster Todd Haug began kicking out Surly Brewing beers from their blocky little brewery tucked into the industrial hinterlands of Brooklyn Park, Minnesota. Their first beer was Bender, an oatmeal brown ale. Coffee Bender followed years later brewed with Guatemalan coffee for cold press coffee aromatics and intense coffee flavors are balanced by the oats in the malt bill, resulting in a cappuccino-like creaminess.
Triceratops Banjo Dog Brown Ale
6% ABV
English Brown ales are copper to dark brown, medium-bodied beers. They offer mild maltiness with caramel, biscuity and sometimes toasted qualities. Style aficionados distinguish between the northern English brown with its light nutty accents and the southern English version that's a little darker and sweeter. Triceratops Banjo Dog Brown Ale falls more into the southern style. Light and smooth, Banjo Dog starts with the inviting aroma of dark fruit, toasted grain, and dry roasted nuts. Oats add just enough creaminess, while layers of English malts lend subtle notes of chocolate and a dry, bready finish.
---