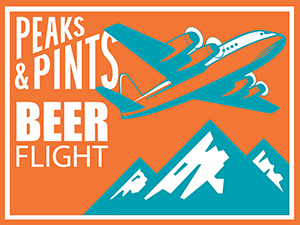 Rye has been a part of the brewer's tool kit since at least the Middle Ages. Bavarian Germans have been making roggenbier — a style like the German wheat beer but made with rye instead of wheat — for at least that long. "Rustic" is one descriptor that has been applied to the flavor of rye in beer. It brings sharp, almost bitter spiciness with softer, bready undertones. Imagine the crust of a freshly baked loaf of rye bread crusted with cracked black pepper. In this country, any rye beer brewing that may have occurred was quashed by Prohibition, its spicy product lost to the homogenization of the American beer landscape that followed. But adventurous American craft brewers have brought it back, and the number of rye beers available has proliferated in the past decade, including the four in our to-go beer flight, Peaks and Pints Pilot Program: Rye On the Fly.
Peaks and Pints Pilot Program: Rye On the Fly
Eel River Unkindness Chapter II
11.5% ABV
Northern California's Humboldt County brewery Eel River Brewing celebrates its 26th anniversary with this barrel-aged imperial stout. Unkindness began its journey as Raven's Rye Imperial Stout and then aged in former Balcones Distilling Rye Whiskey barrels for about 10 months. The result brings an already killer Ravens Eye into a whole new plan of existence with notes of chocolate, whiskey, rye, vanilla, and oak.
Boulevard Rye On Rye
12.2% ABV
While most beer is brewed with barley, the addition of a percentage of rye in the grain bill can add a welcome layer of aroma and flavor. If you want a master class in rye's many faces, Rye on Rye from Kansas City, Missouri's Boulevard Brewing offers a delicious lesson. The base style — a rye beer fermented with Scottish ale yeast—combines two-row malt (standard barley malt) with English crystal and German rye, plus a few other specialty malts sprinkled in like seasoning. To double up on the rye angle, that beer is aged in Templeton Rye whiskey barrels for six to 18 months. Once the aging process is all said and done, "optimal barrels are selected and blended with 33 percent fresh beer to create a delicate balance between spicy, slightly boozy rye whiskey barrel characters and the base beer." Those that partake in the finished Rye on Rye can expect a warming (12 percent ABV), medium bodied experience characterized by notes of spicy, fruity rye malt, rye whiskey, vanilla, toffee, charred oak, caramel, and balancing hop tones that are earthy, herbal, and citrusy.
pFriem Rye Whiskey Imperial Brown
12.3% ABV, 45 IBU
Using the work "imperial" as an adjective to describe a beer usually means it's richer, more flavorful, fuller-bodied, and stronger, which in this case is true. Aged in rye whiskey barrels for a year, pFriem Family Brewers Rye Whiskey Imperial Brown pours a black walnut hue, bursting with rich notes of brandied cherry, toffee, and a kiss of char. Strong and complex, it is stout's untamed, spicy cousin.
Reuben's Three Ryes Men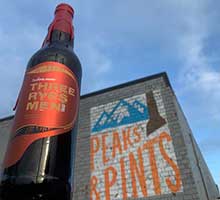 13.7% ABV
Three Ryes Men is Reuben's US Beer Tasting Championship Grand National Champion, Craft Beer & Brewing Top 20 of 2020, FoBAB Silver-winning, and GABF Bronze-medalist barrel-aged barleywine. The English-style barleywine is brewed with multiple types of rye and aged in whiskey barrels, featuring a full body with malt driven caramel and chocolate notes, and layers of warming complexity. Adam calls it a "liquified ROLO."
LINK: Peaks & Pints cooler inventory
---