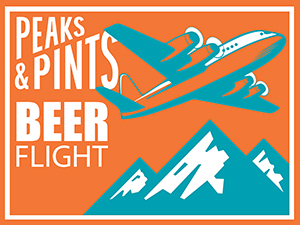 Just over a month ago, Punxsutawney Phil, Pennsylvania's most famous groundhog, emerged from his burrow on a snowy Tuesday morning and saw his shadow, declaring there would be six more weeks of winter. Before the last of our chilly, dark season changes to its sunnier, warmer counterpart, Peaks & Pints pays tribute to the dark beers Rogue Ales has so kindly put into cans. "Don't get us wrong, stout season is year-round for many of us, but we just love cozying up with some of our favorite dark, roasty beers this time of year," says Amanda Zessin, Rogue communications director, in a press release. "This winter, we're bringing back fan-favorites with a unique twist and new packaging. Enjoy these satisfying stouts on a cold night at home by the fire. …" Sounds good, Amanda. Stop by Peaks & Pints today and grab Peaks and Pints Pilot Program: Rogue Stout Cans On The Fly for our continuing freezing nights.
Peaks and Pints Pilot Program: Rogue Stout Cans On The Fly
Rogue Shakespeare Stout Nitro
5.7% ABV, 75 IBU
Rogue Ales was originally founded in Ashland, a Southern Oregon college town home to the world-renowned Oregon Shakespeare Festival. Inspired by this festival, Rogue founder Jack Joyce introduced this English-style oatmeal stout as one of their three original beers when his first pub opened in Ashland. It has remained in their product line ever since, earning the most awards and highest ratings of any of the Rogue beers. It's made from Northwest Harrington, Crystal, and Chocolate malts, roasted barley and rolled oats, along with Cascade hops for all the roast, plus some bitterness but and a mellow chocolate aftertaste. The addition of nitro adds a depth of flavor that is the perfect balance of rolled oats, roasted barley and malt sweetness.
Rogue Chocolate Stout Nitro
5.8% ABV, 69 IBU
Rogue's award-winning Chocolate Stout is brewed with 10 ingredients: Northwest Harrington and Klages, Crystal 135-165 and Beeston Chocolate Malts, Cascade Hops, Rolled Oats and Roasted Barley, Natural Chocolate Flavor, Free Range Coastal Waters, and PacMan Yeast. The mellow flavor of oats, chocolate malts, and real chocolate are balanced perfectly with the right amount of hops for a bittersweet finish. The addition of a nitro charge to this Rogue classic blends up chocolate and malt flavors into a smooth creamy chocolate experience.
Rogue Double Chocolate Stout
9% ABV, 68 IBU
Rogue Double Chocolate Stout, which debuted for Valentine's Day in 2001, is an oatmeal chocolate chip cookie and a chocolate truffle together in a bed that had been strewn with hops. Now imagine the imperial version. Rogue's Double Chocolate smells like the inside of pain au chocolat thanks to ample bittersweet Dutch chocolate. This 2010 World Beer Championships gold medal winner offers intense chocolate and dark roasted malt notes.
---