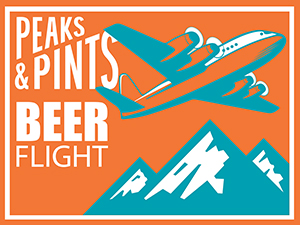 Robert Burns was born on this day, 25th January in 1759. The national poet of Scotland's birthday is marked around the world with readings of his poems, singing of his 300 Scottish songs, and yes, drinking Scotch whisky alongside a traditional Burns Supper. Burns died at the young age of 37, but not before producing hundreds of songs and poems. Four elements make up a Burns supper: pipes, poems, potables, and pudding — specifically the "Great Chieftain o' the Puddin' race," the haggis. The Ploughman Poet famously wrote "Auld Lang Syne" but more importantly Address to a Haggis. More than just an ode to sheep guts it was a proud affirmation of Scottish identity in the face of the British crown. Burns not only left a legacy of Scottish verse but significantly added to the country's population, supposedly siring 13 children, the last of which was born the day of his funeral. In celebration, Peaks & Pints suggests taking home these Scottish and Scotch ales from Scotland in our Peaks and Pints Pilot Program: Robert Burns Day Beer Flight. So, grab these three beers, don a kilt (if you've got one handy) and raise your voice in lyric or verse to celebrate the life of one of Scotland's favorite sons, Robert Burns!
Peaks and Pints Pilot Program: Robert Burns Day Beer Flight
Belhaven Scottish Ale
5.2% ABV, 28 IBU
In 1719, John Johnstone founded Belhaven Brewery in Dunbar, a town on the North Sea coast in the south-east of Scotland. Belhaven means "beautiful bay," named after the stunning coastal location in East Lothian on which it resides.  The home of Scottish brewing, Belhaven brews with local Scottish barley, water from its brewery well, its own unique Belhaven yeast and the choicest of hops from around the world. Belhaven's Scottish Ale is a solid beer with a nutty, sweet flavor and a touch of oak in the aroma. Because the can has a nitrogen widget, this Scottish ale has an extraordinary long-lasting head, which also gives it a very smooth and rounded mouthfeel.
Traquair House Jacobite Ale
8% ABV
Traquair House Brewery, located within Scotland's oldest inhabited house, uses a 1738 copper kettle and oak fermenters to produce their Jacobite Scotch Ale. They also brew it with an ancient ingredient, coriander, for rich, deep flavors accented by the exotic coriander aroma. The malt profile is diverse with toasty, nutty, bready, grainy, slight cocoa, light roast, caramel, molasses, and a touch of smoky notes. Plums are bright and are joined by notes of raisin and prune.
Orkney Skull Splitter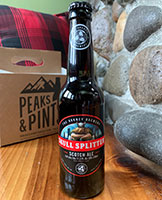 8.5% ABV
Orkney Brewery sits in the former schoolhouse for Quoyloo, one mile from Skara Brae, in the heart of Neolithic Orkney, Scotland. Owned and run by Orcadian, Norman Sinclair, it's Orkney's oldest brewery and offers such iconic brands as Orkney Dark Island, Northern Light, and the world-famous Skull Splitter — named after Orkney's notorious 7th Earl and its Viking heritage. A crisp tartness, like biting into an apple, leads the flavors with dark fruits flanking the green apple notes. The taste morphs into a smoky roasted malt backbone with hints of citrus and barley. Expect a mild hop bitterness, barley, and more dark fruit on the finish.
LINK: Peaks & Pints cooler inventory
---