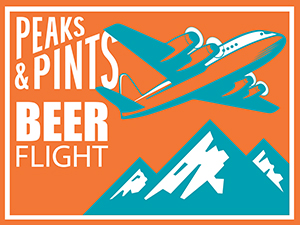 Englishman Adam Robbings' beer recipes killed at homebrew competitions, including winning the silver medal at the National Homebrewing Competition in 2012, and his talent, along with a Kickstarter campaign that raised close to $11,000, eventually earned him, and his wife, Grace, their own brewery — Reuben's Brews officially opened in Seattle's Ballard district in August 2012, which they named after their son, Reuben. Since then, the team has accrued an astounding number of accolades, including more World Beer Cup medals than you have fingers and toes. Today, Peaks & Pints presents a to-go flight of Reuben's beers — a flight we're calling Peaks and Pints Pilot Program: Reuben's Brews Flight.
Peaks and Pints Pilot Program: Reuben's Brews Flight
Reuben's Brews 6:1 – New Zealand Pilsner
5.1% ABV
The seventh beer in Reuben's Brews' 10th Anniversary Collaboration Series, 6:1 – New Zealand Pilsner is a collaboration with Chuckanut Brewery. The New Zealand-style pilsner is hopped with Nelson Sauvin and Nectaron, two Southern Hemisphere varieties known for their intense aromas of wine grapes and tropical fruit. A bit of flaked rice in the mash lightened up the body, ultimately producing a beer that's bright, biscuity, and well suited for summer.
Reuben's Brews Robust Porter
5.9% ABV, 30 IBU
Adam Robbings developed his Robust Porter recipe using British malts particular to Windsor, about 25 miles west of London, where he grew up. Eight different grains are used to create this multiple award-winning beer, pouring a deep brown with a creamy tan head like it has some weight. Roast malts are the star in both aroma and flavor that's nutty and slightly sweet with an espresso bitterness balanced by a touch of creamy vanilla, chocolate, and caramel sweetness, without being cloying or off putting.
Reuben's Brews PNW Crush 2022
7% ABV, 45 IBU
Reuben's Brews has been experimenting with and developing hazy IPAs for several years as part of the small batch Reuben's Crush series. Reuben's PNW Crush features ingredients from Washington, Oregon, and Idaho with Skagit Pilsner, Munich, and Crystal malts alongside Idaho 7, Azacca, Strata, and Mosaic hops. This hazy IPA has a bright appearance, with notes of tangerine and pineapple, with peach in the background. This medium-bodied hazy is supported by a distinctive malt bill, with crisp but rich breadiness.
Reuben's Brews Barnacles
11.75% ABV
Barnacles English-style Barleywine is the sixth release in Reuben's Brews' 10th Anniversary Collaboration Series, brewed with brewing legend Alan Sprints of Hair of the Dog Brewery. It's English on the sweet side, but with a Pacific Northwest hop profile. Expect sweet toffee, alcohol notes, slight vanilla, deep caramelized flavor, a bit of fruit, and some bitter hops on the finish.
Reuben's Brews Stouter Limits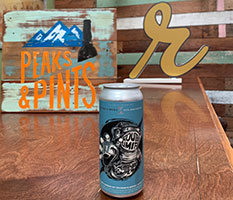 12.5% ABV, 50 IBU
"There is nothing wrong with your television set." That famous line opens each episode of the classic science fiction anthology series The Outer Limits. There also is nothing wrong with Reuben's Brews 10th Anniversary Beer Series' Stouter Limits. This Homebrewers Guild of Seattle Proper collaboration is a massive imperial stout that hits the nose with dark chocolate cherries, roast coffee, and licorice followed by notes of smoky pepper, light toffee, and caramel chase bigger flavors of sweet and spicy chocolate.
LINK: Peaks & Pints cooler inventory
---