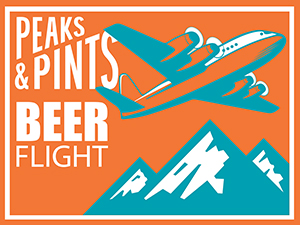 Like "I Saw Mommy Kissing Santa Claus" at Forever 21 and candy corn at 7-Eleven, pumpkin beer arrives earlier and earlier every year. Before the leaves turn yellow and it's time to start wearing grey socks with Birkenstocks again, many of the most sought-after brands' pumpkin beers will be long gone. That means restaurants and bars that don't have a place to store extra kegs for a month or two are out of luck if they want to serve this seasonal specialty in the proper season. That makes the beer industry surprisingly similar to fashion: When you're still wearing your winter coat, bikinis start popping up on the racks. And when you finally go on that August beach trip, all you can find are parkas. Breweries would also much rather roll out their seasonal beers too early and run out than be left with extra product after the season is over. Come Nov. 1, nobody wants a pumpkin beer. Peaks and Pints currently has several pumpkin beers in our cooler, which means we can offer a to-go flight of pumpkin beer, we could even call it "Peaks and Pints Pilot Program: Pumpkin Beer On the Fly."
Peaks and Pints Pilot Program: Pumpkin Beer On the Fly
Prairie Pumpkin Kerfuffle
8.2% ABV
In 2012, Chase and Colin Healey raised more than $20,000 on Kickstarter to launch Prairie Artisan Ales in Tulsa, Oklahoma. Chase is the brewer and his brother, Colin, is responsible all of their fun and funky branding and logo design. Their Prairie Pumpkin Kerfuffle is an imperial sour with pumpkin pie spice blend and toasted marshmallow flavor. It works well with tart and sweet in balance with pumpkin spices that lean a little toward apple pie.
New Belgium Voodoo Ranger Atomic Pumpkin
6.4% ABV, 10 IBU
Not too spicy, not too sweet, and not like any pumpkin beer you've had before. New Belgium Brewing Voodoo Ranger Atomic Pumpkin ale is brewed with Saigon cinnamon, plus habanero and Chile de árbol peppers for a sweet start and spicy finish with a little bitterness in between. The medium body ale pours bright pale amber with a light white lacing, and features Nugget hops combined with Pale Mena, Pale Rahr, Caramel and Munich malts to create a spicy and warming mouthfeel.
Elysian Night Owl Pumpkin Ale
5.9% ABV
While most breweries have one or two pumpkin beers in the portfolio, Elysian Brewing Co. brews more than a dozen. Night Owl, brewed with more than 7 pounds of pumpkin per barrel, seven different malt varieties, green and roasted pumpkin seeds, bittered with Magnum hops and spiced in conditioning with nutmeg, clove, cinnamon, ginger and allspice, is their most lauded. It leans more toward Christmas than Halloween. Maraschino, banana-nut, cinnamon, pecan and graham cracker hit the tongue. Cinnamon dominates with some caramel and a touch of biscuit malt sweetness to support. 
Rogue Pumpkin Patch Ale
6.1% ABV, 25 IBU
Pumpkin was planted in late spring alongside the Rogue Farms hops, jalapeños, marionberries and buzzing honeybees. As soon as they were picked, the pumpkins were driven to the Rogue Brewery in Newport, Oregon just 77 miles away. The pumpkins were hand-chopped and seeded, roasted in pizza ovens, and pitched fresh into the brew kettle along with vanilla bean, ginger, cardamom, cloves, cinnamon, nutmeg, orange peel and Rogue Farms Independent hops to create flavors of caramel, burnt brown sugar, dry floral spices, cinnamon stick, and some tang. It's heavy on spice, but whatever.
Dogfish Head Punkin Ale
7% ABV, 28 IBU
Dogfish Head Craft Brewed Ales calls its Punkin Ale a brown pumpkin ale. Hmmmm, don't you need some nutty, toasty malts notes to fit into that category? Whatever. The pumpkin and spice flavor is here with cinnamon, allspice and a tiny dollop of brown sugar that settle atop soft burnt biscuits and earthy pumpkin rind with each sip; a mild hop bitterness brings balance at the close.
Reuben's Autumn Harvest Imperial Pumpkin Ale
8.7% ABV, 22 IBU
The great Autumn Harvest Imperial Pumpkin Ale has re-risen from Reuben's Brews' pumpkin patch with everything pumpkin beer lovers enjoy: A sweet, chewy, delightful ode to the sensation of being warm and cozy in, um, September. Spice notes compliment the rich, pumpkin mouthfeel, sweet malt and toasted nuts notes. Reuben's is a true friend to fans of the style and is clearly committed to brewing with class and creativity. 
Great Divide Pumpkin Spice Yeti
9.5% ABV, 75 IBU
When Great Divide Brewing introduced Yeti Imperial Stout in 2003, it was a tough sell. Roasty, jet black and with nearly as much alcohol as wine, the beer was a far cry from the amber ales and apricot wheats that were in vogue among beer drinkers at the time. Today, Yeti is an institution with new Yeti flavors popping up like the Abominable Snowmonster of the North every time Rudolph the Red-Nosed Reindeer showed his nose. Last year, Great Divide canned their Pumpkin Spice Yeti. An imperial stout, Pumpkin Spice Yeti is brewed with coffee from Denver roaster Pablo's and a variety of seasonal spices that go really well with the roasty base beer.
LINK: Peaks & Pints cooler inventory
---